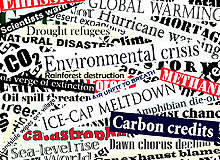 The idea of carbon capture and storage (CCS) technology was introduced as a beacon of hope years ago, when the world first became concerned with global warming, and the power and mining industries started to feel they should prove something could be done about it. But after a few hopeful headlines, the technology was put in the "too-hard" basket.
Dreams of carbon capture and storage seemed like they would struggle to become a reality any time soon, and the real task at hand even got the better of some of the more committed visionaries and well-funded global corporations.
Fast forward to early June in Aberdeen, a Scottish city that hugs the shoulder of the North Sea. It's here that two service providers, engineering company PSN and technology solutions provider AspenTech, have decided to get the ball rolling again.
They believe that the technology is mature enough, and that it's the right time for CCS to be taken up commercially – especially in the UK. They say CCS is a proven and cost-effective solution to the problem. And with a flood of new licences for offshore storage acreage coming up for the North Sea, courtesy of the UK Government, as well as an announcement that the UK Committee on Climate Change wants the UK Government to extend its CCS competition to include gas demonstration power projects in addition to coal ones, they could be right.
With the introduction of carbon capture in Europe and the maturity of the technology, the timing certainly looks better than it did four years ago, when the two companies' initial project for sequestration from a gas power plant was rejected by the UK Government in favour of options that captured emissions from coal only.
The rebirth of an industry?
Four years ago, a major oil and gas operator presented a project developed at PSN using AspenTech's technology to the UK Government. This project, the first full carbon capture and storage design, harnessed emissions from a gas-fired plant and piped them to an undersea reservoir. The government, however, was unable to proceed with this approach, instead opening up a competition for coal-fired plant options only. But now their case is much stronger.
"The technology itself is not new: carbon has been stored underground in sandstone and other repositories for years."
Aberdeen's tiny airport was a hive of activity as I returned from my meeting with both companies; the business lounge full of oil and gas workers returning from stints out on a rig or an onshore company. Looking around, almost every bit of advertising on the walls related to the oil and gas industry. Here, these fossil fuels are not only alive – they are the very soul of the place.
One day, when the deposits run low, and maintenance and upgrades become more costly, this is all destined to come to an end. The CCS technology being championed by AspenTech and PSN could, however, offer longevity to Aberdeen, harnessing the skills and industry in place. Carbon capture and storage will be of benefit to the power and oil and gas industries if adopted.
The technology itself is not new: carbon has been collected and stored underground in sandstone and other repositories for years. However, PSN and AspenTech's way of modelling the carbon absorption process to allow extraction from exhaust gases and transporting them by pipe is. Ideally, they would like to see the deposits stored under the North Sea, using existing gas pipelines – so that when the oil stops flowing, this infrastructure can be used to achieve the UK's greenhouse gas targets.
A new focus on CCS
The Committee on Climate Change's recent recommendations could push PSN, AspenTech and any other developers of CCS technologies relating to gas into the spotlight again. The committee has asked that gas-fired plants get looked at as heavily as coal-fired plants when it comes to the emissions performance standard, and plants completed after 2020 will need to have CCS technologies installed by law. Thye committee says it also wants to fund at least one gas CCS demonstration project as part of the four coal CCS demonstrations already planned.
PSN and AspenTech both say their technological approach, if scaled appropriately, could also work for coal-fired plants and offshore operations, once emissions targeting kicks in there. The UK Government is going to auction licenses for reservoir storage in the North Sea, details of which will be put to the UK parliament in a legislative document later this summer. This licensing round will provide a commercial framework that businesses can operate within.
"There is potential for between 4,600 and 46,000 million tons of CO2 to be stored in North Sea reservoirs."
There is potential for between 4,600 and 46,000 million tons of CO2 to be stored in North Sea reservoirs. Further still, engineers in the hydrocarbons and power industries are much savvier about how to use CCS technologies and who to hire to work them.
Higher taxes in the form of the European Union Emissions Trading Scheme will hopefully convince the offshore industry that CCS should be explored, while the power industry will soon have no choice, by the looks of it, to catch on. If PSN and AspenTech are right, there's only question left to answer: which country will be next?