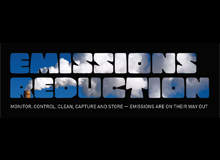 In this month's issue we look at emissions reduction and pollution control.
As governments and utility companies worldwide are trying to reduce pollution from fossil-fuelled power stations, we investigate if optimising separate parts of the system comes at the expense of the system as a whole.
We also report on the latest technologies being developed for monitoring pollutants and plant performance efficiency and selective catalytic reduction (SCR), which could be a key technology in cleaning up coal.
Using an engaging mix of editorial, images, video and animation, the online magazine will bring you in-depth coverage into the latest developments in emissions reduction.
To view the issue online, click here. The online magazine is also now viewable on mobile devices, iPhones and iPads.
Pollution Control
W. Edward Deming warned that optimising separate parts of the system can come at the expense of the system as a whole. Could this be the result as a globally privatised energy market drives to reduce emissions?
Monitoring Pollutants
Monitoring pollutants is essential to the environment and to the performance efficiency of the plant. Mitch Beedie reports on some of the latest technologies being installed.
SCR Cleans Up Coal Power
As fears over climate change and global pollution increase, the world wishes for emission-free industry. Mitch Beedie investigates one technique that is getting the power sector closer to reaching that goal.
Carbon Capture and Storage
Paul French investigates if carbon capture and storage is safe and cost-effective enough to solve the emissions problem.
Tracking Climate Action
We take a look behind countries' pledges to reduce greenhouse gas emissions.
Next month's edition
In next month's issue we wrap up the latest developments and innovations in the alternative energy field.
With peak oil approaching and increasing concerns that demand will outstrip supply, massive worldwide investments in renewable energy are needed.
We report on where the world is heading for its energy supplies and the efforts that are being made to find alternatives, looking at new, cleaner gas technologies as well as the renewable options of solar, wind and wave.
Although previously associated with additional costs, green power solutions are now doing their bit to improve efficiency. We look at the economy of green technology, and the true cost of a reduced carbon future.
Online Magazine FAQ
The online magazine is viewable on any computer with Flash Player installed. It is also viewable on mobile devices, iPhones and iPads though some features and videos will be disabled. To view the online magazine, click here.