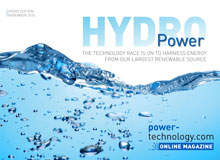 Solar and wind power continue to capture global attention as efficient ways to harness energy from natural sources, but the strength of hydropower cannot be overlooked. About 70% of the earth's surface is covered by water, our potentially largest source of renewable energy.
In this month's edition we look at the latest developments in wave and tidal power generation, the technology behind some of the world's biggest hydroelectric dams and major new projects under construction. We also investigate the increasing success of small-scale hydro installations.
To view the latest issue online, click here. The online magazine is also viewable on mobile devices, iPhones and iPads.
Climate Saviour?
Can hydropower save the environment? Mitch Beedie investigates the environmental impact of hydro installations to see whether the benefits of hydro technology can outweigh its potential flaws.
Read the full article.
Energy Waves
To fully harness the potential of wave and tidal power, performance depends on the technology used. We size up the latest in wave and tidal technology to see how initial capital costs compare with the achievable output from an almost limitless source.
Read the full article.
The Race is On
The UK's crown estate and the Scottish government have taken a decisive step in creating the largest planned development of wave and tidal energy at Pentland Frith and Orkney Waters.
Read the full article.
Small Hydro Proves its Worth
As the search continues for ways to create renewable power, Asian nations are finding that small-scale hydropower options are becoming increasingly successful.
Read the full article.
BRIC Hydro Giants
We examine the top ten hydropower projects under construction in Brazil, Russia, India and China.
Read the full article.
Technology Focus
In this new section we round up some of the latest hydropower generation technologies being developed.
Treading Carefully – Wave Treader is a new floating offshore device that shares offshore wind farm infrastructure.
Read the full article.
High Tide – The world's most powerful tidal turbine is being tested at the European Marine Energy Centre in Orkney, Scotland.
Read the full article.
Industry Projects
In our industry projects section we take a close look at major hydro power plants and new projects under construction worldwide.
Itaipu Hydroelectric Dam – The largest operational hydroelectric energy producer in the world, with an accumulated generation capacity of 1.6bn MWh, is a major energy provider for Brazil and Paraguay.
Read the full article.
SeaGen Tidal Turbine – The world's first commercial-scale tidal turbine, with an output of 1.2MW, was installed in Northern Ireland's Strangford Lough.
Read the full article.
Three Gorges Dam – The world's largest hydropower complex, located on China's Yangtze River, is one of the most controversial hydroelectric installations.
Read the full article.
Next Issue
Electricity demand in the BRIC economies – Brazil, Russia, India and China – is expected to increase by 75% over the next decade. This, combined with record investment, has created new opportunities for suppliers of power plant, transmission and distribution technology.
Next month we look at the challenges and opportunities arising from the rapid growth of the BRIC nations' power industries. While Russia is reforming its nuclear sector to become a global energy player, India struggles to meet power demand with bureaucracy issues delaying new infrastructure projects. Meanwhile, China is becoming a global leader in renewable energy with landmark legislation and massive investments, and Brazil is investing in thermoelectric generation in a bid to move away from its dependence on hydropower after a series of shortages.
Online Magazine FAQ
The online magazine is viewable on any computer with Flash Player installed. It is also viewable on mobile devices, iPhones and iPads though some features and videos will be disabled. To view the online magazine, click here.