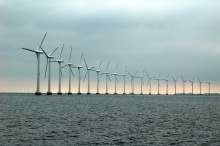 Wind energy is a growth industry which, according to the Global Wind Energy Outlook 2012, is expected to triple in size by 2020, creating 1.4 million new jobs. However, working in the wind power industry is no regular job. Wind farms typically cover acres and acres of space, can be offshore in tumultuous seas and managing them involves maintaining and manoeuvring gigantic turbines.
'Juggling' act, 'fast paced' and 'challenging conditions' are just some of the phrases Siemens site manager for the Lincs and Lynn and Inner Dowsing Wind Farms, Derek Whyte, uses to describe his role managing the two projects situated in the blustery North Sea.
Whyte is in charge of ensuring operations at the £300m wind farms, both located 5.3km off the UK's East Lincolnshire coast, run smoothly and that electricity from the 54 Siemens Wind Power 3.6-107 wind turbines is transported to the grid without a hitch.
Heidi Vella: What is a typical day like for you as site manager of Lincs and Lynn and Inner Dowsing Wind Farms?
Derek Whyte: There is no such thing as a typical day in this job. The role varies on a day-to-day basis, and often at a fast-moving pace. A critical element of the job is being able to juggle a large number of different tasks and prioritise them accordingly. Safety is the critical element of all of our tasks and it is imperative as a site manager that I lead by example and set the benchmark for our site.
My role splits into two main areas; firstly, I am customer facing. My role is to be the first point of contact for all operations and maintenance aspects of the wind farm. My team and I collaborate with our customer, Centrica Energy, every day regarding planned maintenance, reactive fault finding, service delivery, turbine availability, vessels, weather… the list is endless!
---
---
The world's 10 biggest wind turbine designs based on power output and rotor diameter. .
---
The second area of my role is people management. In a service business you are only ever as good as the people you have, and we work to align our way of working with the Siemens core values.
HV: What daily challenges do you face?
DW: Daily challenges can be wide and varied. One of our biggest challenges is juggling different priorities and ensuring they are in order. There are occasions where everything appears to be a priority, and that is where having an excellent customer and site team working with you helps to alleviate the burden and ensure we can deliver on all levels.
HV: What would you say are the key skills needed for this job?
""With the future predicted growth, the job opportunities will be ample and varied.""
DW: Good project, time, people management and customer-facing skills. Plus, the ability to multi-task and cope with a dynamic and fast-moving environment. It is also imperative to have good communication skills to engage with various
stakeholders and to ensure the team is focused and motivated.
HV: How difficult was it to break into the wind energy business?
DW: My background is in the armed services. I spent 22 years in the Army, the Royal Electrical & Mechanical Engineers, so in essence I came from an engineering background. This has helped and along with a little bit of networking, proved beneficial in securing a new career with Siemens. As I had prior managerial experience, I was able to step straight into the role as a site manager.
HV: As a manager, what keys skill do you look for when hiring?
---
---
Iberdrola engineer Paula Valdés recently wrote about her experience as Spain's first female maintenance specialist at a hydroelectric plant..
---
DW: I look for people with a reasonable understanding and level of engineering experience who have the flexibility to work in often challenging conditions, as well as the ability to learn. Siemens has invested heavily in skills and training for its technicians, all of whom are trained at the dedicated wind power training school in Newcastle.
This combination of technical and safety training equips people with the key skills they need for the job, but in order to succeed, people also need to be dynamic and have a pro-active and, above all, a team attitude.
HV: Are there enough skilled people available and willing to work in the industry?
DW: We certainly have no shortfall of willing candidates, and our challenge is to use the skills we have in the best way. I do believe this industry offers a great opportunity to those who want to obtain a career within it. In any growth industry the world is your oyster and a wide variety of roles are available to suit a wide variety of skill sets.
HV: What advice would you give to those seeking work in the operations area of the renewable energy sector?
DW: Keep your eyes on the Siemens websites! With the future predicted growth, the job opportunities will be ample and varied, including technical, administrative and
management roles. There are also apprenticeship schemes that offer a good balance of classroom and 'on the job' training.