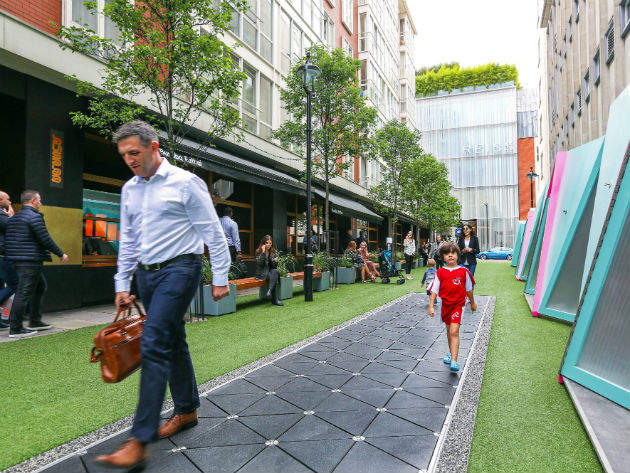 An inauspicious alley off of Oxford Street, Bird Street has been fitted with the British company's V3 triangular vinyl tiles, which move as much as 10mm when stepped on, to produce energy, data and rewards via a mobile phone application. The vertical displacement causes generators which lie below the tiles to rotate, moving coils through magnets to create the electricity. The power is being used on Bird Street to create bird sound during the day, and to power Pavegen's LED lights at night.
Opened on the 29th of June, Bird Street's upgrade has been funded by Transport for London's Future Streets incubator scheme.
"The 20 square metres of Pavegen on Bird Street is our newest smart flooring system, the award winning Pavegen V3 technology which won the 2017 South by Southwest smart cities interaction and innovation award," says Alex Johnson, head of communications at Pavegen. "This is the first time that our V3 technology, launched last year has been deployed in a permanent setting in London, so it's great that it's in the heart of Europe's busiest retail destination."
The generators that lie within the flooring hold low powered Bluetooth transmitters, which can connect to an app and allow you to see exactly how much power your footsteps are creating. The average footfall of an adult will create five watts of power. Whilst this is not a lot, Pavegen's custom LED matrix has drivers that are 90% efficient so very little energy is needed in the first place.
More to come?
Whilst this is an interesting project, Pavegen are aware that the amounts of energy produced by this level of kinetic energy will never match up to more common sources of renewable power such as solar and wind. Instead the system is designed as a localised source of off grid, clean energy to work alongside renewables.
One of the key benefits of projects such as Bird Street is that it engages with people day to day, helping to keep sustainable energy at the forefront of their interest. The immediate visibility of the energy you produce through walking in either light or sound is a powerful tool to help engage the general population. As Johnson says, the project was designed "To show how Pavegen can bring to life the 'smart city' for communities and for retailers and brands."
"Bird Street engages with people day to day, helping to keep sustainable energy at the forefront of their interest."
Whilst Bird Street is just a small, quiet, alleyway, there are hopes to roll out the technology more broadly around Oxford Street. "We've got experience of delivering Pavegen in 200 locations around the world, both permanently and for experiential activations," says Johnson. The company currently have projects in Washington DC, Melbourne and Kazakhstan with hopes to continue to implement the technology in more locations.
In the UK, the project was designed as a pilot scheme to test its usage, and power generation before it is brought in around the West End with the eventual hope of being able to light large, busy streets like Oxford Street itself.
However, for Pavegen to be more broadly implemented it needs to be able to compete with more traditional paving stones economically. This is something the company is currently looking into, with the hope that it can get the cost down to at least in line with high end tiling.