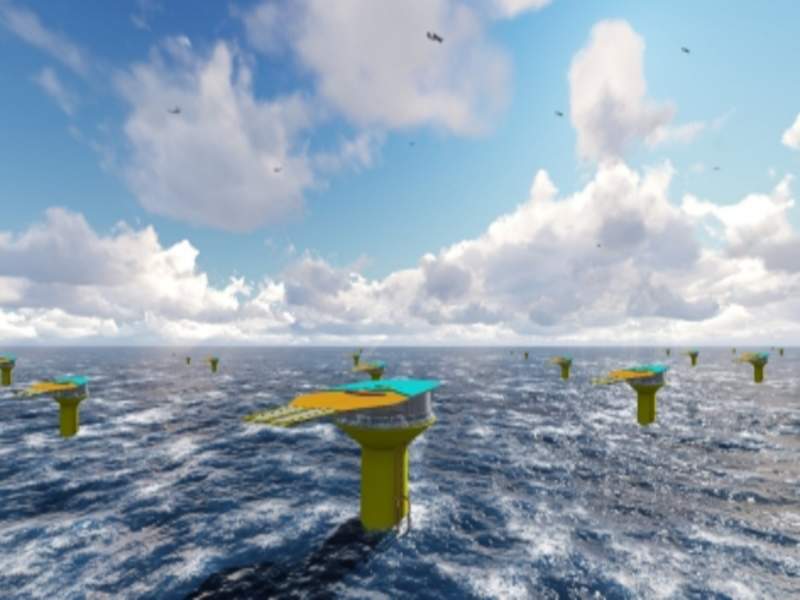 Germany-based energy provider EON announced it will develop, construct, and operate a demonstration site for airborne wind technology in County Mayo, Ireland.
The firm also entered a collaboration agreement with Netherlands-based airborne wind energy firm Ampyx Power.
Ampyx will be the first user to test EON's 2MW airborne wind energy system at the site.
Data released by Italian coal industry association Assocarboni showed that coal fuelled 40% of total electricity production last year.
As noted by International Energy Agency (IEA), coal will to continue to play a major role, with an expected 36% of the energy mix to be coal-generated by 2021. This share remains stable at 12%, which is the lowest percentage compared to the European average of 26%.
Last year, the seaborne world coal trade was stable after ten years at 5% annual growth, compared to that in 2015. Steam coal decreased from 886 million tonnes in 2015 to 883 million tonnes in 2016.
UK-based power plant consultant Offshore Renewable Energy (ORE) Catapult installed a new rain erosion test rig at its National Renewable Energy Centre in Blyth, England.
The new ORE Catapult rig has been designed to simulate erosion caused due to the impacts of water droplets on a wind turbine blade during operation.
Supplied by consulting engineering company research and development (R&D) subsidiary R&D Test Systems, the test rig was acquired using funds from Innovate UK.
India-based company Bharat Heavy Electricals (BHEL) began commercial operation of its second 800MW supercritical unit at 2x800MW Yeramarus Thermal Power Station (TPS) in Karnataka, India.
Located in the Raichur district, the coal-based facility is owned and operated by Raichur Power (RPCL). BHEL and Karnataka Power (KPCL) are the main equity partners.
Commencement of commercial operation of the Yeramarus TPS units marks BHEL's contribution as a co-developer in the area of power generation.
A resource of independent energy experts and certification body DNV GL provided advice for business bank Santander and other lenders on their £210m project finance investment for the development of three new onshore windfarms in the UK.
With a combined capacity of 151MW, the Kype Muir, Middle Muir, and Moor House projects are being constructed by Banks Renewables. They are among 15 other projects that received contract for difference (CfD) during the first round of the UK Government auction initiative in 2015.
Construction commenced on the three windfarm projects. Equipped with six wind turbines, England's Moor House onshore farm is expected to generate clean electricity from early next year.
A new report published by RenewableUK showed that UK-based companies working in the wind, wave, and tidal energy sectors are exporting goods and services for the first time on a massive scale worldwide.
Entitled 'Export Nation: A Year in UK Wind, Wave, and Tidal Exports', the new report highlighted around 36 UK-based companies signed more than 500 contracts last year to work on renewable energy projects across 43 countries in Asia, North America, South America, Africa, Europe, and Australasia.
The contracts were of different value, ranging from £50,000 up to £30m each.
Consenting authority Natural Resources Wales approved a marine licence application for the installation and operation of energy developer Minesto's 0.5MW Deep Green power plant in the UK.
Located in Holyhead Deep 6.5km off the coast of Anglesey in Wales, the marine energy project is the world's first low-velocity tidal energy project. It aimed to demonstrate and prove the use of Minesto's Deep Green technology.
Engineering and advisory support services company Xodus Group provided an Environmental Impact Assessment (EIA) and licence application for the project. This considers potential impacts on fisheries, sea birds and mammals, marine archaeology, and cultural heritage, in addition to shipping and navigation, which were concluded to not be significant.
Investment service company Aquila Capital purchased six run-of-river hydro power plants in Norway from energy company BKK for an undisclosed sum.
Located near Bergen, the six hydro power plants have a cumulative power generation capacity of approximately 70GWh annually, which is equivalent to the average electricity requirements of nearly 3,500 Norwegian households.
The power facilities will be operated and managed by Småkraft, a company fully financed by investment vehicles managed by Aquila Capital.
General Electric (GE) signed a new agreement with Invenergy to incorporate its Predix-based asset performance management (APM) reliability management software onto 13 GE turbines at six gas-operated thermal plants in the US.
With a total operating capacity of 3,159MW, the power projects will be deployed with GE's APM solution to assist plant operations and maintenance (O&M) technicians with predicting and diagnosing equipment failures more accurately.
The APM reliability management software helps predict equipment failures before they occur to avoid costly unplanned outages.
ABB received an order worth approximately €270m to deliver high-voltage direct current (HVDC) technology to help interconnect electricity networks of France and the UK.
The technology firm received the order from French network owner and operator Réseau de Transport d'Electricité (RTE) and UK grid operator National Grid.
With a capacity of 1,000MW, the link will connect Chilling in Hampshire on the southern coast of England to Tourbe in northern France, covering a total distance of 240km across the English Channel.