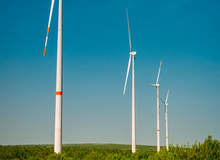 The Mexican Government has awarded more than 2GW of clean power projects under the country's first electricity auction.
The auction is in line with the government's plan to invest $14bn to add renewable power capacity of 6GW between 2015 and 2018.
Enel Green Power (EGP), SunPower, Alten, Acciona and Recurrent Energy have been named as the preferred bidders to build 2,085MWh of renewable energy projects in the country, Bloomberg reported.
Enel Green Power North America (EGPNA) has started construction on the $610m Cimarron Bend windfarm in Kansas, US.
Located in Clark County, the project is owned by EGPNA's subsidiary Cimarron Bend Wind Project.
Upon completion, the new 400MW facility is said to become Enel's largest windfarm in operation.
Alliant Energy has received verbal approval to go ahead with the construction of its 700MW natural gas-fired facility near Beloit, in Wisconsin, US.
The Public Service Commission of Wisconsin (PSCW) gave its consent for the project that will be built at a cost of $700m.
The proposed plant will be set up adjacent to the existing Riverside Energy Center, which is a 675MW natural gas-fired generating station.
The World Bank Group has adopted a new Climate Change Action Plan, aiming to add 30GW of global renewable capacity by 2020.
The Climate Change Action Plan has been designed to help developing countries meet their Paris COP21 pledges and manage increasing climate impacts.
World Bank Group president Jim Yong Kim said: "Following the Paris climate agreement, we must now take bold action to protect our planet for future generations.
"We are moving urgently to help countries make major transitions to increase sources of renewable energy, decrease high-carbon energy sources, develop green transport systems, and build sustainable, liveable cities for growing urban populations."
A report from Tokamak Energy revealed that nuclear fusion contributes nearly £84m to the UK economy every year.
The report, 'An Impact Study of the Fusion Energy Research Cluster in Oxfordshire', stated that at least £300m is generated in exports as a result of research and development in the fusion energy field.
Figures released by the study show that nearly 1,000 people are employed in fusion energy research in Oxfordshire, and a further 800 suppliers rely on fusion energy research. The UK Atomic Energy Authority (UKAEA) carries out such research in the country, on behalf of the government and the EU, at the Culham Centre for Fusion Energy (CCFE).
German Federal Environment Minister Barbara Hendricks has officially requested the Belgian Government to temporarily shutdown its Tihange 2 and Doel 3 nuclear reactors over safety concerns.
The request was made based on a report from Germany's Reactor Safety Commission (RSK), which stated that although the two reactors still have safety reserves sufficient to carry out normal operations, a fault could create problems.
Consequently, Germany is requesting the Belgian authorities terminate nuclear operations at plants temporarily, at least until further investigations have been completed.
Warren Buffet's energy company MidAmerican Energy is planning to invest $3.6bn to add up to 2,000MW of wind energy capacity in Iowa, US.
The move will increase the company's wind energy investment in the state from $6.6bn to more than $10bn.
The proposed project is in line with the company's commitment to provide 100% renewable energy to its customers in the state.
Dong Energy has announced plans to test the mobile version of its waste conversion technology REnescience in Malaysia, under an agreement with Cenviro.
REnescience technology uses enzymes to convert food waste and other organic household waste constituents into biogas. The mobile plant is currently being sent to Malaysia to test whether the country offers a new export market for the technology.
Dong Energy executive vice-president Thomas Dalsgaard said: "Malaysia is a very interesting market for our technology, as there's a growing need for exploiting the resources in the increasing waste volumes.
"A REnescience plant can produce large quantities of biogas from the very wet Malaysian household waste."
A consortium comprising Deutsche Bank, HSBC and KfW IPEX-Bank, has structured and arranged more than €3.5bn in financing for three combined cycle power plants in Egypt.
The debt capital is being raised by a group of 17 international banks.
The Beni Suef, Burullus and New Capital combined cycle plants will be built at a cost of approximately €6bn.
Nordex has completed the acquisition of Acciona Windpower (AWP) from Spain's Acciona for €785m ($880m), after receiving approval from the competition authorities.
The acquisition creates a wind energy player with a comprehensive product range and global market presence, Nordex said.
Under the agreement announced in October, Nordex agreed to pay €366.4m to Acciona in an one-off cash payment and 16.1m new Nordex shares, for a combined value of €419m, equal to a 16.6% stake in the German company.