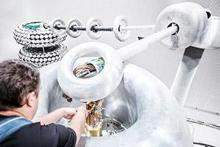 Swiss power technology firm ABB has developed and tested a 525kV underground and subsea high-voltage direct current (HVDC) cable system, which the company claims will make renewable energy installations more efficient and cost-effective.
The technology, which features high-voltage power cables, joints and terminations, will increase the power capacity of cable connections to around 2.6GW from 1GW.
The reach of the lines will be extended to 1,500km, up from less than 1,000km, with transmission losses of just below 5%.
The Parliament of Indonesia passed a law that will enable the country to tap the power of its volcanoes, as part of its efforts to strengthen the geothermal energy industry.
Despite having around 130 volcanoes and holding approximately 40% of the geothermal potential in the world, it converts only a small portion of underground heat into power and is far behind countries such as the US and even its neighbor, the Philippines.
Due to red tape and legal uncertainty, the country's geothermal energy industry has not been able to attract investors, but the government now hopes that the long-awaited law will speed up investment in the sector.
Larsen and Toubro (L&T) secured a $200m contract from Bangladesh Power Development Board (BPDB) to set up a 225MW gas-based power plant in Bangladesh.
The gas-based power plant will be established at Sikalbaha in Chittagong.
BPDB secretary Mohd Zahirul Haque and L&T vice-president Saurabh Indwar signed the deal in Dhaka on 24 August.
L&T were informed they had secured the contract from BPDB in May this year.
Energy Absolute is considering to invest approximately THB46bn ($1.4bn) over the next three years in order to boost renewable energy generation capacity.
Energy Absolute Chief Financial Officer Amorn Sapthaweekul was quoted by Bloomberg as saying that renewable energy generation capacity is expected to increase from approximately 100MW to 570MW by 2017 in Thailand.
Around TBH17bn ($530.3m) of investment is also planned by the company to develop two solar projects, with a combined capacity of 180MW.
Currently, the company operates Thailand's biggest solar power project in Nakhon Sawan province.
Energy Absolute will also invest TBH29bn ($623.8m) to construct wind farms, with a combined capacity of 390MW.
JSW Energy is reportedly negotiating with JP Group to purchase two coal-based power projects in Madhya Pradesh, India.
JSW Energy is planning to acquire JP Power's Bina and Nigrie thermal power projects for approximately INR100bn ($1.6bn).
The 1,320MW Nigre thermal power project is 49% owned by JP Group while the remaining 51% stake is owned by Madhya Pradesh State Mining.
JP Group completely owns the 500MW Bina thermal power project.
The World Bank Group committed $5bn in new technical and financial support for energy projects in six African countries.
The six nations, which have partnered with US President Barack Obama's Power Africa initiative, include Ethiopia, Ghana, Kenya, Liberia, Nigeria and Tanzania.
The new financial commitment is in response to the urgent requirement for electricity for the African people, 600 million of whom have no access to electricity.
However, Africa has some of the world's largest hydropower, geothermal, wind and solar potential, as well as significant oil and natural gas reserves.
Yingli Green Energy, a vertically integrated photovoltaicmodule manufacturer in the world, will supply multicyrstalline modules to Push Energy for four large-scale PV power projects in the UK.
The four projects, which will be located in East Anglia, will together have a renewable electricity capacity of up to 66MW.
These projects are expected to be completed by February next year.
The existing power plants worldwide will emit more than 300 billion tonnes of carbon dioxide into the atmosphere in their lifetimes, according to a new study by Princeton University and the University of California-Irvine (UC Irvine).
Researchers from both universities estimate that the global fossil-fuel-burning plants erected in 2012 will emit around 19 billion tonnes of carbon dioxide in their approximately 40-year lifespan.
This amount is considerably more than the 14 billion tonnes of CO2 emissions that were generated by global operating plants in 2012.
SITA UK, a recycling and waste management company, and British Solar Renewables (BSR), a Somerset-based firm, signed an agreement that will result in several SITA UK landfill sites being transformed into solar power farms.
This deal is expected to generate renewable energy for the national grid.
In addition to operating a landfill estate in the UK, SITA UK also has recycling and waste management facilities.
Alstom Grid has secured three high-voltage direct current (HVDC) contracts, carrying a total value of approximately €800m.
The firm has received the contracts from South Korea, India and Atlantic Canada.
Of the total value of €800m, approximately 50% of this amount was booked in the first quarter of 2014 while the remaining 50% will be done in the second quarter.