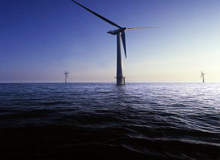 Pakistan started constructing the 1,100MW Karachi Nuclear Power Plant II (Kanupp II), which is expected to help the country meet its growing energy demands.
This work will pave the way for developing Kanupp III that is also expected to have a generation capacity of 1,100MW.
Plans for the nuclear power facilities, estimated to cost $10bn, are being backed by China, which has become the leading investor in energy and infrastructure projects in Pakistan.
SolarWindow Technologies developed a glass window that can generate power from sun rays.
Intended for use as modules in commercial developments, the windows can be applied to all four sides of tall towers in order to generate clean energy.
Unlike conventional units that can only perform in natural light, SolarWindow modules can also derive energy from shaded and artificial light.
German utility company RWE launched a power-to-gas plant in the North Rhine-Westphalia (NRW) region of Ibbenbüren that integrates the supply of local electricity, natural gas and district heating.
Intended for storing energy to meet future demands in the region, the facility has a rated power output of 150kW that will be producing hydrogen under 14-bar pressure.
It will enable conversion of the excess electricity from solar and wind sources into hydrogen. This hydrogen will later be used as fuel for Ibbenbüren's district heating systems.
Eleven nuclear plant operators in Japan are likely to spend JPY3tn ($24bn) on reinforcing safety of the country's atomic power facilities.
According to anonymous sources in the industry, safety measures will include the installation of breakwaters and ensuring the availability of emergency power sources.
The nuclear firms will also need to implement anti-terrorism measures within July 2018, reported The Japan Times.
US-based power equipment manufacturer SkyWolf Wind Turbine unveiled Solar Hybrid Diffused Augmented Wind Turbine technology with the capacity to generate both wind and solar energy.
Integrating these two types of energy generation in one turbine is a world-first, claims the company.
Static pressure behind the rotor blades has been reduced in the turbine, which boosted its efficiency and electric energy output.
Developed over a 12-year period, the equipment uses SkyWolf's patented Diffused Augmented Wind Turbine (DAWT) technology, and can even generate increased amounts of energy at wind speeds as low as 3mph.
Kyushu Electric Power restarted the Unit No1 nuclear reactor at the Sendai facility to generate the first nuclear power since the Fukushima disaster in March 2011.
The pressurised water reactor with an 890MW output, will start producing electricity on 14 August, and is expected to reach full capacity by next month.
The 2011 disaster was caused by a tsunami and earthquake at the Fukushima Daiichi power plant, prompting the country to shutdown all of its 48 nuclear energy facilities.
Activation of this reactor is in compliance with multiple new safety regulations that have been established in Japan since the disaster.
Forewind withdrew from participating in the 2.4GW Dogger Bank Teesside C and D offshore wind projects, based in the UK North Sea.
The international consortium, formed by energy giants Statoil, Statkraft, RWE and SSE, reached an agreement with the Crown Estate to cease work on the remaining development consent application for the projects.
Instead, the entity will focus on the four Dogger Bank projects, which already received approval from UK authorities.
Each of the projects, Dogger Bank Creyke Beck A, Dogger Bank Creyke Beck B, Dogger Bank Teesside A, and Dogger Bank Teesside B, are planned to have a generation capacity of 1.2GW.
Sweden-based Vattenfall and ScottishPower Renewables agreed a new development strategy for wind farm projects within the East Anglia Zone offshore of the UK, having an overall potential of up to 7.2GW.
The energy developers have arranged to split East Anglia Offshore Wind projects so that each firm will develop projects separately.
The decision is a result of industry wide changes agreed with the UK's Crown Estate, which will lead to signing of project-specific deals instead of zone development agreements.
In association with Oxford University's department of Engineering Science, UK-based Kepler Energy developed Transverse Horizontal Axis Water Turbine (THAWT) technology, which can generate tidal energy in shallow water.
The horizontal axis turbine can be economically installed underwater at depths of up to 30m.
Once operational, it can eliminate expensive set-ups of large dams and barrages, and reduce unpredictability of results, reports Reuters.
Makai Ocean Engineering prepared to commence operations on grid-connected ocean thermal energy plant the Big Island in Hawaii, US.
Said to be the the largest such plant in operation, the facility is designed to generate clean power using changes in ocean water temperature.
It will adapt the ocean thermal energy conversion (OTEC) process, and use deep, cold seawater and surface seawater.