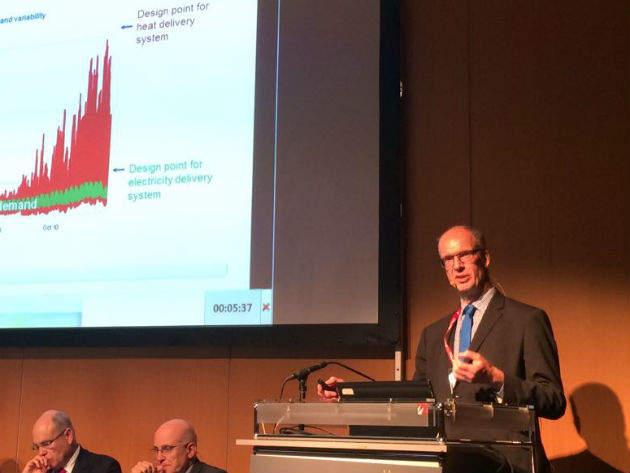 At the 25th annual PowerGen Europe conference in Cologne, Germany, exhibitors and speakers aimed to shed light on the most important aspects and developments of today's energy industry.
Talk quickly turned to three areas – decarbonisation, decentralisation and digitalisation. Interlinked, these concepts provide an insight into the energy sector of the future, and provide the crux of today's challenges.
Decarbonisation: keeping it cool
Around the world, countries, businesses and individuals have taken steps to reduce carbon emissions. The Paris Climate Agreement brought together leaders from around the world to pledge reductions in the amount of harmful CO2 produced.
As the power industry has been pursuing decarbonisation for years – it was no surprise that the exhibition hall and presentations of PowerGen were filled with new technologies and methods for reduced or carbon free power.
The potential success of decarbonisation was detailed in Dr Manford Hafuer's, Vice President of Enerdata's presentation, showed three possible outcomes of environmental efforts. A total energy rethink involving radical commitments, resulting in a slowdown in emissions and diversification on renewables but with the potential challenges of resource tension and higher prices. A second scenario sees current commitments being enacted, mainly involving work on energy efficiency and the phase out of fossil fuel subsidies resulting stabilisation of emissions. And finally, a third scenario where little is done – CO2 emissions soar and fossil fuels see a renaissance in emerging countries.
Renewable technologies are becoming so economical that a future without them is now impossible, regardless of CO2 goals. However, without specific effort to reduce emission, temperatures could rise by as much as six degrees by 2040.
Decentralisation: Moving away from the grid
As the energy industry pushes for renewable alternatives, such as wind and photovoltaics, the system is becoming increasingly decentralised. European countries have traditionally relied on a national grid system to distribute electricity, but with an increasing number of small power plants this is changing.
In Germany, there were just 1,000 power plant equivalents in 2000 – now there are >1.5million. The majority are owned by individuals, such as solar panels on roofs. This change is happening across Europe as power sources become increasingly diversified.
Professor William D'haeseleer, Director of the KU Leuven Energy Institute, took part in the opening plenary panel discussion at PowerGen – Delivering Digitalisation: Exploring the Potential for the Power Sector. He believes the increasing decentralisation of the power sector must lead to an intrinsic change in the nature of electricity providers or they will become redundant. 'Clearly we will not be the ones running big plants any more, we will convert to a new role,' says D'haeseleer.
Digitalisation: Connecting it all
As the grid becomes decentralised, technology will need to step in to ensure a consistent and secure power supply.
'One thing is certain,' says D'haeseleer. 'You need a lot of IT to manage that level of complexity.'
The digitalisation of the power sector has already begun, with blockchain and smart meters becoming commonplace. There is now talk of virtual power plants replacing traditional ones, interlinking small scale solar and wind with base load to create a reliable power system.
However, scepticism remains. Fear of cyber security is paired with concerns about a complex system, ineffective and expensive in comparison to the relative simplicity of current grids.
'It really is fascinating to talk about all these fancy technologies for the future, and at some point in time we will be totally decarbonised, renewable and decentralised,' says D'haeseleer. 'It will all happen. The real question is how do we get from where are today to that point?'