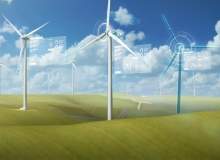 Big data; the industrial internet; the internet of things and even the internet of everything – the common consensus still hasn't quite settled on a single buzz-phrase for the wave of digital innovation that has been sweeping many tech-driven industrial sectors in recent years.
While no one can seem to agree on a name, few doubt the technology's potential. The development of internet-enabled smart technology has brought together the digital and physical, uniting hardware and software more seamlessly than has been possible before. Sectors as varied as healthcare, public transport and building design have been leveraging these wireless innovations to unlock the value of remote operation, predictive maintenance and smart data analytics.
GE goes digital
"The increased connectedness we're beginning to experience equates to a $19tn global opportunity to create value over the next decade through increased profits for businesses as well as cost savings, improved citizen services and increased revenues for governments and other public-sector organizations," wrote Cisco chairman and CEO John Chambers in a 2014 editorial for the World Economic Forum.
Many companies are pivoting to take better advantage of this expanding market; General Electric (GE) has been one of the most enthusiastic early evangelists for the technology. In 2012, GE chief executive Jeff Immelt announced that the company would invest $1bn in industrial internet technology and applications, which he believes could add $10-15tn to global GDP over the next two decades.
"This is the next industrial revolution," said the head of GE's UK and Ireland operations Mark Elborne at the recent Telegraph Digital Leaders conference in London. "It fundamentally changes how we design and create products and opens opportunities for millions of people." Certainly, this is the outcome on which the company has staked its billion-dollar bet.
"By 2020, the total technology spend on industrial Internet is estimated to reach $514bn, and the value created by the industrial Internet is estimated to rise to nearly $1.3tn, which translates to a return on investment of around 150%," wrote the team at Trefis, which analyses how companies' products affect their stock prices, in a blog for Forbes. "This creates a very compelling case for industrial machine manufacturers like GE to invest in creating industrial internet systems and technologies so that they can take a significant share of the value that will be created."
Wind power: at the core of GE's predictivity push
Over the past several years, GE has rolled out a number of products and services powered by the industrial internet, finding applications in sectors like oil and gas, aviation and railway operation. Power generation is another core pillar of the company's industrial internet – or, to use GE's term, 'predictivity' – offerings.
As well as improving gas turbine efficiency and reliability through its FlexEfficiency Advantage portfolio, GE has staked much of its Predictivity capital on wind power. As one of the largest wind turbine manufacturers in the world, GE Wind Energy has already made great strides in the use of smart tech to boost the performance of its units.
GE's PowerUp platform, which launched in 2013, leverages the data-gathering capacity of sensor arrays on wind turbines to feed huge digital reams of data to a cloud platform, from which the information can be analysed remotely and compared with historical data, enabling adjustments to wind turbine pitch and blade speed to maximise output depending on wind and atmospheric conditions. Constant monitoring also cuts downtime to a minimum.
"We have all this data coming from wind turbines," GE Wind Services global sales leader told Forbes last year. "Before we were using it to monitor but now we find that we can actually enhance the capabilities – we can get more energy out of the air, we can tune and optimize the turbines for terrain, seasonal variations and weather."
The implications for output and efficiency have already started to become clear. Multinational electric utility E.ON noted a 4% increase in annual energy production after upgrading 469 of its GE-made 1.5-77 wind turbines to the PowerUp platform. GE noted in a statement that the cumulative effect of these incremental output gains is creating a significant impact.
"To put things in perspective, today our customers have more than 9,000 GE 1.5-77 turbines running in the United States. Even a 1% energy output increase on this installed base would generate more than 420,000 megawatt hours of additional energy each year, which would provide the equivalent power used by 33,000 average US homes."
Seeing double: introducing the Digital Wind Farm
With the benefits of digital tech and data analytics for wind farm operations becoming increasingly clear, what's the next step? GE has now offered its own response to that question with the introduction in May 2015 of the Digital Wind Farm, which it is touting, with characteristic corporate flair, as "the next evolution of wind energy".
Certainly the concept represents the culmination of GE's work in the field of wind farm efficiency and connectivity. While many of the features of the Digital Wind Farm overlap with the innovations already achieved by the company, the major difference in the new concept is that connectivity is built into the wind farm from the construction phase rather than retrofitted later on.
The concept is designed around GE's 2MW wind turbine, which can be individually customised depending on each turbine's pad mount location for an immediate 10% output boost. The heart of the Digital Wind Farm resides with the cloud-based 'digital twin' created for every turbine in the early stages, effectively mirroring the turbine's real-world operating conditions. This initially allows for the optimisation of the modular turbine's placement and construction, and once built, facilitates constant adjustments to improve performance and monitoring to highlight potential issues in the future. The digital twin – underpinned by GE's cloud platform Predix – is designed to become more insightful over time through machine learning.
"Every wind farm has a unique profile, like DNA or a fingerprint," GE Renewable Energy's general manager for wind products Keith Longtin said in May. "We thought if we could capture data from the machines about how they interact with the landscape and the wind, we could build a digital twin for each wind farm inside a computer, use it to design the most efficient turbine for each pad on the farm, and then keep optimising the whole thing."
A mighty wind: pushing wind energy forward
All in all, GE is promising that the Digital Wind Farm will unlock a 20% increase to wind farm energy production, a significant jump on the 5% offered by PowerUp (and the 4% actually achieved by E.ON). The advantages offered by data analytics, automation and remote operation have already reduced the cost of producing wind energy in the US by around 60% since the 1980s, but many wind projects are still skirting the boundaries of economic viability, especially after the expiry of the federal production tax credit for wind energy in December 2014. Connected innovations from GE and others could help bolster the business case for new projects.
"A 20% improvement [to energy output] can be enough to tip the edge," GE Water & Power CEO Steve Bolze told Bloomberg in May.
This year, GE took the step of opening up its Predix software platform to any company, a sure sign of its eagerness to accelerate the adoption of industrial internet applications. "By opening up Predix to the world, companies of any size and in any industry can benefit from the investments GE has made by eliminating the barrier to entry," said Immelt.
The company, as a turbine producer with around 22,000 units installed worldwide, is indeed in a strong position to drive the development of the market and encourage its many customers to upgrade, in the wind energy sector and elsewhere.
Of course, GE's billion-dollar bet still comes with its fair share of risk. Its wind turbine upgrade programme is exposed by its tie to the wider health of wind power, which – as demonstrated by the US shale gas boom and the federal tax credit expiry – is vulnerable to government policy and shifting market forces that are mostly outside of its control.
Connecting vital energy infrastructure to the internet also opens up the risk of cyber attacks, an area that is still fraught with unknown variables and worrying question marks. "[Cybersecurity is] an industry-wide issue that warrants a collective response," said Elborne at the Telegraph Digital Leaders conference. "Companies that don't have really good industrial cybersecurity are going to be left behind."
Nevertheless, it's an encouraging sign for wind farm operators that a giant like GE is throwing so much weight behind improving turbine efficiency and cutting production costs. If the company is gambling on internet-powered innovations providing the final push to get wind farm installations to the point of critical mass, it might be unwise to bet against it.