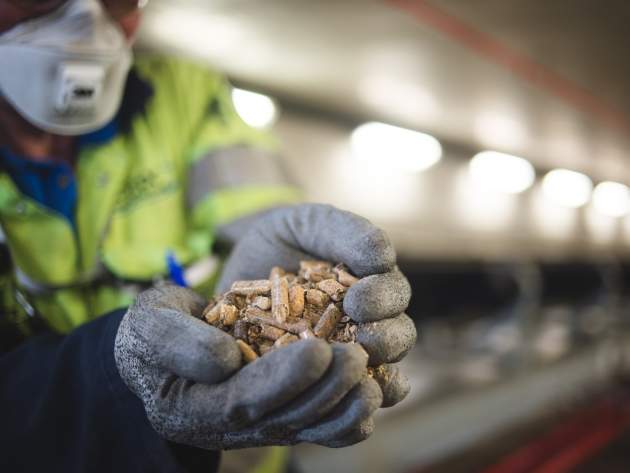 As the UK faces up to the idea of a post-coal future, with the government committed to closing the country's last coal-fired power plants by the end of 2025 at the latest, the national energy system is shifting in response.
Even without government intervention, plentiful gas imports and the rapidly growing presence of renewable sources in the energy mix have created a hostile market atmosphere for coal plants, and a government consultation on coal generation published in November forecast that, based on current trends, "all coal plants are projected to have closed by 2022 due to economic factors".
And as the UK' energy landscape changes, power companies are changing with it. Drax Group, which owns and operates the massive 4GW Drax coal/biomass power station that meets around 7% of the UK's energy needs, is a case in point.
Diversifying Drax's business
The company had a disappointing year in 2015, with the government's cancellation of the renewable energy exemption to the Climate Change Levy cutting its biomass generation revenues. The subsequent lawsuit initiated by Drax and Infinis Energy to review the decision failed at the High Court in February last year. Drax also pulled out of the White Rose carbon capture project near its plant in North Yorkshire in September 2015, after which the scheme went under when the government cancelled its CCS competition.
Nevertheless, Drax bounced back with a flurry of acquisition activity in December 2016, including the purchase of four open-cycle gas turbine (OCGT) development projects and the acquisition of commercial gas and electricity supplier Opus Energy for £340m, which finalised on 10 February, expanding the company's presence in the energy retail market in conjunction with its existing commercial electricity supply subsidiary Haven Power.
"The moves are indicative of Drax's strategy to move away from coal generation."
These moves are indicative of Drax's strategy to move away from coal generation and diversify its activities to better complement the uptake of gas-fired power generation and support the growing adoption of renewables in the UK.
"These initiatives mark an important step in delivering our strategy, contributing to stronger, more predictable, long-term, financial performance, through greater diversification of the businesses, delivering more opportunities right across the markets in which we operate," said Drax CEO Dorothy Thompson in a December statement.
The market has responded positively to the deals, with Drax's share price jumping by around 20% after the December announcements. RBC Capital Markets managing director of European utilities research John Musk commented: "We see today's announcement as a clear positive which goes a long way to addressing some of the concerns that underpin our 'Underperform' recommendation [on Drax shares]."
Clearly Drax's efforts to break out of its traditional commodity-exposed coal generation business have struck the right note in many ways, but how will this strategy impact the company's operations and what challenges might it throw up?
Investing in OCGTs and the UK capacity market
Drax's acquisition of four gas turbine development projects from Noble Energy subsidiary Watt Power supports the company's strategy of expanding its presence in the UK capacity market, which awards contracts for future capacity in an ongoing auction process. This mechanism is intended to build up an array of 'back-up' power plants to provide rapid-response electricity to plug supply gaps caused by renewable energy intermittency.
The four OCGT projects, none of which are currently built, will each have a generating capacity of 299MW, and two are scheduled to start producing electricity by 2020. OCGTs are particularly well-suited to back-up generation as they have the ability to ramp up from a cold start to full power in around ten minutes, a massive improvement on the approximately 90 minutes taken by traditional combined-cycle gas turbines or five hours in the case of coal turbines.
"We plan to use OCGTs to plug the gaps that intermittency creates – essentially flicking the switch on and off at very short notice," Thompson wrote in a December blog. "We anticipate they would run for no more than 500 hours per year – only at times when the electricity system is under stress. Through supporting more intermittent renewables we also help to enable more coal off the system."
But is the UK's capacity market developing in a way that will support Drax's OGCT ambitions? At the most recent capacity auction in December for 2020-21 supply, Drax secured contracts to provide 1.2GW of capacity from its existing units, but failed to do the same for its newly acquired OCGT projects.
Concerns have been raised that the capacity auction strike prices – clearing at just £22.50 per kW/year at the most recent auction – are currently insufficient to properly incentivise gas turbine capacity-building. A Reuters report in December cited analysts who have said a price of £35-45 would be required to kick off a new wave of gas plant development.
Drax has reaffirmed its commitment to the new OCGT projects. "Our plans remain unchanged," a company spokesperson said at the end of last year. "The acquisition of the four rapid-response OCGT projects is a long-term investment." The company will likely hold back on bringing these projects online until prices increase sufficiently to make the investment worthwhile.
Opus Energy and biomass developments
Drax's other major acquisition – the $340m purchase of Opus Energy – will significantly expand the company's footprint in the retail energy market for industrial and business customers.
The company's existing subsidiary Haven Power already supplies electricity to business users, but with Opus – the largest business energy supplier outside of the 'Big Six' energy firms – in its portfolio, Drax would add gas to its energy supply offering and swell its overall retail presence to create the UK's fifth-largest business energy retailer, with more access to the small and medium-sized enterprise (SME) market.
"With this new company as part of Drax Group, we will be able to grow our existing retail offering, providing more of the UK's growing businesses and established industrial and corporates not only with electricity, but also with gas," said Thompson. "Our retail offering will provide businesses with a route to sell the power they generate but do not need – plus expertise in how they can use energy more efficiently."
Nevertheless, there are risks involved with the acquisition, with energy analysts at investment bank Jefferies questioning both the cost of the purchase and Drax's entry into a potentially complex and unfamiliar market.
"The government's commitment to the role of biomass in the country's decarbonisation drive remains to be seen."
"The [Opus] acquisition multiple is ten times enterprise value/EBITDA which, in our view, does not stand out as considerably cheap," Jefferies noted in a statement. "Secondly, this is the first time that the company is making a step into the SME retail market, therefore it remains to be seen whether Drax has the necessary expertise to manage this successfully."
With Drax's strategy suggesting a diversification campaign to reduce the company's reliance on Drax power station given the coal phase-out deadline, where does this leave the North Yorkshire plant that is still Drax's key asset?
The power station's future is tied to the government's level of support for biomass generation in years to come. Three of the plant's six units are now converted to burn biomass pellets rather than coal, with the European Commission (EC) in December giving approval to the UK government's Contract for Difference that underpins the viability of the unit's conversion. So far, however, the government has not committed to any support for the conversion of the remaining three units.
"Biomass technology is proven, ready to go and ideally placed to help the country transform to a low carbon future with reliable, secure and affordable renewable power," said Drax Power chief executive Andy Koss after the EC approval. "With the right support from the government, we could upgrade the remainder of the power station to run solely on biomass and provide up to 8% of the UK's total electricity from sustainable sources."
So the government's commitment to the role of biomass – and Drax power station in particular – in the country's decarbonisation drive remains to be seen. But clearly, Drax's diversification drive is intended to help reduce its exposure to the power station's fate through its moves into retail energy supply and gas turbine generation. There are risks involved in the company's strategy, but with the UK energy system undergoing its current transition, de-coupling from coal is almost certainly a step in the right direction.