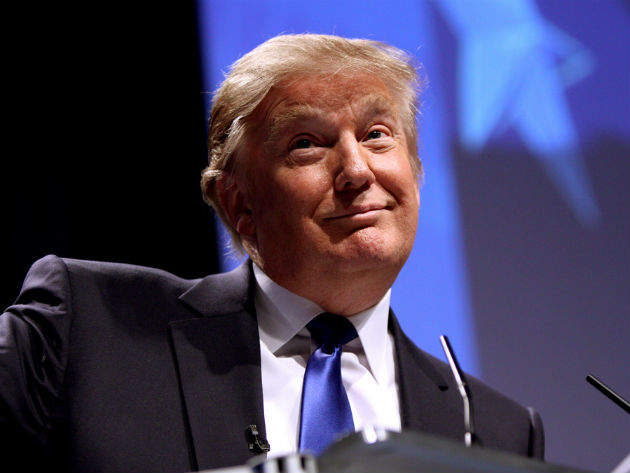 A Donald Trump victory in the US presidential election has been a prospect environmentalists have been dreading, and now a sad reality. Under the Obama administration, America saw its first reduction of CO2 emissions in the post-industrial age, and became a key player in the Paris Climate Agreement. The Clean Power Plan was brought into place to try and ensure the US's energy future, while the Environmental Protection Agency (EPA) has been able to regulate and monitor power plants to ensure they run as sustainably as possible. All of these steps are now under threat.
Renewable no more
Despite his refusal within the first election debate to accept his previous statement, in 2012 Donald Trump denied climate change. Writing on his official Twitter account, Trump stated: "The concept of global warming was created by and for the Chinese in order to make U.S. manufacturing non-competitive." As such, a man who does not recognise the need for change is not going to fund it. Comparing Trump's campaign claims against those of his Democratic rival Hillary Clinton, Lux Research has already predicted that an extra 3.4 billion tons of CO2 emissions will be created during Trump's term, as would have been in Clinton's.
His statements have been outrageous and many hope outlandish, not least his promise in May to remove the US from the Paris Climate Agreement. Although doing so would take four years, many experts are warning that Trump will most likely simply ignore the agreement ratified by Obama, which promises to keep global temperatures within 2°C of pre-industrial levels. Others have warned of the global psychological effect of an administration in denial of climate change. Acting as an advocate for environmental change, Obama not only helped increase American climate efforts but also worked with countries such as China, encouraging global support.
But to Trump this is money the US is wasting on a fallacy. In an interview with Fox News Sunday at the end of last year, Trump explained his plan to save money by entirely cutting the Environmental Protection Agency.
"Environmental Protection, what they do is a disgrace. Every week they come out with new regulations. They're making it impossible," Trump said. When asked about how this would affect the environment he followed up with "We'll be fine with the environment… We can leave a little bit, but you can't destroy businesses." This conversation perfectly summed up his disdain for the environment and renewable energy efforts, in favour of maximising short-term economic benefits.
The premise that cutting on environmental spending will save America money is flawed in itself, however. Trump has claimed that the US will be able to save $100bn within eight years, through cuts to EPA and environmental policy. Bloomberg has already debunked this figure as wholly unachievable. EPA's Clean Power Plan, first proposed in 2014 and finalised in 2015 is the US's guidelines and regulations for limiting carbon pollution from power plants. It costs the country an estimated $7.2bn a year. Completely cutting EPA would destroy other expenditures such as R&D but this still doesn't bring the reduced spending to anywhere near $100bn. In disbanding EPA Trump will destroy regulations that protect the environment and scuppering progress in renewable power integration and tech development.
Fossil fuels on the rise
Trump's campaign repeated endlessly that he was a businessman, and promised he would use his skill to rebuild industries. Throughout the primaries and continuing into his presidential campaign he promised to reopen coal mines, and rebuild the mining sector by cutting regulations, thereby securing America's energy future.
The mining industry has undoubtedly suffered in recent years, a global trend which has been exacerbated by renewable energies' increasing ability to compete economically with coal. Clinton's campaign promised to invest $30bn into retraining coal miners to develop the renewables sector, creating infrastructure and growth around sustainable energy sources in areas worst hit by coal's decline.
Beyond the lifting of restrictions, Trump's energy plan is unclear. In September he explained the benefits of lifting restrictions on the oil and gas industry, to allow the US to take advantage of "untapped energy – some $50tn in shale energy, oil reserves and natural gas on federal lands, in addition to hundreds of years of coal energy resources."
However, as the oil industry continues to suffer from its crash in 2014 brought about by a glut in oil, prices remain low with companies declaring bankruptcy and oil workers losing their jobs. Put simply, it is hard to see how Trump can believe producing more oil will solve the problems in the energy market created by having too much oil.
America has vast reserves of natural gas, something which has undoubtedly benefitted the country in the last few decades, especially with the surge of domestic shale gas production. But this surge is directly linked to the US's decline in coal mining, as natural gas is a cheaper and easier method of energy production. Trump's policy for gas production counters his policy to "end the war on coal and the war on miners" by feeding a circular problem. He even manages it within the same sentence.
Not all over?
Trump's approach to energy is flawed; his denial of the need for renewable energy, and his seeming complete misunderstanding of the coal, gas and oil markets have been clear throughout the election. Many climate-conscious observers are hopeful, however, that his denial in the first debate that he didn't believe in climate change is a sign that he may have changed his stance, while others hope that it will simply be too hard for him to put the brakes on the progress which has been seen in the last eight years. States' control over many energy policies is also a restraining factor, as states such as California have already invested heavily in renewable energy infrastructure and will continue to push a green agenda.
There is a lot to fear from the new President-Elect's approach to energy. America is the second biggest polluter in the world, producing 13% of global emissions, and is arguably years behind other developed countries with regards to clean energy policies. Something drastic has been needed from the US to slow global warming and stem the rising seas and extreme weather which result from it, whilst continuing to maintain a sustainable energy system for its colossal and energy-hungry population. But with Trump as the new leader of the free world, optimism is fading fast.