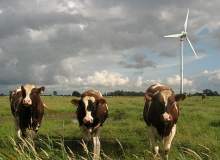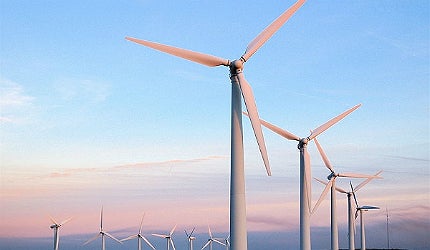 Although few dispute that burgeoning wind power technologies will continue to play an important role in the global renewable energy mix, the way in which wind farms actually fit into the environment itself is much more intensely debated. Both on an aesthetic level and in terms of wildlife conservation, wind farms have been flagged as a cause for concern.
In countries such as the UK, which has access to an impressive wind resource but a relatively small landmass, sites for wind farms are particularly important. Access to appropriate land is vital for wind power development, not only for power generation but also to test new turbine prototypes, which are intended to improve efficiency and reduce the cost of wind power generation, both on land and at sea.
The wind farm debate: hampering development?
"The CSE has estimated that for every bird killed by a turbine, 5,820 are killed by flying into other man-made structures."
A 2011 report commissioned by the UK Crown Estate warned that the country's offshore wind power development could be hampered by a lack of land-based demonstration sites, noting that by 2015 there could be a shortage of up to 12 to 14 prototype sites for wind turbines, representing a threat to the ongoing development of next-generation offshore wind farms.
"We've presented the report to industry and government to highlight the problem, and we're currently working to try and close some of the gaps," said Crown Estate development manager Chris Lloyd. "But it's not an easy fix because the reality is that it's onshore planning for a wind farm, which isn't easy."
So although disputes about wind farm development are overwhelmingly fought at a local level between anti-wind farm campaigners and developers trying to push their projects through the planning stages, the cumulative effect of all these local tussles could have a major impact on wind power development on a national scale.
According to RenewableUK, the professional body for the UK's wind and marine renewables industries, only around 25% of wind farm planning applications in England are approved at the planning committee stage, an indicator of both the rigour of wind farm planning assessment and, in places, the volume of public controversy which can be drummed up in response to a wind farm proposal.
It's true that around half of the applications denied at the planning stage are later approved on appeal, but the initial rejection can cause massive delays, as RenewableUK spokesman Adam Bell explains. "It's not the case that wind farm developers always get their way," he says.
"There is definitely an impact on development from campaigners – for a start, they can delay development in some cases for many years. There are wind farms that have taken 15 years to be built following local campaigns against them."
Are wind farms a "blight" on the countryside?
The most persistent criticism levelled at onshore wind farms is their aesthetic effect on the local landscape. It's certainly understandable that many local residents are unenthusiastic by the prospect of large wind turbines being placed among the fields and trees that they may have grown up with, and campaigners are certainly not shy about making their voices heard.
In the past few months alone, there have been a number of major campaigns against proposed wind farms in the UK. Wind Prospect's proposal to build six turbines near Brineton in Staffordshire was scrapped at the beginning of June when the developer lost its appeal after a ruling that the wind farm would not be in keeping with the surrounding landscape.
Meanwhile, the debate rages on in Carlisle, where Bolsterstone Innovative Energy is appealing a planning rejection for a wind turbine near the village of Cumwhinton. The campaign against the turbine's construction has received loud support from Carlisle MP John Stevenson, who criticised the whole concept of onshore wind farms. "I am opposed to wind farms on land, though not offshore," he said. "Within this area they are a blight and of little value."
Balancing renewable development and the local environment
Stevenson's blanket denunciation of onshore wind farms is unrealistic to Bell, who notes that not all onshore wind turbines are built in verdant fields. "I'm a bit baffled by that, to be honest," he says. "There are wind turbines on the docks in Cardiff, and I can't see how anyone would possibly object to a wind turbine in the middle of an industrial estate."
"In the past few months alone, there have been a number of major campaigns against proposed wind farms in the UK."
But Bell does recognise that people have a right to be concerned about wind farms in areas of natural beauty. "It's difficult to deny that wind turbines do, in some cases, change views that have been cherished by local people," he admits.
But the potential for altering the landscape is reflected in a strict planning process that requires developers to conduct an in-depth environmental impact assessment that covers areas of potential risk. There are ways of reducing the visual impact of wind farms which can be implemented during the consultation stage, like repositioning or re-angling turbines.
Beyond practical mitigation, Bell notes that there must be a balance struck between maintaining the rural landscape and securing a sustainable energy future. "The most obvious point is that by far the bigger impact on the landscape will come from climate change," he says. "Wind farms will help reduce carbon emissions and therefore help minimise the impact of climate change."
Bell also points to a distinct advantage of wind farms compared to large-scale fossil fuel or nuclear plants – reversibility. "Wind farms can be decommissioned without any real problems whatsoever. If in 30 years time we decide we don't want to go for wind, we can just take them down and you'd never know they were there. It's not like a large nuclear or coal plant; it's basically just a very large windmill that can be deconstructed."
By contrast, criticisms about the effect of wind farms on local wildlife are easier to address, because unlike the subjective world of aesthetics, accusations can be countered with evidence. Although there is evidence to suggest that badly placed and poorly designed wind farms can pose a disproportionate threat to local bird and bat populations, today's wind farms must incorporate studies into local nesting grounds, migratory paths and bat colonies to ensure that turbines aren't in the way of avian movements.
"People do get concerned about the impact that wind farms have on, for example, birds, but the actual impact of an individual wind turbine is almost negligible compared to the rest of man-made constructions," says Bell.
"Houses kill far more birds than wind farms do in the UK, and cats by an order of magnitude again." Indeed, the Centre of Sustainable Energy in Bristol has estimated that for every bird killed by a turbine, an average of 5,820 are killed by flying into glass windows and other man-made structures. The Royal Society for the Protection of Birds (RSPB) agrees; its official line is that well-placed wind farms should have a minimal impact on birds.
Reducing ecological impacts with technology
"The cumulative effect of these local tussles could have a major impact on wind power development on a national scale."
In the process of refining the technology behind wind turbines, the industry is also coming up with new ways to reduce the inconvenience that they might cause to local people. The noise created by groups of wind turbines has been mitigated by a number of technological and design improvements, including more aerodynamic rotor blades that cut through the air with less disturbance. This innovation has been made to improve efficiency, but cutting down noise has been a helpful by-product.
Furthermore, the gradual evolutionary shift from gearboxes to direct drive technology has also helped improve noise performance. "At the very start of the wind industry, you'd have your traditional generator plugged into a gearbox," says Bell.
"Nowadays, a lot of modern turbines use induction generators in the form of a permanent magnet, which allows you to produce a constant electrical current without the need for a gearbox. Without the gearbox, turbines are a lot quieter, as well as more efficient when it comes to things like maintenance."
Although practical methods are helpful, it seems unlikely that hardcore opposition groups will ever be persuaded that wind turbines can fit elegantly into a rural scene. The challenge for the wind industry, governments and trade bodies such as RenewableUK, then, will not be to convert critics into believers, but to provide solid evidence that the long-term benefits outweigh the day-to-day inconvenience.
"It is the job of the industry to talk to the local community about what it will mean to the local people and environment when they want to put up a wind farm or turbine," he says. "It's important that when local councils are debating whether they want to accept a project, what they're saying is based on fact, and not upon the various myths that are going around."