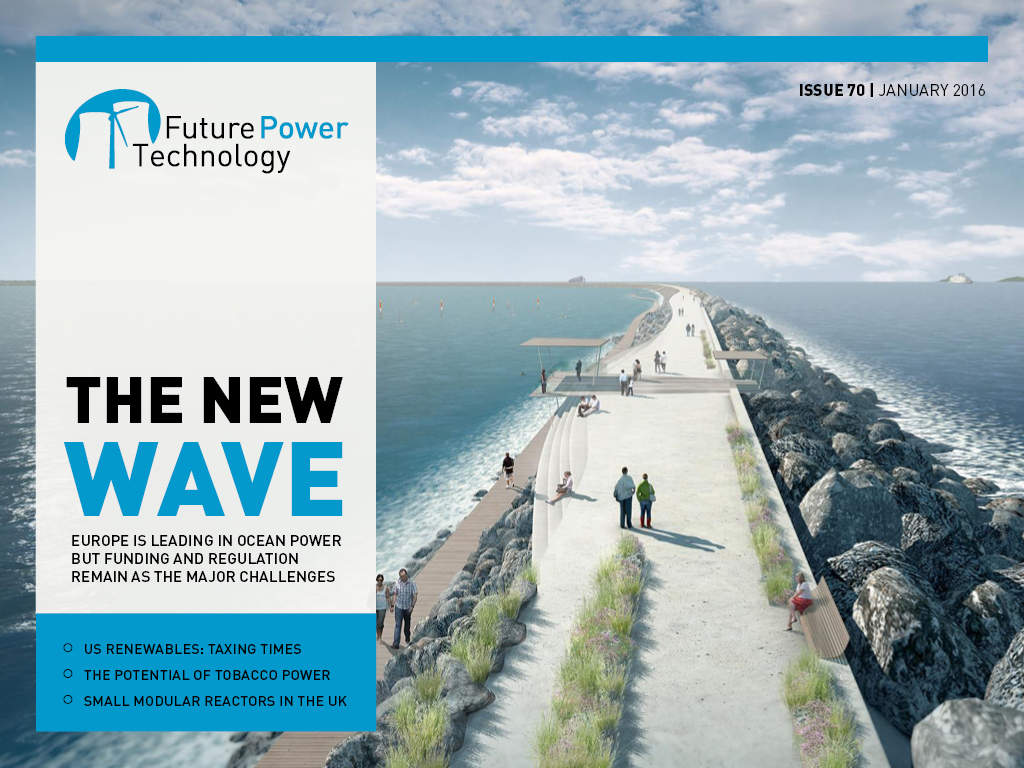 Future Power Technology is now free for the iPad. Download our app to read the latest issue and browse our back issues for free.
Europe is leading the world in ocean power development, and the European Marine Energy Centre in Orkney, UK is its pioneering test-bed for wave and tidal technologies. However, as ocean power is still far behind the major renewables in terms of funding and support, we ask, how long can the EU maintain its position at the forefront of this emerging industry?
Also, we examine if partnering with Westinghouse Electric could make the UK a global nuclear technology provider, look at the impact of the US Federal Investment Tax Credit on renewables, and see how Tyton BioEnergy Systems' non-smoking tobacco could replace fossil fuels.
Plus, we speak to US-based PRIME Coalition about its mission to support clean tech through connecting early-stage green projects to charitable funding and private investors.
Read the issue for free on your iPad through our app, or if you're on a desktop computer you can also read it in our web viewer.
In this issue
Top Deals of 2015
The past year has seen a number of major takeovers the energy industry. We take a look at the biggest deals based on value.
Read the article.
Taxing Times
The US Federal Investment Tax Credit to support renewable projects is due to expire in 2016. Julian Turner examines the impact to date and what to expect in the final year.
Read the article.
Ocean Power in Europe
Ocean power has huge potential and Europe is leading the say, but funding and regulation challenges remain.
Read the article.
Biofuel Superhero
Tyton BioEnergy Systems has bred a strain of tobacco that can compete against oil as a major biofuel. Taylor Heyman asks, will the world soon be adopting tobacco-derived energy?
Read the article.
Window of Opportunity
Small modular reactors offer a faster and cheaper way to develop nuclear power. Chris Lo speaks to Simon Marshall of Westinghouse about Britain's potential to be a market and technical partner of SMRs.
Read the article.
Unlocking New Capital
PRIME Coalition channels money from charitable organisations into clean energy projects. Lindsay Dodgson speaks to director of Philanthropic Partnerships Nicole Systrom on how philanthropy could bridge the investment gap.
Read the article.
Next issue preview
The landmark Paris Climate Change Conference took place in late 2015 with many pledges made regarding the global energy market. But with so many governments courting renewables, what will these changes mean for the struggling coal and oil markets? We examine how the decisions made will affect each area of the energy industry.
Also, we ask why UK investment in fossil fuel projects as foreign aid is over double that spent on clean energy, look at Statoil's bid to build the world's largest floating wind farm off the coast of Scotland, profile GE's new 'Current' venture into solar power, energy storage and software, and investigate the International Atomic Energy Agency's deal with Kazakhstan to build a low-enriched uranium bank.
Plus, we take a look at Cambridge scientists' demonstration of a very-high-energy density lithium-oxygen rechargeable device that could solve battery technology problems.
Digital magazine FAQ
You can read Future Power Technology for free on the iPad. Download our app to read the latest issue and browse the back issues in our archive. Sign up for a free subscription in the app and never miss a new issue.
You can also continue to read the desktop version for free on our web viewer. (Browser compatibility: The web viewer works in the latest two version of Chrome, Firefox and Safari, as well as in Internet Explorer 9 and 10. Some features may not be compatible with older browser versions.)