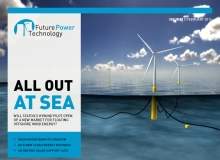 Future Power Technology is now free for the iPad. Download our app to read the latest issue and browse our back issues for free.
Norwegian oil giant Statoil is preparing to build the world's largest floating wind farm off the coast of Scotland. Not only will Hywind Pilot Park be a proving ground for the indstry, but it will also support Statoil's hopes of floating multiple, cost-effective farms in markets worldwide. We explore the benefits and challenges facing floating wind farms.
Also, we profile GE's $1bn green energies and software business spin-off, get insight into the UK's back-tracking on its solar funding cuts, and investigate why it is also disproportionately investing in foreign fossil fuel projects.
Plus, we see how Kazakhstan's uranium bank could safeguard both the nuclear energy industry as well as developer countries, and take a look at a lithium-oxygen battery concept that could recharge energy storage technology.
Read the issue for free on your iPad through our app, or if you're on a desktop computer you can also read it in our web viewer.
In this issue
Intelligent Energy
GE has invested $1bn in new venture, Current. We profile the spin-off, which is focused on developing businesses in fields such as solar power, energy storage and software.
Read the article here.
The Sun Sets on Solar
The UK Government is revising its solar subsidy cuts following a public and industry backlash. We ask, can the proposed low-level funding bring the industry to independence by its target date of 2020?
Read the article here.
Time for a Sea Change
Norwegian oil giant Statoil is set to build the world's largest floating wind farm, Hywind, off the coast of Scotland. Are floating turbines the key to reducing the cost of wind power?
Read the article here.
The Ultimate Battery
Cambridge scientists have developed a working laboratory demonstrator of a lithium-oxygen battery with a very high energy density. The concept solves two major problems of battery technology, but can it be brought to full-scale production?
Read the article here.
A Nuclear Reaction
In an attempt to safeguard fuel supplies for nuclear power stations and limit the potential for nuclear proliferation, the International Atomic Energy Agency and Kazakhstan have agreed to build the world's largest uranium producer, to build a low-enriched uranium bank. We investigate how the facility will affect the civil nuclear landscape.
Read the article here.
A Necessary Evil?
The UK reportedly invested over £2bn in fossil fuel projects between 2009 and 2013 as part of overseas aid packages to countries urgently needing energy double the amount spent on clean energy projects. We profile five UK-led overseas fossil fuel projects to find out why.
Read the article here.
Next issue preview
Earlier this year British Energy Secretary Amber Rudd announced that the UK's remaining coal-fired power stations will be closed by 2025 with their use largely restricted by 2023. We take a look at the nation's coal-fired infrastructure to find out how the major stations will prepare for their impending phase-out.
Also, we look into new energy company Rolton Kilbride's efforts to develop waste-to-energy projects, see how GE's newly acquired wind turbine developer Blade Dynamics is changing the blade manufacturing process, and catch up with researchers at The University of Manchester to report on their breakthrough in developing a renewable biosynthesis of propane.
Plus we speak to researchers at a Swedish university about a new cellulose-polymer material with an outstanding ability to store energy, and hear about smart grid solutions by information and technology giant Huawei.
Digital magazine FAQ
You can read Future Power Technology for free on the iPad. Download our app to read the latest issue and browse the back issues in our archive. Sign up for a free subscription in the app and never miss a new issue.
You can also continue to read the desktop version for free on our web viewer. (Browser compatibility: The web viewer works in the latest two version of Chrome, Firefox and Safari, as well as in Internet Explorer 9 and 10. Some features may not be compatible with older browser versions.)