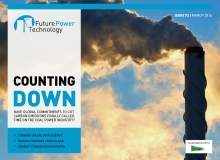 Future Power Technology is now free for the iPad. Download our app to read the latest issue and browse our back issues for free.
Discussions at December's 2015 Paris Climate Conference sent ripples across the entire energy industry, resulting in a global commitment to tackle carbon emissions, although just how remains to be seen. The UK pledged to phase out coal by 2025, but with plans to switch to alternative fossil fuels and a lack of investment in renewable technologies, just how realistic is this goal? We explore how the great intentions of COP21 will affect the industry as a whole.
We also look at how wind power is becoming more economically competitive with fossil fuels, speak to a company planning to convert waste into energy on a local scale, and hear about a new technique to biosynthesise propane to make it a renewable fuel.
Also, we look into a new power paper polymer that can store energy, and find out about a sub-surface carbon dioxide battery site that could channel energy into the National Grid.
Read the issue for free on your iPad through our app, or if you're on a desktop computer you can also read it in our web viewer.
In this issue
No More Underdog: How Wind is Competing with Fossil Fuels
As wind power starts to become economically competitive with fossil fuels in many areas, we look at how the industry got to this position and plans to improve the economic case for wind.
Read the article here.
Keep it Local
New UK energy company Rolton Kilbride is to develop waste-to-energy projects to provide low-cost distributed energy to local communities. We find out more about the business model.
Read the article here.
The End of Coal?
Earlier this year British Energy Secretary Amber Rudd announced that the UK's remaining coal-fired power stations will be closed by 2025. How will this dramatic shift be achieved?
Read the article here.
Breaking the Chain
Researchers at The University of Manchester have made a breakthrough in enabling the renewable biosynthesis of propane. We speak to the researchers to find out more.
Read the article here.
Power Paper
Linköping University's Laboratory of Organic Electronics in Sweden has developed a new cellulose-polymer material with an outstanding ability to store energy. The scientists involved believe this is only the start.
Read the article here.
Solving Two Problems
Lawrence Livermore National Laboratory researchers have created a subsurface energy system that could tap geothermal energy, store energy from above-ground sources, and dispatch it to the grid like a massive underground battery.
Read the article here.
Next issue preview
The heart of the Atacama desert is the proposed location for the Mirror of Tarapaca, a new project which will generate solar energy in the day, using the excess power to send water to a hydro plant that will operate during the night. The dual-function system is anticipated to create a cheap, clean source of electricity while solving the problem of renewable energy intermittency. We profile the project to learn more.
In addition, we speak to Carnegie Wave Energy about a new round of financing agreements that will support the sector's developments, hear about an experiment at Germany's Max Planck Institute that aims to harness nuclear fusion, and examine a new report by the World Energy Council that reveals the true value of energy storage technologies.
Also, we find out what the US Department of Energy is doing to make its power grid efficient and sustainable, and explore the cleanest way to use coal power.
Digital magazine FAQ
You can read Future Power Technology for free on the iPad. Download our app to read the latest issue and browse the back issues in our archive. Sign up for a free subscription in the app and never miss a new issue.
You can also continue to read the desktop version for free on our web viewer. (Browser compatibility: The web viewer works in the latest two version of Chrome, Firefox and Safari, as well as in Internet Explorer 9 and 10. Some features may not be compatible with older browser versions.)