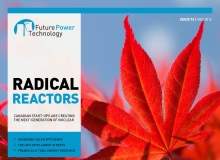 Nuclear power accounts for around 15% of Canada's energy supply but new projects are sparse. Now, a movement by several start-ups has sparked work towards next-generation nuclear, with developments in molten salt and thorium reactor designs and contributions to cracking fusion. We ask whether these projects could help win over the public and bring about a nuclear revival.
Plus, we find out what it takes for designers to make new coal power plants as efficient and clean as possible, and look into the dangers of improper coal ash disposal.
In renewables, we report on France's tidal energy projects, the importance of independent solar cell efficiency analysis, and London's 'intelligent streets' are that generating green power.
MINE magazine is free for the iPad: download our app to read the latest issue and browse our back issues for free.
In this Issue
Turn of the tide
Dublin-based OpenHydro recently installed the first of two tidal turbines at EDF's Paimpol-Bréhat site in Brittany in north-west France. We explore this project which will be one of the world's first grid-connected tidal turbine arrays and paves the way for future projects.
Read the article.
Putting solar to the test
Solar cell efficiency has been recorded and verified since the early 1980s and the results are showing steep progress across the board. Originally created by Nasa, these league tables are now maintained at NREL and competition is fierce. We find out why independent adjudicating is so important.
Read the article.
Better by design
Building a new coal plant has to take account of many factors such as efficiency, logistics, and maintenance, safety and even aesthetic appeal. More important for new coal plants, however, is the drive to achieve low emissions. We look into the requirements power plant designers are dealing with.
Read the article.
Canada's next-generation
Nuclear power accounts for around 15% of Canada's energy supply but new projects are thin on the ground. Now, a range of small companies are working on the next generation of nuclear technology. We find out more.
Read the article.
A hot topic
Coal ash disposal is contentious with the US producing nearly 110 million tonnes of coal ash in 2012 alone, and concerns over operators protecting water supplies from its toxins. We investigate the effects of improper disposal.
Read the article.
Paving the way for intelligent streets
The UK capital's public transport operator Transport for London has announced plans to trial its 'intelligent street' concept in the city. We profile this scheme of a traffic-free road with inbuilt solar and kinetic energy technologies to power buildings in the area.
Read the article.
Next issue preview
An industry consortium is developing a new generation of building-integrated photovoltaic technology to create transparent solar window panels that deliver energy to their buildings while meeting the costs, performance and standards required by high-performance glazing. The project, supported by Innovate UK, could help usher in a new age of zero-carbon buildings. We investigate further.
Also, we hear about the key themes for change in this year's POWER-GEN Europe and Renewable Energy World Europe conference, speak to the brightest minds in energy about Bill Gates' hopes for a "clean energy breakthrough" and learn about a solar cell small enough to rest on a bubble.
In technology, we find out how e-buses are supporting the market for better, sizeable batteries, and look back at the rapid success of America's LNG revolution.
Digital magazine FAQ
You can read MINE for free on the iPad. Download our app from the App Store to read the latest issue and browse the back issues in our archive. Sign up for a free subscription in the app and never miss a new issue.
You can also continue to read the desktop version for free on our web viewer. (Browser compatibility: The web viewer works in the latest two version of Chrome, Firefox and Safari, as well as in Internet Explorer 9 and 10. Some features may not be compatible with older browser versions).