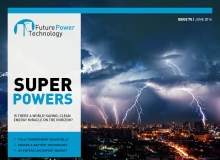 Philanthropist and visionary billionaire Bill Gates has announced that in the next 15 years he's anticipating a "clean energy breakthrough that will save our planet and power our world". Gates has never been short of ambition, but what form will this "energy miracle" take and is it really achievable in such a short space of time? We called a roundtable discussion with some of the energy world's brightest minds to hear their thoughts.
Also, conference director Nigel Blackaby discusses the key themes of this year's POWER-GEN Europe and Renewable Energy World Europe. In technology, we look into a new type of solar cell that ensures completely transparent windows, examine what it takes to build diminutive devices, and see how electric buses in China are driving demand for downsized batteries.
Plus, we consider the ripple effect following America's first export of LNG, and how it is likely to affect the global fossil fuel market.
Read the issue for free on your iPad through our app, or if you're on a desktop computer you can also read it in our web viewer.
In this issue
Power post-Paris: change in the new constant
POWER-GEN Europe and Renewable Energy World Europe conference director Nigel Blackaby discusses change as a key theme for this year's debate.
Read the article.
The 'energy miracle'
Bill Gates says he's investing in discovering a world-changing clean energy breakthrough in the next 15 years. We hold a roundtable discussion with some of the energy world's brightest minds to debate the what, how and how.
Read the article.
Crystal clear on solar windows
A consortium supported by Innovate UK is working on building-integrated photovoltaic (BIPV) technology to create transparent solar windows on par with high-performance glazing. Could this bring us closer to zero-carbon buildings?
Read the article.
Tiny technologies
Small is the aim of the game for many advanced technologies, with companies striving for light and efficient devices in the most compact bodies. We look into standout examples to find the challenges of building small?
Read the article.
Buses and batteries
The electric bus market has been singled out as a potential game changer for battery development due to a combination of growing e-bus demand and the need for sizeable batteries to power them. We profile some of the innovators poised to benefit.
Read the article.
America's LNG exports
The US made its first export of LNG in March, finalising the country's establishment as a gas exporter. We look at how this happened so quickly and the impact on global fossil fuels markets.
Read the article.
Next issue preview
We look into the lawsuit by the Royal Society for the Protection of Birds that derailed the Neart na Gaoithe wind farm off Fife in favour of protecting local wildlife, as well as the Canadian energy regulator's recommendation to proceed with the Trans Mountain oil sands pipeline which has caused mass protests. We ask, what are the real risks?
Meanwhile, we find out about Australia's nuclear power U-turn as the country proposes itself as a repository for the world's spent nuclear fuel. Looking at modern grids, we speak to SteamaCo about rolling out network management technologies in some of the emerging world's rural regions, and find out how Japan's national grid has evolved to make use of stationary electric vehicles.
Also, we get insight into how the energy sector is working to capture the attention of young people and students in order to address the looming skills gap.
Digital magazine FAQ
You can read Future Power for free on the iPad. Download our app from the App Store to read the latest issue and browse the back issues in our archive. Sign up for a free subscription in the app and never miss a new issue.
You can also continue to read the desktop version for free on our web viewer. (Browser compatibility: The web viewer works in the latest two version of Chrome, Firefox and Safari, as well as in Internet Explorer 9 and 10. Some features may not be compatible with older browser versions).