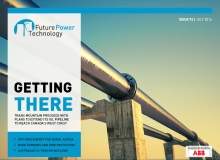 Canada's energy regulator's recommendation to proceed with the Trans Mountain oil sands pipeline extension has spurred support for its economic benefits and protests from tribal communities and environmental groups. We explore the plans for this controversial project.
Also, we report on the RSPB lawsuit that derailed the Neart na Gaoithe wind farm off Fife, Australia's proposal to host spent nuclear fuel waste, and speak to SteamaCo about rolling out network management technologies in some of the emerging world's rural, off-grid regions.
Plus we find out how Japan's national grid has evolved to make use of stationary electric vehicles and get an insight into how the energy sector is making efforts to capture the attention of young people and students in order to address the looming skills gap.
Read the issue for free on your iPad through our app, or if you're on a desktop computer you can also read it in our web viewer.
In this issue
Brought down by birds
The £2bn Neart na Gaoithe windfarm off the coast of Fife has won a government subsidy but is under threat due to an ongoing legal challenge by the Royal Society for the Protection of Birds. We look into this lawsuit and the disconnect between new project funding and approvals?
Read it here.
The electric vehicle revolution
Japan has more electric car charge points than petrol stations and is speeding to the forefront of the green car industry. This growth has not been achieved without significant changes to the grid. We learn about the developments.
Read it here.
Off-grid in Africa
SteamaCo recently raised £640,000 of funds to expand access to its smart metering and data analytics technologies, which help energy suppliers serve people living beyond the grid in developing countries. We speak to SteamaCo about rolling out network management technologies.
Read it here.
Storing nuclear waste down under
An Australian royal commission has released tentative findings backing an idea to store the world's spent nuclear fuel in South Australia. We take a closer look at this interesting conclusion from a country unwilling to use nuclear power based on safety grounds.
Read it here.
Canada's pipeline extension
Canada's energy regulator has recommended that plans for the Trans Mountain oil sands pipeline go ahead, sparking protests from tribal communities and environmental groups. The $5.4bn plan could triple pipeline capacity and pose massive risks to wildlife. How will Justin Trudeau weigh up the odds?
Read it here.
Inspiring the generalist generation
The energy sector is facing a looming skills gap as industry veterans retire, so how can a new generation of energy innovators be inspired to join the industry? Power-Gen Europe and Renewable Energy World Europe advisory board members tell us more.
Read it here.
Next issue preview
The UK's Marine Management Organisation has granted approval for the deployment and operation of a 30MW tidal array demonstration project off the coast of the Isle of Wight. We speak to project partners of the Perpetuus Tidal Energy Centre about best practice for developing tidal arrays in the UK.
Also, we find out how offshore oil companies suffering from low profits are discovering attractive opportunities in offshore wind, look at North America's newly formed Grid Assurance collective which aims to safeguard grid integrity over large expanses of the country, and take a look at ExxonMobil and FuelCell Energy's partnership to explore a new method of carbon capture and sequestration.
Also, we learn about the economic and social impacts of closing nuclear plants, and hear how emerging technologies and energy needs are forcing companies to remodel traditional systems and businesses.
Digital magazine FAQ
You can read Future Power for free on the iPad. Download our app from the App Store to read the latest issue and browse the back issues in our archive. Sign up for a free subscription in the app and never miss a new issue.
You can also continue to read the desktop version for free on our web viewer. (Browser compatibility: The web viewer works in the latest two version of Chrome, Firefox and Safari, as well as in Internet Explorer 9 and 10. Some features may not be compatible with older browser versions).