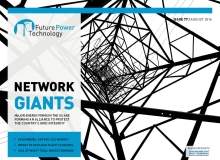 Six massive US energy groups have partnered to form Grid Assurance; a new company aiming to maintain a national inventory of grid equipment to safeguard transmission systems, ensuring they can be quickly restored if damaged by severe weather, earthquakes, cyber attacks or other incidents. We find out how this giant partnership's plans to protect large expanses of North America.
Another partnership between ExxonMobil and FuelCell Energy is hoping to break into the carbon capture and sequestration market to pursue a new, cheaper method of electricity generation. We look into the prospects of this joint project.
Plus, we catch up with the Isle of Wight tidal project, the resurgence of offshore windfarms, the impact of shutting down well-performing nuclear plants, a view of the future of utilities companies, and more.
Read the issue for free on your iPad through our app, or if you're on a desktop computer you can also read it in our web viewer.
In this issue
Rising tides in the UK
Perpetuus Tidal Energy Centre off the Isle of Wight has gained approval to proceed. The 30MW tidal array demonstration project is due to be completed in the next three years. We speak to the project partners.
Read the article here.
Wind of change
SSE announced its intention to invest in offshore wind, following a drop in profits linked to the low oil price and the cut in onshore wind subsidies. Could offshore wind be the saviour of struggling energy companies?
Read the article here.
Closing nuclear plants
A new study has investigated the economic, social and environmental costs of closing nuclear generation capacity, using San Onofre station as a case study. We speak with the study's authors.
Read the article here.
Capturing carbon with fuel cells
Oil supermajor ExxonMobil is hoping to make a splash in the carbon capture and sequestration market after partnering with baseload generation company FuelCell Energy. We hear about this new CCS method.
Read the article here.
The Grid Assurance alliance
Six massive energy groups in the US have formed a joint company called Grid Assurance. The team aims to maintain and safeguard national grid equipment. We find out how.
Read the article here.
The future of utilities
Emerging technologies and changing consumer habits mean that utilities companies have to re-assess their outdated business models and the systems that enable them. Ken Vormwald of Allegro tells us more.
Read the article here.
Next issue preview
A pilot potentially ground-breaking discovery in Iceland has shown that CO2 can be safely stored in basalt rocks. When CO2 dissolved in water is injected in to hot basalt underground, it rapidly reacts to form carbonates, turning into stone and trapping it. We find out more about the carbon capture process and its potential applications.
Also, we look into the Galapagos Islands's journey towards 100% renewable energy, how the US could convert its many normal dams into energy providers, and if ending the feed-in-tariffs in Germany could stunt clean energy developments.
Plus, after warnings about flawed European power markets, we ask to what extent the market will be able to solve national issues, and hear about the applications for Binghamton University in New York's Singular Spectrum Analysis algorithm which enables remote detection and location of power grid faults.
Digital magazine FAQ
You can read MINE for free on the iPad. Download our app from the App Store to read the latest issue and browse the back issues in our archive. Sign up for a free subscription in the app and never miss a new issue.
You can also continue to read the desktop version for free on our web viewer. (Browser compatibility: The web viewer works in the latest two version of Chrome, Firefox and Safari, as well as in Internet Explorer 9 and 10. Some features may not be compatible with older browser versions).