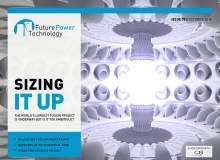 ITER Organisation is creating the world's largest fusion reactor and joint venture business Momentum has won the €174m contract to assemble the tokomak unit, which includes more than one million components. We review the project and consider the likelihood of delivering such a large-scale facility on time and on budget, and consider its influence on the future of nuclear energy.
Also, in what would be a major shake-up, British MPs are debating whether the National Grid should be stripped of its role managing the UK energy networks – we speak to experts to find out more. And while energy trading has become fierce, we find out how the volatile fossil fuels market has affected balance of trade.
In renewable innovations, we take a look at a new type of tidal array that produced its first kWH of energy in trials, Vestas's multi-rotor wind turbine 'trees', and a community project in London helping schools gain energy independence through solar power.
Read the issue for free on your iPad through our app, or if you're on a desktop computer you can also read it in our web viewer.
In this issue
Riding the Wave of Surf Power
A new wave power technology has been developed by Finnish AW-Energy, inspired by the experience of a deep-sea diver has received a €10m loan from the European Commission and the European Investment Bank to build a full-scale demonstration project. We profile this innovation.
Read the article.
Is More the Merrier for Wind Rotors?
Danish wind turbine giant Vestas is making encouraging progress with its multi-rotor wind turbine design, with the company announcing in July that the four-rotor, 12-blade design had produced its first kWh of electricity after a successful round of testing. We talk to the company about the opportunities and challenges.
Read the article.
Communities Co-Opting Energy Schemes
South East London Community Energy (SELCE) was set-up by residents in London as a not for profit enterprise to tackle energy issues by using money raised through a community share offer to fit solar panels to the roofs of local schools. We caught up with the group to hear more.
Read the article.
Momentum Builds on World's Biggest Fusion
Momentum – a joint venture between Amec Foster Wheeler, Assystem and KEPCO – has won a €174m contract to assemble the world's largest fusion reactor over a 10-year period. ITER Organisation is running the project with the objectives to deliver on time and on budget, but with a project of this scale, is it possible?
Read the article.
How to Win at Trading Fossil Fuels
Energy trading is becoming an ever fiercer pursuit as demand from countries such as India rises while supplies from Europe are dropping. The market is also more differentiated with renewable stocks being lucrative, but will fossil fuels remain the traditional bread-winners? We get insight from traders.
Read the article.
Is National Grid in the National Interest?
A group of MPs on the energy select committee say National Grid should be stripped of its role managing the UK energy networks. Not everyone agrees, with some factions pleading for stability as the UK goes through 'a critical period' in balancing and improving its energy supply. We speak to experts to find out what this could mean for future.
Read the article.
Next issue preview
A study commissioned by the Welsh Government has found that more than 2,200 workers would be required to build the proposed Swansea Tidal Lagoon project, so has called for rapid skills development to ensure the project's labour requirement doesn't outstrip availability if the massive project gets the green light. We profile the skills and manufacturing capabilities of this project.
Also, after announcing its intention to source 50% of its energy from renewable sources by 2030 we look into New York state's ability to reach this and meet its nuclear commitments, take a look at Tesla's gigafactory which has opened two years ahead of schedule, assess Cuba's energy landscape and speak to Siemens to find out what it's hoping to achieve.
Plus we look at research into improving perovskite solar cell efficiency and ask is it finally time to declare 'clean coal' a lost cause.
Digital magazine FAQ
You can read Future Power for free on the iPad. Download our app from the App Store to read the latest issue and browse the back issues in our archive. Sign up for a free subscription in the app and never miss a new issue.
You can also continue to read the desktop version for free on our web viewer. (Browser compatibility: The web viewer works in the latest two version of Chrome, Firefox and Safari, as well as in Internet Explorer 9 and 10. Some features may not be compatible with older browser versions).