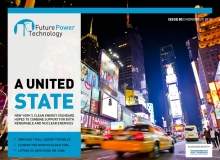 The state of New York has launched its clean energy standard in an attempt to source 50% of its power from renewables by 2030. This ambitious programme includes provisions to subsidise three large nuclear plants currently struggling to stay profitable. We delve into the details of New York's plan to see if it could create a model for renewables and low-carbon nuclear capacity to work in tandem.
In the UK, Swansea's Tidal Lagoon project is on unsteady ground, as a study revealed that Wales is significantly short of the 2,200 skilled workers required to complete work. We take a skills and manufacturing-focused look at the project, which could provide power for 120,000 homes for more than a century if it gets the go-ahead.
Plus, we ask if perovskite is the latest revolution in solar cells, look into the potential impact of Tesla's Gigafactory on the lithium battery market, determine the status of the effort towards clean coal and look at Cuba's energy landscape after the lifting of US sanctions on the country.
Read the issue for free on your iPad through our app, or if you're on a desktop computer you can also read it in our web viewer.
In this issue
Swansea Tidal Lagoon: Stuck in the Mire?
Over 2,200 workers are needed to build the proposed Swansea Tidal Lagoon, highlighting a huge skills gap in the country. We take a skills and manufacturing-focused look at the project that could power thousands of Welsh homes.
Read the article here
Perovskite Panel Beating Competition
Korean researchers have managed to improve the efficiency and stability of perovskite solar cells, which could help accelerate the commercialisation use of perovskite solar cells. We learn about this material.
Read the article here
Unique New York and the State of Clean Energy
New York state is aiming to reach 50% energy use from renewable sources by 2030, while also offering subsidies to three nuclear plants in an attempt to eradicate fossil fuel dependence. Could this set a standard for a new clean energy mix?
Read the article here
Is Clean Coal a Lost Cause
The Texas Clean Energy project is the latest carbon capture project to fall onto hard times. With other global carbon capture and sequestration projects struggling to meet their goals, does this indicate the end of 'clean coal'?
Read the article here
Cuba's Opens Up for Business
Siemens and Cuban utility UNE are joining forces for power generation, transmission and distribution. This deal comes after the US ended its sanctions and could revolutionise the country – we take a look at Cuba's energy landscape.
Read the article here
Under the Skin of Tesla's Gigafactory
Two years ahead of schedule, Tesla has opened its Gigafactory – one side for Panasonic to build batteries and the other to assemble them. The plant will undoubtedly revolutionise the way lithium batteries are produced and used, but is the market ready?
Read the article here
In the next issue
COP22 is almost upon us and we return to the big questions, such as what commitments will be made towards renewable energy sources. While many promises have been made in the past, few countries have backed them up with solid legislation. Could this be the year for change? We report from the event.
South Africa is the new hotspot for wind energy and over 3GW is expected to be installed by 2020. We profile the country's wind power market and see who is looking to invest. Continuing with renewables, we speak to WakaWaka about its individual solar devices, and ask why the US is supporting India's entry into nuclear.
Also we examine the Dutch coal agenda as the country prepares to implement a controversial shutdown strategy to meet climate change targets, and look at the Citizen Advice Bureau's energy complaints league table for lessons in engaging with utility customer complaints.
Digital magazine FAQ
You can read Future Power for free on the iPad. Download our app from the App Store to read the latest issue and browse the back issues in our archive. Sign up for a free subscription in the app and never miss a new issue.
You can also continue to read the desktop version for free on our web viewer. (Browser compatibility: The web viewer works in the latest two version of Chrome, Firefox and Safari, as well as in Internet Explorer 9 and 10. Some features may not be compatible with older browser versions).