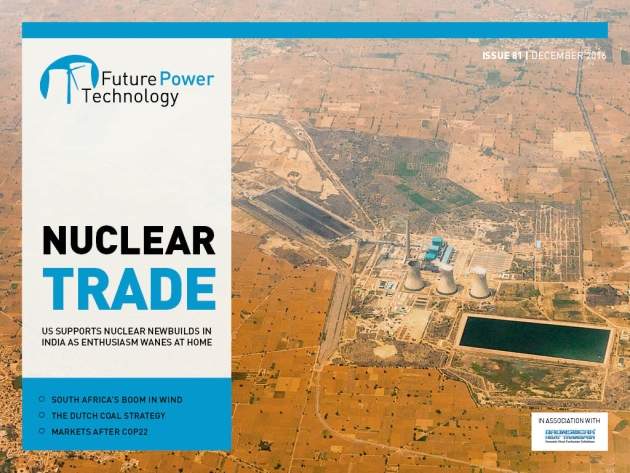 High-level strategic talks between the US and India have resulted in plans to construct six Westinghouse AP1000s in India. While faith in nuclear energy is dwindling in the US, the country is looking further afield, pouring its support into helping India enter the Nuclear Suppliers Group (NSG) at the earliest possible point. So why all this support and what does India have to offer the US? We find out.
Also eyeing up new energies, we explore who's investing in the recent spate of wind power projects popping up in South Africa, look into the practicality of the Netherlands' scheme to close coal plants in order to meet emissions targets, and run through the outcomes of COP22 and how countries plan to make good on their pledges towards combating climate change.
Plus, we find out how Dutch company WakaWaka is spreading light using its smart solar devices in a novel scheme of 'buy one and a person in a developing country gets one free' scheme, and hear how utilities can address failing standards in customer complaint services.
Read the issue for free on your iPad through our app, or if you're on a desktop computer you can also read it in our web viewer.
In this issue
COP22: The Big Renewables Push
Many of the questions for COP22 were, once again, which commitments countries will make to funding renewable energy sources. While promises have been made, few countries have backed them up. But did that change this year?
Read the article
South Africa: More Than Hot Air
The newest hotspot for wind installations is South Africa, with over 3GW expected to be installed by 2020. We profile the South African wind power market which didn't even exist five years ago.
Read the article
Smart Solar Spreads Hope
Innovation in solar technology is beginning to change the way we live on a large scale, but on and individual scale the results are just as profound. We speak to Waka Waka about its high-tech solar devices that are brightening the lives of people in great humanitarian need.
Read the article
India's Nuclear Revolution, Sponsored by the US
Plans to construct six Westinghouse AP1000s in India have been boosted by a joint India-US statement, and a pledge that America will support India's entry into the Nuclear Suppliers Group (NSG). So why all the support from the US when at home support for nuclear has been dwindling?
Read the article
Tot Ziens, Coal
A Dutch court has ruled that ministers will have to close coal-fired power stations if they are to meet climate change targets. The catch? The stations that need to go have only just opened. Opinions are mixed to say the least, so what's the long-term agenda?
Read the article
Putting Customers at the Front of the Queue
Citizens Advice's latest energy complaints league table has noted the widest gap between the top and the bottom of the table when it comes to dealing with customer complaints, with the lowest-ranked company performing 80 times worse than the top. What can be learned in terms of engaging with utility customers when they are unhappy?
Read the article
Next issue preview
From large-scale new power plants to windfarms and solar arrays, we kick off the new year with a round up of the most exciting energy projects due to come online or hit important milestones in 2017.
In renewables, we find out why countries are abandoning feed-in-tariffs and the alternatives schemes being adopted, such as South Korea's financing scheme which is yielding greater results and the China People's Bank's approach that is supporting renewable energy financing on a very large scale.
Plus, we look back over Japan's Monju experimental nuclear project to learn why it never managed to meet its potential, profile Carbon Clean Solutions company's new carbon capture coal plant in India which claims to reduce emissions by 66% more than other methods, and investigate the reality of Shell's statement that electric vehicles could mark the end of oil, and ask what the industry can do.
Digital magazine FAQ
You can read Future Power for free on the iPad. Download our app from the App Store to read the latest issue and browse the back issues in our archive. Sign up for a free subscription in the app and never miss a new issue.
You can also continue to read the desktop version for free on our web viewer. (Browser compatibility: The web viewer works in the latest two version of Chrome, Firefox and Safari, as well as in Internet Explorer 9 and 10. Some features may not be compatible with older browser versions).