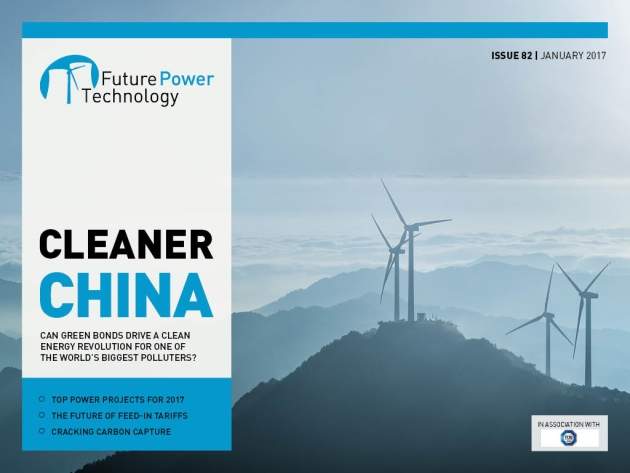 China People's Bank is a powerhouse of project financing for renewable energies and visionary in its use of green bonds, according to senior delegates at the 2016 World Energy Congress. In this issue we delve into the complex world of Chinese energy finance and ask how such successful funding on this scale could affect the rest of the world's markets.
Also in renewables, with many regions still relying on the limited assistance of feed-in-tariffs to support small-scale projects, we take a look at successful systems in other countries to see how they could hint at progress and whether FITs are worth holding on to.
Plus, we profile the most significant projects set to hit milestones this year, examine the much-maligned lifespan of Japan's Monju nuclear reactor as it moves towards premature decommissioning, hear from Shell about how electric cars are driving oil companies to tipping point, and discover whether an Anglo-Indian company has finally found an affordable solution to the carbon capture conundrum.
Read the issue for free on your iPad through our app, or if you're on a desktop computer you can also read it in our web viewer.
In this issue
Feed-in-Tariffs: A Good Idea?
Countries such as the UK rely on feed-in-tariffs to encourage uptake of small-scale renewable and low-carbon electricity generation technologies but does it work well enough? We take a look at some of the most successful alternative systems, such as in South Korea where uptake has increased six-fold since revoking FITs.
Read the article
Green Bonds: China's Green Energy Revolution
State-owned China People's Bank has been lauded for its renewable project financing and visionary use of green bonds. We take an in-depth look into the world of Chinese renewable energy finance and ask how will funding on this scale affect the rest of the world?
Read the article
A Big Year for Power Projects
From new large-scale plants to windfarms and solar arrays, we profile the five most exciting energy projects due to hit important milestones in 2017.
Read the article
Monju: Learning from a Failed Experiment
Japan's Monju experimental nuclear reactor has been plagued by accidents, cover-ups and cost overruns since it came online in 2014. With a special committee set-up to discuss decommissioning, we take a retrospective of the promise of Monju and find out why it never reached its potential.
Read the article
Electrifying the Carpark
Widespread electric vehicle use could spell the end for oil, according to Shell New Energies director Maarten Westelaar at the 2016 World Energy Congress. But he believes this requires a tipping point of 50 million electric cars. We crunch the numbers to see if this figure is realistic and ask what big oil is planning to keep afloat.
Read the article
Cracking Carbon Capture
Carbon Clean Solutions (CCSL) has launched a new carbon capture coal plant in Chennai, India, which will capture 97% of its carbon emissions using a proprietary solvent that CCSL says reduces the carbon capture cost by up to 66% over other methods. Could this project cut an affordable path for carbon capture?
Read the article
Next issue preview
DONG Energy is leaving the oil and gas industry to focus instead on renewable energy. The Danish major is planning to offload its North Sea oil and gas assets and reinvest in its wind division, which scored huge profits this year overtaking its oil and gas portfolio. This change of direction is massive, but not unique, as both E.ON and RWE have already ploughed their energies into renewable. We find out if this is the beginning of a new industry trend.
Also, we find out how Vattenfall plans to meet its $54 per megawatt-hour proposal which won the company the Danish Kriegers Flak tender, hear Ecotricity's gas from grass biomass scheme, and catch up with the latest arguments over investing in nuclear power in South Africa.
In fossil fuels, we speak to Black & Veatch about building South America's biggest gas plant and consider how the UK can keep its environmental commitments in the wake of cuts and uncertainties.
Digital magazine FAQ
You can read Future Power for free on the iPad. Download our app from the App Store to read the latest issue and browse the back issues in our archive. Sign up for a free subscription in the app and never miss a new issue.
You can also continue to read the desktop version for free on our web viewer. (Browser compatibility: The web viewer works in the latest two version of Chrome, Firefox and Safari, as well as in Internet Explorer 9 and 10. Some features may not be compatible with older browser versions).