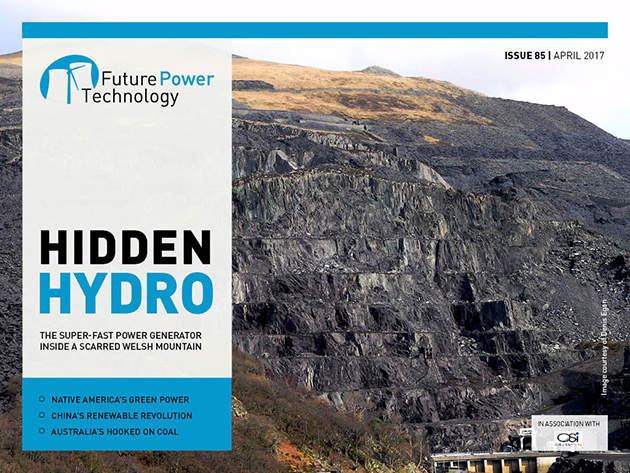 Once propped up by its coal industry, today Wales leads the way in water-based energies. In the north is Dinorwig, a pumped hydroelectric plant that uses rapid water flow to generate electricity at very short demand, famously when a vast percentage of the British public simultaneously make a cup of tea during a popular TV broadcast. While in the south, Swansea's proposed tidal lagoon looks to be paving the way for at least five other full-scale UK tidal projects. We explore their respective roles as forbearers of renewable technology.
Conversely, we examine Australia's likelihood to invest in 'clean coal' over green options, get consumer insight on smart grids, and find out about China's $361bn investment in renewables.
Elsewhere, we speak to Henry Red Cloud, founder of an entirely Native American-owned and run company, about­­­ building clean energy capacity for reservations and his mission to train Native Americans in green energy skills for power independence.
Read the issue for free on your iPad through our app, or if you're on a desktop computer you can also read it in our web viewer.
In this issue
Energising Native Americans
Lakota Solar Enterprises is a Native American company that builds solar air furnaces for Native American reservations and trains Native Americans in green energy skills. We speak to founder, Henry Red Cloud, about bringing green energy and skills to Native Americans.
Read the article
Dinorwig: A Unique Power Plant in the North of Wales
Dinorwig is a pumped hydroelectric power plant designed to use the rapid flow of water to top-up the national grid at very short notice. This makes the plant one of the fastest supply stations in the world, and a forbearer of a growingly popular model of energy supply. We find out how it works.
Read the article
The Final Barrier for Swansea Tidal
A government-commissioned report has given enthusiastic backing to the proposed Swansea Tidal Lagoon project, calling it a "no regrets option" that could pave the way for at least five other full-scale tidal projects around the country. We catch up with the project.
Read the article
China's Renewable Energy Revolution
China is planning to invest $361bn into renewable energy generation by 2020 – a staggering amount sure to be a huge step towards curbing dangerous levels of greenhouse gases. We speak to energy analysts about where the money will go.
Read the article
Consumers Speak Out on Smart Grids
The development of smart grids promises to give consumers more control over their energy bills, as well as encouraging small-scale, home-based renewable energy installations. But how do customers feel about them? We speak to the US-based Smart Grid Consumer Collaborative.
Read the article
Letting Go of Coal
Australia is the world's biggest exporter of coal and most politicians want to keep it that way, espousing 'cleaner coal' as the best way to meet targets. With no nuclear capacity and other renewables only making up around 6% of supply, we examine what the future could hold for the country's energy mix.
Read the article
Next issue
Biomimicry has inspired a host of new technologies throughout the energy sector, such as Tyer Wind's new type of wind turbine that mimics a hummingbirds' motion, and UCLA's development of battery storage structures based on plant cells. We take a look at these innovations as well as other examples of technologies copying the natural world.
Also, we hold a roundtable to discuss the UK Government's new industrial strategy and if it will fulfil its promise of encouraging renewable technologies and smart energies, speak to NuScale Power about its first small modular reactor power plant design that's been submitted to the US Nuclear Regulatory Commission for approval, and ask if public perceptions of nuclear power can ever be changed.
Plus, we find out how Siemens fast-tracked a 4.8GW project in Egypt, and hear a potentially groundbreaking idea for capturing the energy potential of offshore platforms without extracting the hydrocarbons?
Digital magazine FAQ
You can read Future Power for free on the iPad. Download our app from the App Store to read the latest issue and browse the back issues in our archive. Sign up for a free subscription in the app and never miss a new issue.
You can also continue to read the desktop version for free on our web viewer. (Browser compatibility: The web viewer works in the latest two version of Chrome, Firefox and Safari, as well as in Internet Explorer 9 and 10. Some features may not be compatible with older browser versions).