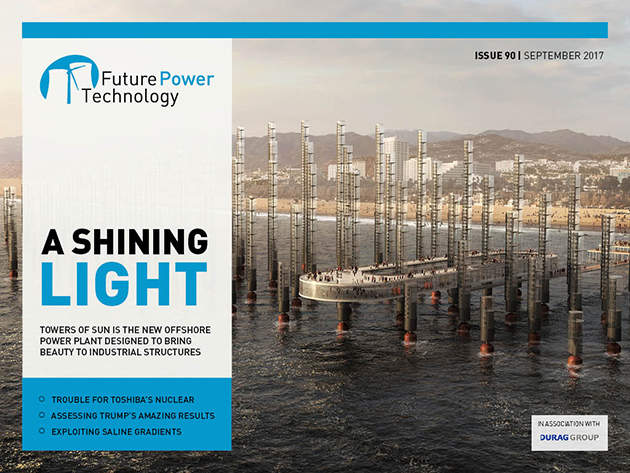 Towers of Sun is the name of a new type of offshore power plant, employing solar, wind and wave energy technologies along the coast of the Santa Monica Pier in California. Designed by BLDA Architects in collaboration with light artist Steven Scott and energy engineering firm XCO2, we examine how industrial structures can make for beautiful installations.
In other renewables, we assess the truth behind Trump's "amazing results" in the coal industry, and learn about a hybrid technology which exploits saline gradient differences to create energy.
Also, we investigate the financial troubles of Toshiba's nuclear division, particularly concerning the Moorside project site in Cumbria, UK, to consider the strain this is putting on nuclear capacity development in the UK, we look at a new matrix membrane which is claimed to increase carbon capture efficiency, and hear how the roll-out of blockchain technology could help UK utility customers switch suppliers in seconds.
You can read Future Power on your iPad via our app or in using the web viewer. It's free to read and you can join the conversation on Twitter.
In this issue
Au revoir, Paris
As Trump makes plans to withdraw from the Paris Agreement, some US states are fighting to protect low-carbon power generation. Pittsburgh has committed to being 100% reliant on renewable energy by 2035, while California, New York, Washington, and nine other states have committed to dramatic cuts from 2005 levels. Can these states support renewables despite the lack of presidential backing?
Read the article
Where the river meets the sea
A new hybrid technology has the potential to produce unprecedented amounts of electrical power where freshwater and seawater come together on the coast. The technology's creators at Penn State College of Engineering believe the energy potential could be enough to meet up to 40% of the world's electricity demand, but significant technical hurdles remain.
Read the article
Sun Towers: A vision of power & beauty
BLDA Architects has designed an offshore power plant, called Towers of Sun, for a stretch of sea directly in front of the Santa Monica Pier in California. In a collaboration with a light artist and engineering firm, the solar, wind and wave power plant merges energy density and stunning aesthetics. We take a closer look at this vision of power and beauty.
Read the article
Trouble at Moorside
The financial strife engulfing Toshiba's nuclear division could have catastrophic ramifications for its plan to move forward with the Moorside nuclear plant project in Cumbria, UK. With the Moorside project under review, we investigate Toshiba's economic woes and how they could affect the UK's tentative nuclear bounce-back.
Read the article
Carbon capture's new material
Researchers from Kyoto University's Institute for Integrated Cell-Material Sciences, London's Imperial College and City University of Hong Kong turned to MOFs to create carbon capture and storage (CCS) filters that are more affordable and more selective. Could this be the answer to affordable, widespread CCS?
Read the article
Blockchain utility switching
UK-based start-up Electron is working to roll-out a new system, based on secure and transparent blockchain technology, to speed up the process for UK consumers who want to switch utilities. How is this possible and what could be the implications for the British retail energy landscape.
Read the article
In the next issue
Chinese wind turbine manufacturer Goldwind has announced a free training programme for Wyoming coal miners. Due to their depth of technical knowledge, miners make the perfect wind farm technicians, according to Goldwind. Could this be an answer to promoting renewable power while also protecting jobs?
We also consider what role the marine environment has played on the operations and maintenance challenges that have held back wave and tidal technologies, identify the advantages of aggregated customer-sited energy storage technology in development in Texas, US, and ask what it takes to maintain a micro grid.
Plus, we assess the likelihood of privatising transmission in the US's Northwest, and we hear from GE Power about its in-progress Birchwood Power Facility in Virginia and the space for innovation that still remains in coal-fired power generation.
Digital magazine FAQ
You can read Future Power for free on the iPad. Download our app from the App Store to read the latest issue and browse the back issues in our archive. Sign up for a free subscription in the app and never miss a new issue.
You can also continue to read the desktop version for free on our web viewer. (Browser compatibility: The web viewer works in the latest two version of Chrome, Firefox and Safari, as well as in Internet Explorer 9 and 10. Some features may not be compatible with older browser versions).