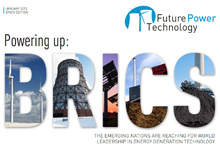 Growing electricity demand, ambitious energy strategies and record investment in BRICS nations has created a new wave of business opportunities for suppliers of power plant, transmission and distribution technology and equipment. In this issue we take a look at the emerging giants and the massive transformations their power industries are currently seeing.
We investigate the growth areas of power generation and distribution in the five countries and find out how policies, investment and climate considerations are shaping them. While Russia is building on its nuclear expertise in a bid to become a world leader in the sector, Brazil, India and China increasingly turning to renewable power sources with immensely ambitious plans for generation capacity additions over the next ten years. We also take a look at the state of the power industry in the latest BRICS member state, South Africa, to find out what joining the BRICS club could mean for the country's energy future.
To view the online magazine, click here.
Highlights from this issue include:
Brazil's Wind Power Revolution
Wind power generation in Brazil has expanded rapidly in recent years. Pedro Perrelli, head of the Brazilian wind energy association, explains to Nigel Ash how the country has been blown away by the energy source.
Read the full article
Rise of a Giant
To double its nuclear hold by 2030, Russia has to become a driving force in an industry struck by crisis. Elisabeth Fischer investigates if technological progress and international collaboration can disperse concerns about ageing power plants and safety standards.
Read the full article
Let the Sunshine In
India has embarked on an epic programme to become the world leader in solar power. Chris Lo investigates if the country can meet its ambitious goals by 2022.
Read the full article
China's Imbalanced Trade
As demand for renewable energy grows, current and future trade regulations are set to play a pivotal role. Local content policies and export-import restrictions imposed by major players like China are shaping the industry, but are they restricting international trade? We examine the Chinese policies and the WTO allegations surrounding Them
Read the full article
Welcome to the Club
This year South Africa formally joined the BRIC nations, testament to the country's progress as an emerging nation. Rowan Watt-Pringle investigates what joining the BRICS club could mean for the country's future development.
Read the full article
Next Issue: Sunny Prospects?
Although solar technology may still have some way to go to become cost competitive with other forms of large-scale power generation, technological progress and steady market growth are casting a bright future ahead for the renewable source.
In the next issue we explore new technologies that are being developed to make solar power generation more efficient, looking at the next generation of photovoltaics, systems that make the most out of solar installation at night, and the concept of a solar array in space.
We also look at market forces in the solar sector worldwide and investigate why the US market is struggling while an increased interest in solar power in Asian countries is opening doors for new business.
Online Magazine FAQ
The online magazine is viewable on any computer with Flash Player installed. It is also viewable on mobile devices, iPhones and iPads although some features and videos will be disabled.
To view the online magazine, click here.