Future Power Technology Magazine: Clean Energy Edition
Energy generation is due for a major clean-up as renewable sources see increased investment and the international community continues its efforts to tackle emissions.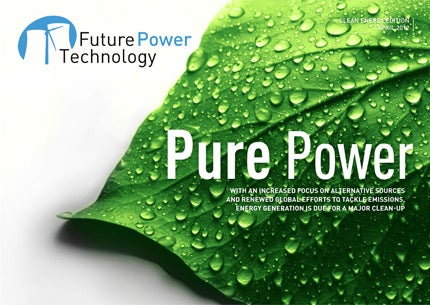 In the light of pressing environmental concerns and increasingly strict targets on emissions from power plants, the industry is constantly pushing ahead with new concepts and technologies to clean up power generation.
In this issue we investigate progress in the area of clean energy. From bizarre and brilliant alternative energy systems to emerging power sources such as biofuels, we profile the latest advancements in 'greener' and cleaner energy production. We also explore initiatives and policies designed to attract interest in renewables and place them in a stronger position to compete with the still-dominating fossil fuels.
We also explore industry projects paving the way for a cleaner future, looking at the conversion of the a coal-fired plat to 100% biomass operation, as well as the UK's largest operating CO2 capturing facility, the CCPilot100+ project.
To read the online magazine, click here.

In this issue
Beyond Kyoto
As UN member states struggle to agree on how to tackle global warming, we review the Durban Climate Change Conference and recent international developments to identify the main challenges blocking a unified approach to cutting emissions.
Read the full article.
Bright Ideas
Designers are generating new trends with unusual power devices ranging from energy-generating dance floors to solar-panelled 'ivy'. We profile some of the most original green energy systems in use today.
Read the full article.
Banking on Biopower
After hydro and wind, biopower is the world's largest renewable power generator. We investigates how heavy investment in this energy source on a global scale – particularly in Europe, the US, China and India – is guaranteeing continued rapid expansion.
Read the full article.
Reversing the Carbon Trend
Carbon-rich fossil fuels still make up most of the world's energy generation, but for how long? We look at initiatives designed to attract interest in greener energy.
Read the full article.
Project: Tilbury Power Station Conversion
RWE npower's Tilbury C power station in the UK has undergone a major conversion from coal-fuelled to 100% biomass operation. We take a look at the project.
Read the full article.
Project: Ferrybridge CCPilot 100+
The CCS pilot project at SSE's Ferrybridge power station is the largest operating CO2 capturing facility in the UK. We take a look at the demonstrator plant.
Read the full article.
Next issue: Waves of change
The tide is slowly turning when it comes to adoption of marine and tidal power, but as any industry grows so does the legal burden surrounding it.
In the next issue we investigate how ownership of the seabed may affect the industry and profile a recent move by the UK's Crown Estate to reduce fees associated with using coastal zones for power production. We also explore the world's locations with the greatest wave power potential and the efforts being made to harness energy in these areas.
New technologies are driving the ocean power sector forwards as costs come down. We speak to innovator Atlantis about its AR1000 tidal turbine, and ask Ecotricity how its new Searaser technology could improve the output of marine power installations.
Sign up for your free subscription to get future issues delivered directly to your inbox.
Digital magazine FAQ
The online magazine is viewable on any computer with Flash Player installed. It is also viewable on mobile devices, iPhones and iPads although some features and videos will be disabled.
View the archive of all previous issues.
By clicking the "Submit" button above, you accept and acknowledge that your data will be used by Vega.

We will also collect and use the information you provide for carefully considered and specific purposes, where we believe we have a legitimate interest in doing so, for example to send you communications about similar products and services we offer. We will always give you an option to opt out of any future communications from us. You can find out more about our legitimate interest activity in our privacy policy here. 'We' includes Verdict Media Limited and other GlobalData brands as detailed here.