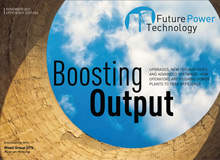 Improving the efficiency of power plants is a major issue for utilities, especially in coal and gas fuelled generation. Upgrades, modernisation and the implementation of new technology and control systems can help to boost the performance of existing plants considerably and also help to extend the lifespan of ageing power stations.
Automation is taking the industry by storm as new technologies emerge to make workflows and maintenance more efficient. We profile new automated systems, including the latest collaborative asset management software that can help operators and engineers to streamline maintenance work and control costs. We also look at new remote monitoring and control systems for power generation and distribution systems that can help utilities to keep plants running at optimum performance and power grids distributing electricity efficiently.
We also find out if two-stage turbocharging could become a common feature in gas power generation technology in the future, and discover how engineers and designers are working out new designs for power generation and distribution technology that will not only be more aesthetically appealing than the pylons and turbines, but also tap into new energy resources to improve output.
To view the online magazine, click here.
Heading for Peak Performance
Automation is taking the power industry by storm as new technologies emerge to increase efficiency and streamline resources. Mitch Beedie profiles the latest systems.
Read the full article.
Remote Control
Monitoring and control needs to become increasingly sophisticated to keep up with today's complex generation and distribution systems. Phil Thane finds out how a range of smaller, more sensitive devices can monitor every stage, from boiler to meter, and reports on the emergence of new software to make use of all that data.
Read the full article.
Uprated
Improving the efficiency and profitability of coal and gas power plants is a major issue for utilities. We take a look at the technical story behind plants that have received upgrades and modifications to help boost their performance.
Read the full article.
Turbocharging Ahead
With the first large stationary gas engine to incorporate two-stage turbocharging operating in a pilot project, the technology looks likely to become an increasingly common feature of large reciprocating engines in coming years.
Read the full article.
India's Industry Boom
Improving efficiency rather than building new capacity could help to meet power demand in India. Nathalie Trudeau of the IEA explains to mark Brierley how India's largest industrial energy users can increase efficiency and reduce emissions.
Read the full article.
The Power of Beauty
Energy projects are not renowned for their aesthetic appeal, but we could soon see them in a whole new light. Sarah Blackman discovers how governments, designers and engineers are transforming the appearance of masts, turbines and solar systems.
Read the full article.
Next Issue: Powering the BRICS Nations
More than 50% of infrastructure investment worldwide is now being made in emerging nations, with Brazil, Russia, India and China leading the way and the BRICS nations' latest member, South Africa, increasingly catching up.
Record investment, coupled with an unprecedented electricity demand from these rapidly growing economies, has created a new wave of business opportunities for suppliers of power plant, transmission and distribution technology and equipment.
Next month we look at the state of the power industry in the BRICS nations. While Russia is working to cement its role as a driving force in nuclear energy, Brazil, India and China are increasingly looking towards renewable sources to balance their energy mix. We investigate the growth areas of power generation and distribution in the five countries and find out how policies, investment and climate considerations are shaping them.
Online Magazine FAQ
The online magazine is viewable on any computer with Flash Player installed. It is also viewable on mobile devices, iPhones and iPads although some features and videos will be disabled.
To view the online magazine, click here.