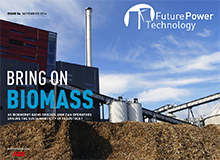 As the market share of bioenergy grows, the rules governing its generation are becoming stricter and more complex. In the UK, for instance, criteria for the sustainable sourcing of feedstock are set to become stricter in 2015, with penalties for operators failing to comply. We take a look at a new modelling tool that has been created to help operators calculate the sustainability of feedstock imported from North America.
While the UK Government has indicated that it is looking to house nuclear waste in underground rock formations, its neighbour across the channel is already a step ahead in testing this approach. We explore the progress of the French project to find out what lessons the UK can learn.
We also investigate fallout from the Energetic Bear cyber attacks on energy firms earlier this year, find out how the US 'coal states' are fighting back against the EPA's new federal regulations on carbon emissions from existing coal-fired plants and ask whether the EU's efforts to create unified renewable targets and a single energy market are being hampered by protectionist ideals in individual countries.
Click here to read this issue.
In this issue
Fixing Weak Links
A cyber attack earlier this year on over 1,000 organisations operating in the global energy sector has drawn attention to the risks posed by security breaches. Adam Leach asks how the industry can prevent it from happening again
Click here to read the full article.
Calculating Sustainability
With UK requirements on biomass sustainability set to get stricter, Abi Millar finds out how a new tool will help developers calculate the sustainability of feedstock imported from North America
Click here to read the full article.
Blurred Lines
After a Finnish wind farm operator was refused access to Sweden's green certificate scheme, even though the power generated was going into its national grid, Adam Leach discusses implications of this ruling for operators in EU member states
Click here to read the full article.
French Lessons
As the UK Government hunts for an ideal location to house its nuclear waste, Heidi Vella-Starr asks if the country can learn from France, home of the word's first underground nuclear storage test site
Click here to read the full article.
Crunch Time for Climate Accord
With the next COP conference on the horizon, WNA senior analyst Jonathan Cobb explores why recent meetings have failed to produce results and asks whether it is time for a new approach to reducing emissions
Click here to read the full article.
The Best-Laid Plans
The Environmental Protection Agency is aiming for a 30% reduction in carbon emissions by 2030, but its proposed regulations have caused controversy in the US and among industry associations. Elly Earls finds out how the US Coal States are fighting back
Click here to read the full article.
Driving Diversity
As the utilities industry moves towards the future, gender diversity will be key in providing new perspectives and ideas. Heidi Vella-Starr speaks to leading female industry figures to find out why women are still so under-represented
Click here to read the full article.
Next issue preview
Britain has called on industry to support the development of renewable energy in Africa but, with 70% of the region entirely off the grid, how will it do so? We take a look at the UK's energy plans for Africa.
We also find out how China is aiming to become a leader in electric vehicles with a $16bn infrastructure expansion plan, and ask how India is tackling transmission losses with smart grid technology. Moreover, we investigate the carbon conundrum of using captured CO2 from CCS plants to enhance oil recovery, and explore a theory stating that the US could reduce greenhouse gas emissions by its burning coal in South Korea.
Digital magazine FAQ
The online magazine is viewable on any computer with a modern browser such as Chrome or on an iPad via the Future Power Technology magazine app.