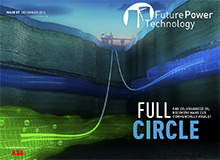 Carbon capture and storage (CCS) technology is maturing, with pioneering projects relying on the sale of the captured carbon for use in CO2 enhanced oil recovery. However, as critics argue that using the captured CO2 to extract yet more fossil fuels defeats the objective of carbon capture altogether, we investigate whether this approach is a necessary evil in making CCS commercially viable on a large scale. Staying with controversial proposals for fossil fuels, we take a look at new research claiming that exporting US coal to Asia for power generation could lower global emissions and efforts by the coal industry to make it happen.
Africa offers huge market potential to renewable energy developers, but is lacking the infrastructure to integrate new capacity to the grid. We find out how the UK Government is encouraging its industry to tap into this potential by supporting new energy developments on the continent. We also explore China's $16bn investment in electric vehicle charging infrastructure, take a look at Solar Impulse 2 as it gets ready to embark on a solar-powered flight around the world and learn how the Indian Government's smart grid plan envisions creating 100 smart cities in the country by 2020.
Click here to read this issue.
In this issue
Into Africa
Britain has called on its industry to support the development of renewable energy in Africa but, with 70% of the region entirely off the grid, how will this be possible? Abi Millar looks into the British Government's plans for the continent.
Read the full article here.
China's Electric Revolution
China plans to invest $16bn into electric vehicle charging infrastructure, a move that could stimulate massive growth in this new sector. Adam Leach finds out what impact a Chinese EV revolution could have on the power market
Read the full article here.
21st Century Explorers
Next year Solar Impluse 2 will attempt to fly around the world powered only by the sun.
Matt Burgess went to look at the plane in its hangar in Switzerland
Read the full article here.
The Future of Energy in the EU
The EU's new guidelines on state aid for environmental protection and energy raise questions rather than encouraging action, argues Professor Ralf Boscheck
Read the full article here.
Mighty Microbes
Now research into the potential of microbes to treat radioactive waste has shed light on how
toxic materials could be disposed of in the future. Laura Walkinshaw finds out which applications it could offer to the industry
Read the full article here.
Method in the Madness?
Critics of enhanced oil recovery say it is counter-productive to capture carbon dioxide from one fossil in order to extract another – but is it a necessary step in commercialising carbon capture and storage? Heidi Vella-Starr asks the experts.
Read the full article here.
Economy vs Environment
Research suggests exporting US coal to Asia could provide an economic lifeline to the industry while lowering global emissions. Adam Leach asks, could this bizarre solution revive a dying industry?
Read the full article here.
Vision of 100 Smart Cities
The Indian Government is investing heavily in smart grid technologies in a bid to cut transmission losses and improve security of supply. GlobalData senior analyst Sowmyavadhana Srinivasan tells us more about the country's smart mission
Read the full article here.
Next issue preview
Natural gas has been touted as a 'bridge' in the shift away from coal and towards renewable power generation. We ask what needs to be done to ensure the economic benefits of gas are channelled into the development of clean energy technologies.
We also explore the corporate world's contribution to a greener energy future, such as IKEA's $12.5bn wind and solar investment, and review new research into the impact of offshore wind farms on the marine environment.
Moreover, we investigate the viability Lockheed Martin Skunk Works' compact fusion reactor concept and take a look at emerging countries turning to nuclear power to meet their growing energy demand.
Digital magazine FAQ
The online magazine is viewable on any computer with a modern browser such as Chrome or on an iPad via the Future Power Technology magazine app.