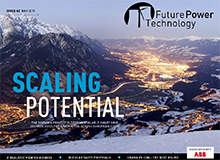 Future Power Technology is now free for the iPad. Download our app from Newsstand to read the latest issue and browse our back issues for free.
With the help of €27m in EU funding, the Sinfonia project sets out to create scalable smart technologies that can be applied to cities across Europe to make them more energy-efficient. We take a look at the two pilot cities to find out what the project hopes to achieve with a combination of retrofitting and new technology integration.
We also take a critical look at the viability of biomass as a low-carbon form of energy generation, explore innovative ideas for renewable-powered street lighting from around the world, and review the most promising fuel-efficient vehicle concepts showcased at this year's Shell Eco Marathon Asia.
Moreover, we investigate why the debate on safety standards for existing nuclear plants continues to divide opinion among the state parties to the Convention on Nuclear Safety, and ask whether US President Obama's Clean Power Plan can go ahead in the face of strong opposition from Republican-dominated Congress.
Read the issue for free on your iPad through our app, or if you're on a desktop computer you can also read it in our web viewer.
In this issue
Europe's Energy Transition
Technological and commercial innovation is accelerating as the European power market reaches the vital nexus between renewable and traditional power. PennWell's Nigel Blackaby outlines the key developments and issues to be examined at this year's POWER-GEN Europe and Renewable Energy World Europe conferences.
Read the full article.
Boon or Boondoggle?
With its carbon capturing components and coal displacing capabilities, biomass is a policymaker's carbon cutting dream. But as scientific concern grows over whether it may actually increase emissions, Adam Leach asks how the future of biomass can be built on facts, not fantasy.
Read the full article.
Shine a Light
In Spain an 'autonomous' street lamp with integrated solar and wind turbine technology is just one development in a long line of innovations aimed at reducing the grid reliance of street lighting. Adam Leach profiles the most exciting examples.
Read the full article.
Battle of the Fuels
More than 120 students from Asia, the Middle East and Africa took part in this year's Shell Eco Marathon Asia, held in the Philippines, to put their fuel-efficient vehicles to the test. Adam Leach looks at some of the most innovative entries
Read the full article.
In With the New?
In 2014 the Swiss nuclear regulator requested that the safety of existing nuclear power plants should meet standards for new plants. This past February state parties to the Convention on Nuclear Safety declined. Heidi Vella-Starr asks why.
Read the full article.
Climate vs Coal
With Republicans – many of whom are broadly pro-coal – now in control of Congress, can Obama's plans for clean power, as set out in the 2016 budget, go ahead before he leaves the White House? Adam Leach investigates.
Read the full article.
A Tale of Two Cities
The EU-funded Sinfonia smart cities project aims to retrofit more than 100,000m2 of living space in two pioneer districts, optimising technologies for electricity grids and district heating and cooling. Gary Peters finds out more about the initiative.
Read the full article.
Next issue preview
UK politicians have announced ambitious plans for six enormous tidal lagoons to be built on the country's shores, but questions have been raised about efficiency of these installations, with some suggesting the price per unit would be far higher than for any other renewable source. We investigate the plans to find out whether the projects will be worth the investment.
We also find out how the US and China are uniting for clean energy research and investigate why, despite dozens of promising reactor designs waiting in the wings, nuclear energy is struggling to shake off its bad image in the West and whether more nuclear-friendly Asian nations will take the lead in the sector. Moreover, we find out how industry majors in Germany are recycling electric vehicle batteries to create energy storage centres and review a new renewable electricity trading scheme in the UK.
Digital magazine FAQ
You can read Future Power Technology for free on the iPad. Download our app from Newsstand to read the latest issue and browse the back issues in our archive. Sign up for a free subscription in the app and never miss a new issue.
You can also continue to read the desktop version for free on our web viewer. (Browser compatibility: The web viewer works in the latest two version of Chrome, Firefox and Safari, as well as in Internet Explorer 9 and 10. Some features may not be compatible with older browser versions.)