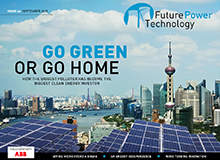 Future Power Technology is now free for the iPad. Download our app from Newsstand to read the latest issue and browse our back issues for free.
It comes as something of a surprise that China, the world's biggest polluter, is also the biggest investor in clean energy, spending more on renewable sources than Europe and the US combined. We look into China's green revolution and ask how the country plans to achieve its clean energy goals. With Japan also embarking on new long-term energy goals, GlobalData discusses how adopting the right mix of energy sources will help the country move towards self-sufficiency.
Elsewhere, we look into concerns about Pakistan's nuclear future and its relationship with China, and ask whether the UK should aim for energy security rather than energy independence. We also investigate whether too much regulation is preventing small-scale micro-hydro projects in the UK from flourishing, learn how research inspired by the silent flight of owls could help to reduce the noise of wind turbine blades, and investigate concerns that not all green bonds are as green as they seem.
Read the issue for free on your iPad through our app, or if you're on a desktop computer you can also read it in our web viewer.
In this issue
The Right Mix
Following the announcement of Japan's energy goals for 2030, GlobalData practice head for power Amit Sharma discusses how the country can move towards self-sufficiency.
Read the full article.
An Unlikely Leader
Just over a decade ago, China was virtually devoid of clean power. Now the country is seen as a global trailblazer in many key renewable sectors, thanks to its aggressive green energy program. Eva Grey looks into China's green revolution.
Read the full article.
A Helping Hand
Small-scale micro-hydro projects that could benefit UK communities and farms are being stifled by overly bureaucratic regulation and licensing requirements. Adam Leach asks what needs to change for this burgeoning industry to flourish.
Read the full article.
Silent Flight
A research project aiming to reduce the noise of wind turbine blades without affecting aerodynamics found inspiration in the silent flight of owls. Gary Peters looks into the new technology and how it can benefit wind farm operators.
Read the full article.
Predicting Pakistan's Path
As Pakistan's nuclear industry has strengthened over the years, so too has the country's relationship with its biggest supporter, China. These developments, however, have led to growing concerns. Gary Peters learns what they are and looks towards Pakistan's nuclear future.
Read the full article.
The Case for Independence
The UK is debating the ramifications of its increasing reliance on overseas energy imports. But, Chris Lo asks, with many different options to reduce risk outside of domestic production, is energy security a more reasonable goal than energy independence?
Read the full article.
Cost vs Savings
The Mexican Government plans to provide the country with 14 million new television sets in preparation of its 'digital switchover'. Adam Leach looks into the government's aims and asks why its plan has received criticism
Read the full article.
As Green as They Seem?
The popularity of green bonds is growing, but with concerns being raised that not all issuances are as green as they may at first seem, Adam Leach asks, how can growth potential be developed to best benefit the environment?
Read the full article.
Next issue preview
Supplying 7% of the UK's electricity, Drax Group has spent years switching from coal to biomass but expects to lose millions now that renewable energy producers are no longer exempt from the Climate Change Levy. We take a closer look at the impacts of the government's recent decision. With policy changes in the UK also affecting solar, we find out how the industry is responding.
We also investigate the use of biogas in the UK, find out why Good Energy was again named 'Social Impact Company of the Year', look into ammonia's potential in renewable energy, and ask how EDF and Areva's new partnership will fare in a shaky market.
Digital magazine FAQ
You can read Future Power Technology for free on the iPad. Download our app from Newsstand to read the latest issue and browse the back issues in our archive. Sign up for a free subscription in the app and never miss a new issue.
You can also continue to read the desktop version for free on our web viewer. (Browser compatibility: The web viewer works in the latest two version of Chrome, Firefox and Safari, as well as in Internet Explorer 9 and 10. Some features may not be compatible with older browser versions.)