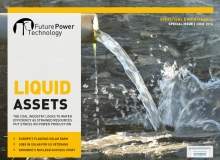 The world's coal power plants consume enough water to meet the needs of a billion people, according to a commissioned report published by Greenpeace on World Water Day last March. As water resources are coming under increasing stress in many regions, we estimate the threat this poses to the effective running of power generating sites, and look into what can be done to improve water efficiency in this high-consumption sector.
In solar, we find out what it took to get Europe's largest floating solar farm off the ground and assess the US veterans-to-solar programme which aims to give jobs to former troops out of work. Also, we hear about a vehicle-to-grid system to support overburdened power grids.
Plus, we look at the lessons learned from Grohnde, the world's most productive nuclear plant and report on the US Department of Energy's programme to uncover new, safer nuclear fuels.
Read the issue for free on your iPad through our app, or if you're on a desktop computer you can also read it in our web viewer.
In this issue
On the surface: the power of floating solar
The Queen Elizabeth II reservoir at Walton-on-Thames will house Europe's biggest floating solar array – at until the other projects in planning come on-stream. We find out what it's taken to get floating solar up and running.
Read it here.
Thirst for power
The world's coal power plants consume enough water to meet the needs of a billion people, according to a report. But low resources are also putting power generation under stress, and we ask what can be done to improve water efficiency?
Read it here.
Grohnde's grand nuclear legacy
Grohnde nuclear power station is the world's more productive nuclear facility. As it prepares to shut down as part of Germany's anti-nuclear policy shift, we look at lessons learned from its success.
Read it here.
Safer first for a nuclear future
Penn State University, with the US Department of Energy's Nuclear Energy University Program, is exploring new nuclear fuels which could make current light water reactors safer. We hear about new fuels in development and what they might mean for nuclear power.
Read it here.
Getting vehicle-to-grid off the ground
Aston University has commissioned the UK's first permanent electric vehicle-to-grid charging system. When plugged in to charging stations, the energy exchange allows vehicles to both charge and store energy for the national grid. We find out how it works.
Read it here.
Troops in solar
US solar is gaining strength with the industry preparing to double its capacity by year-end, it is looking to military veterans to fill the skills gap. Following the 2011 launch of Joining Forces – an initiative to connect military veterans with education and employment – we assess the impact of the programme.
Read it here.
Next issue preview
We look into the lawsuit by the Royal Society for the Protection of Birds that derailed the Neart na Gaoithe wind farm off Fife in favour of protecting local wildlife, as well as the Canadian energy regulator's recommendation to proceed with the Trans Mountain oil sands pipeline which has caused mass protests. We ask, what are the real risks?
Meanwhile, we find out about Australia's nuclear power U-turn as the country proposes itself as a repository for the world's spent nuclear fuel. Looking at modern grids, we speak to SteamaCo about rolling out network management technologies in some of the emerging world's rural regions, and find out how Japan's national grid has evolved to make use of stationary electric vehicles.
Also, we get insight into how the energy sector is working to capture the attention of young people and students in order to address the looming skills gap.
Digital magazine FAQ
You can read MINE for free on the iPad. Download our app from the App Store to read the latest issue and browse the back issues in our archive. Sign up for a free subscription in the app and never miss a new issue.
You can also continue to read the desktop version for free on our web viewer. (Browser compatibility: The web viewer works in the latest two version of Chrome, Firefox and Safari, as well as in Internet Explorer 9 and 10. Some features may not be compatible with older browser versions).