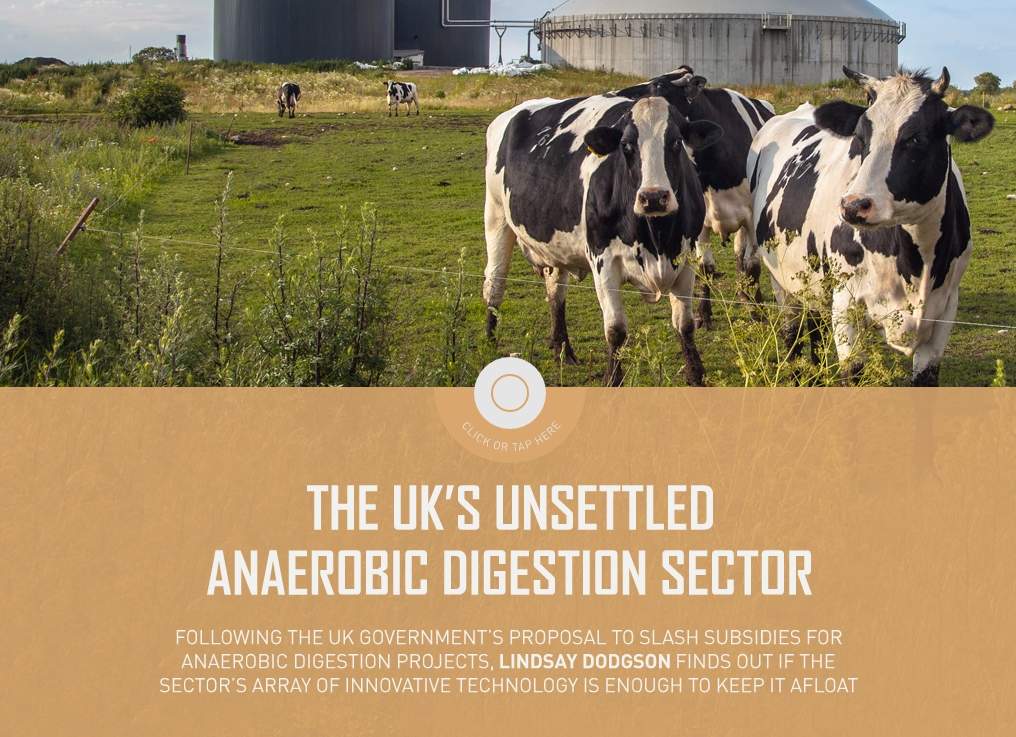 The future of Pickering nuclear generating station is up for debate as Canada's Ontario province considers a $300m upgrade that would keep the 1970s-era plant operating into the mid-2020s. Although environmental groups are protesting the value of upgrading ageing facilities, the Power Workers' Union says the plant can run safely for decades to come. We investigate the feasibility of maintaining nuclear plants beyond their original lifecycles.
Focusing on technology, we take a look at the first grid-connected wave power project in Europe, GE's new Digital Wind Farm apps for improved efficiency, the US Department of Energy's initiative to standardise data across the solar sector, and find out if UK anaerobic digestion plants can self-sustain in the wake of reduced government support.
Plus, we speak to Switzerland's Climeworks about using direct air capture to source CO2, look into modern methods of combating transformer performance failures, and hear Wakefield Acoustics' solution to the health and safety risks of noise pollution in power plants.
Read the issue for free on your iPad through our app, or if you're on a desktop computer you can also read it in our web viewer.
In this issue
Gibraltar in the wake of wave power
Eco Wave Power's energy project in Gibraltar has become the company's first grid-connected plant and the only wave energy plant in Europe operating multiple units under commercial PPA terms. We see how the system works and the chance of it becoming commercially viable.
Read the article here.
Digital wind farm apps open up maintenance
GE Renewable Energy has introduced a new software applications suite for its Digital Wind Farm concept. We find out how they could optimise operations and increase productivity.
Read the article here.
SunShot: standardising US solar
The US Department of Energy recently kicked off the SunShot initiative Orange Button, to simplify and standardise data across solar projects. Organising so many players won't be easy but the project could vastly improve how the industry integrates and operates.
Read the article here.
The UK's unsettled anaerobic digestion
The UK Government has proposed reducing support for anaerobic digestion projects, potentially ending dependent small-scale power generation projects. Is the technology able to stand on its own feet? We look inside some UK facilities to find out.
Read the article here.
Vintage nuclear for modern times
Ontario is debating a $300m upgrade to keep the 70s-era Pickering nuclear generating station operating into the mid-2020s. Environmental groups say better technologies are available, while the operator argues it can run safely for many years to come. We consider what it takes to maintain ageing nuclear plants.
Read the article here.
Capturing the market for CO2
Swiss company Climeworks is building the world's first direct air capture (DAC) plant in Zurich, which will take CO2 from ambient and sell it to an agri-business to help grow vegetables. The plant would remove power plants from carbon capture but with such high costs and challenges – is it feasible?
Read the article here.
The power of noise control
Noise pollution is a critical issue for power plant operators and one that can be addressed with a host of technological solutions. Wakefield Acoustics tells us more about the health and safety risks for workers, and the benefits of noise control solutions.
Read the article here.
Mitigating risks to ageing transformer fleets
Substation transformers play an integral role in the operation of today's electric power grid and the risks of failures are weighing on the industry more heavily than ever. Director of power and energy at Vaisala, Gerry Ducharme, discusses.
Read the article here.
Next issue preview
Momentum – a joint venture between Amec Foster Wheeler, Assystem and KEPCO – has won a €174m contract for the world's largest fusion reactor. The project will build an environmentally clean, safe source of energy, but there have been doubts over whether this is even possible. We find out the scale of the project and its influence on nuclear.
Plus, we have an in-depth analysis of why some MPs want to remove National Grid from its role as the UK's energy management, and speak to long-time fossil fuel traders about how they're sustaining their businesses under the growing threat of renewable energy markets.
Also, we look into a new wave power technology developed by Finnish AW- Energy, hear the latest on an innovative multi-rotor wind turbine design, and catch up with UK not-for-profit enterprise South East London Community Energy (SELCE) about its mission to fit solar panels to local school roofs using money gained from fundraising.
Digital magazine FAQ
You can read Future Power for free on the iPad. Download our app from the App Store to read the latest issue and browse the back issues in our archive. Sign up for a free subscription in the app and never miss a new issue.
You can also continue to read the desktop version for free on our web viewer. (Browser compatibility: The web viewer works in the latest two version of Chrome, Firefox and Safari, as well as in Internet Explorer 9 and 10. Some features may not be compatible with older browser versions).