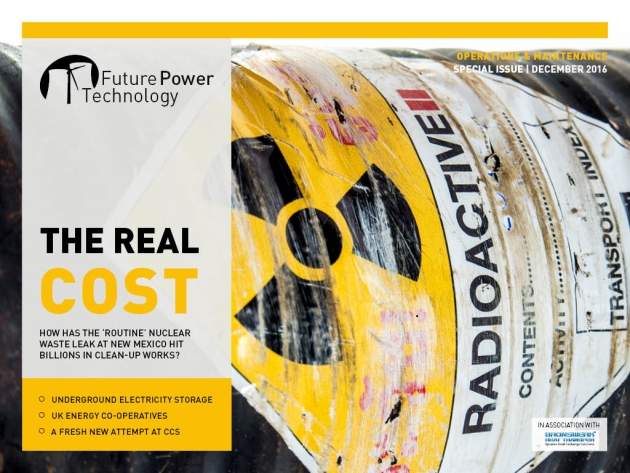 An explosion at an underground nuclear dump in New Mexico in 2014 was dismissed as a minor situation by the US Energy Department. But two years later an investigation by the LA Times has revealed a bill that could top $2bn, so if the clean-up was as routine as suggested, why the massive expense? We investigate the cost of operating nuclear plants.
To round off the year we look back over the most impressive renewable energy projects of 2016 and assess their financial and structural status moving into 2017.
Plus we find out if a UK project can finally produce an effective carbon capture system, look into the UK Labour Party's support for national energy co-operatives and what this actually entails, and speak to the team at Quidnet Energy about the possibility of using depleted oil and gas wells for long-term electricity storage.
Read the issue for free on your iPad through our app, or if you're on a desktop computer you can also read it in our web viewer.
In this issue
2016: A Good Year [for Projects]
From nuclear newbuilds to CSS-enabled plants, the world's biggest windfarm to tidal arrays, we profile the year's most impressive power projects.
Read it here
Empowering People with Co-operatives
The UK already has energy co-operatives but the concept has gained a shot in the arm by Labour leader Jeremy Corbyn, who has put co-ops at the heart of the party's energy reform policy. What would the ongoing operation of such a system look like, and is it achievable?
Read it here
Could Depleted Well Solve Storage Problems?
Quidnet Energy has been exploring the possibility of using abandoned oil and gas wells to store electricity, but what are the practical realities of setting up, operating and maintaining such a storage system? We speak to Quidnet to find out.
Read it here
America's Nuclear Hot Potato
An explosion at an underground nuclear dump in New Mexico in 2014 was quickly dismissed by the US Energy Department as a minor situation, yet two years later, an investigation by the LA Times revealed a bill that could top $2bn. What does this tell us about the cost of operating nuclear plants?
Read it here
CCS: A National Project
Carbon capture and storage (CCS) has long been mooted as a promising method of making coal-fired plants environmentally acceptable, but the concept has never flourished. Now, UK parliament has a six-point plan for successfully delivering CCS in the UK. Could this plan succeed where others have failed?
Read it here
Next issue preview
From large-scale new power plants to windfarms and solar arrays, we kick off the new year with a round up of the most exciting energy projects due to come online or hit important milestones in 2017.
In renewables, we find out why countries are abandoning feed-in-tariffs and the alternatives schemes being adopted, such as South Korea's financing scheme which is yielding greater results and the China People's Bank's approach that is supporting renewable energy financing on a very large scale.
Plus, we look back over Japan's Monju experimental nuclear project to learn why it never managed to meet its potential, profile Carbon Clean Solutions company's new carbon capture coal plant in India which claims to reduce emissions by 66% more than other methods, and investigate the reality of Shell's statement that electric vehicles could mark the end of oil, and ask what the industry can do.
Digital magazine FAQ
You can read Future Power for free on the iPad. Download our app from the App Store to read the latest issue and browse the back issues in our archive. Sign up for a free subscription in the app and never miss a new issue.
You can also continue to read the desktop version for free on our web viewer. (Browser compatibility: The web viewer works in the latest two version of Chrome, Firefox and Safari, as well as in Internet Explorer 9 and 10. Some features may not be compatible with older browser versions).