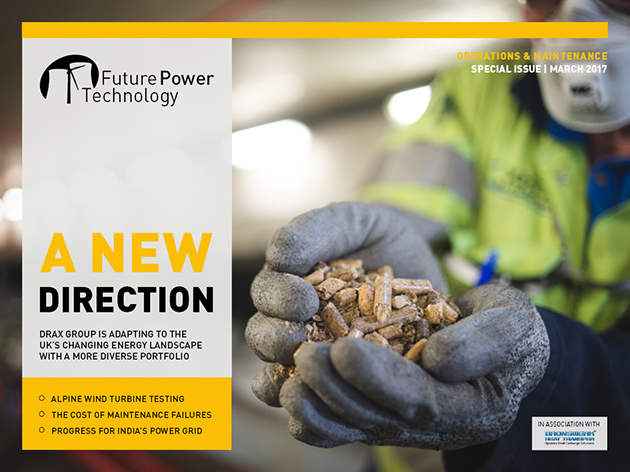 As the UK faces up to the idea of a post-coal future, with the government committed to closing the country's last coal-fired power plants by 2025, the energy system is changing in response – and Drax Group, operator of the UK's largest power station, is changing with it. Along with continuing Drax power station's biomass conversion, the acquisition of energy retailer Opus Energy and the purchase of four gas turbine development projects reflect the company's efforts to diversify from coal-fired generation. We explore the potential risks and rewards for Drax as it continues its transition.
We also take a look at a new test site in the German Alps where researchers are working to optimise wind turbine efficiency and maintenance, find out how a new sensor for power poles could help predict weather damage before it happens, and investigate questions surrounding the cost distribution of power infrastructure maintenance fails. Plus, we find out who is set to benefit most from a massive new power link project underway in India, and speak to German researchers working on an open map of power installations worldwide about the aims of their project.
In this issue
Drax Group and the Post-Coal Future
The British energy landscape is changing, and Drax Group, operator of the UK's largest power station, is changing with it. Chris Lo explores how the recent acquisition energy retailer Opus Energy and a purchase of four gas turbine development projects reflect the company's efforts to diversify away from coal-fired generation.
Read the article.
New Territory
Wind energy research cluster WindForS is setting up a test site in the German Alps, aiming to make the turbines quieter and more efficient and improve other areas of operations. Patrick Kingsland took a closer look.
Read the article.
Footing the Bill of Failures
San Diego Gas & Electric wants its ratepayers to cover 90% of the remaining costs it incurred when its fallen power lines caused three major brush fires in 2007, even though state investigations found that poor maintenance caused the incident. Chris Lo looks into the cost distribution of infrastructure failures.
Read the article.
Power to the People?
ABB and POWERGRID are building one of the longest power links in India, which will bring reliable power to 80 million people. Molly Lempriere asks who stands to benefit most from this massive project.
Read the article.
Sensing Damage
A project by Ekkosense and SSEN is building sensors which could allow energy companies to predict weather damage to power poles before it happens. Molly Lempriere finds out how it works.
Read the article.
Grid Mappers
Researchers at the Technical University of Munich are developing an open map of electricity grids worldwide. Molly Lempriere asks what the OpenGridMap tool will mean for future grid research and improvement.
Read the article.
Next issue preview
Wales is famed for its natural resources and coal mining industry but recent years have seen the country turn to modern renewable energies. One such project is Dinorwig, a rapid water flow pumped hydroelectric power station. We take a look inside Dinorwig, as one of the fastest supply stations in the world and a forbearer of an increasingly popular energy supply model. Also in Wales, we catch up with the Swansea Bay Tidal Lagoon project, following renewed enthusiasm from a positive government-commissioned report and backing from over 100 MPs.
Elsewhere, we profile the innovative Lakota Solar Enterprises' mission to bring green energy skills and infrastructure to Native Americans, speak to energy analysts about China's plan to invest $361bn into renewables, and hear what consumers think about the development of smart grids.
Plus, we examine Australia's determination to cling onto coal and its low adoption of renewable power projects to ask, will this remain the case?
Digital magazine FAQ
You can read Future Power for free on the iPad. Download our app from the App Store to read the latest issue and browse the back issues in our archive. Sign up for a free subscription in the app and never miss a new issue.
You can also continue to read the desktop version for free on our web viewer. (Browser compatibility: The web viewer works in the latest two version of Chrome, Firefox and Safari, as well as in Internet Explorer 9 and 10. Some features may not be compatible with older browser versions).