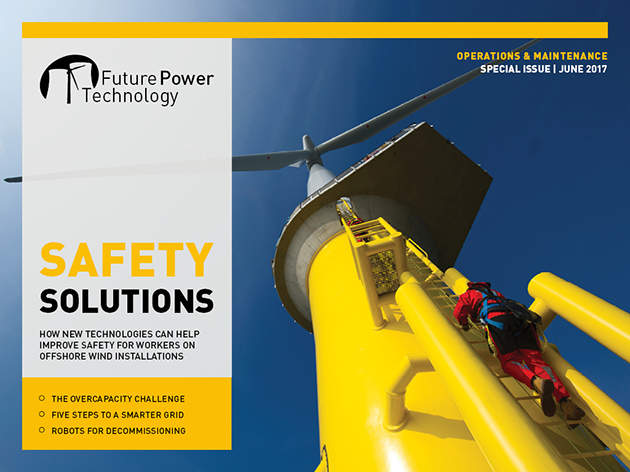 The installation of renewable energy capacity such as wind and solar photovoltaics is growing rapidly in many advanced markets, but the intermittent nature of many renewable power sources poses new challenges, in particular the need for overcapacity. We find out how pioneering countries are working towards the holy grail of a 100% clean, renewable power system.
Also in this issue we look at new technologies created to improve worker safety at offshore wind farms, find out how South Australia's government is tackling the state's energy woes with unusual measures, and check in on the development of autonomous robots for nuclear decommissioning. Plus, we speak to Energy Innovation about its five-step guide for smarter grids, and hear from the European Network for Cyber Security about cyber challenges for energy networks.
In this issue
Overcapacity: The Great Renewable Challenge?
With renewables such as wind and solar photovoltaics growing rapidly in many advanced markets, Chris Lo asks what challenges intermittency and overcapacity will pose to countries looking to move towards the holy grail of a 100% renewable power system.
Read the article.
Tech to the Rescue
The recent deaths of two workers have focused attention on safety at UK wind farms. Julian Turner finds out from Kate Harvey of the Global Offshore Wind Health and Safety Organisation, and David Flynn and Keith Brown, two engineers working on a human-robotics hybrid solution for offshore farms, what can be done to improve safety.
Read the article.
Solving South Australia's Energy Woes
The government of South Australia is taking some unusual measures to provide energy security in the region, which is home to a widely celebrated renewables programme but struggling to ensure security of supply. Molly Lempriere finds out more.
Read the article.
Five Steps to a Smarter Grid
Smart grid technologies offer a range of potential benefits, but maximising the value of grid modernisation programmes is easier said than done. Mike O'Boyle of US-based think tank Energy Innovation tells Chris Lo about the five-step framework the organisation has developed to help utilities and regulators pursue grid modernisation.
Read the article.
Navigating the Digital Transition
The European Network for Cyber Security (ENCS) met with Walter van Boven, manager of the digital grids department at Alliander IT and chair of the ENCS Assembly, to discuss the latest developments in the field of cyber security and the company's work with ENCS.
Read the article.
Send in the Robots
Researchers from the STAR Lab, in collaboration with Sellafield and the National Nuclear Laboratory, are exploring the use of autonomous robots in the nuclear decommissioning process. Molly Lempriere checks in on the progress of this promising project.
Read the article.
Next issue
Scotland set a new record for wind power output in March, jumping more than 80% year-on-year and covering 58% of the country's monthly electricity demand. We ask what it will take to bring the cheapest form of wind energy back into the mainstream. While in nuclear, we look at plans for Hitachi's Horizon to build a new nuclear power in Wales and find out if fusion-fission reactors could be the latest alternative in nuclear technology.
Also, we unpack the complex Blockchain technology – an emerging key enabler of energy innovations for producers and micro-grid systems, hone in on generation issues, such in Madagascar – a country with virtually no electricity grid – where Bushveld Minerals and Sinohydro plan to build a 60MW coal power plant and transmission infrastructure, and speak to start-up Prescient Transmission Systems in the US about its predictive methodology designed to ensure the working safety of the US Power Grid.
Digital magazine FAQ
You can read Future Power for free on the iPad. Download our app from the App Store to read the latest issue and browse the back issues in our archive. Sign up for a free subscription in the app and never miss a new issue.
You can also read the desktop version for free on our web viewer. (Browser compatibility: The web viewer works in the latest two version of Chrome, Firefox and Safari, as well as in Internet Explorer 9 and 10. Some features may not be compatible with older browser versions).
If you would like to receive an email notification when a new issue of Future Power Technology is published, you can sign up for a free subscription. This gives you access to the web and iPad versions of the monthly magazine, as well as the quarterly special issues focusing on operations and maintenance.