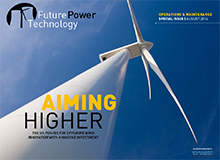 Offshore wind offers a lot more energy potential than the industry can currently harness. To boost capacity and drive down costs of complex offshore installations, the US Department of Energy has awarded funding of $47m each to three innovative projects. We take a closer look at these projects and their objectives.
We also review recent examples of automation technologies being used to increase the efficiency and reduce the cost of renewable energy, from automated wind turbine manufacturing to the handling of complex fuel mixes at biomass plants, and find out how UK initiatives are using solar installations to create new habitats for endangered wildlife.
As Dominion Resources in the US works to extend the operating licenses of its nuclear plants to a total of 80 years each, we investigate the challenges of running ageing nuclear reactors safely. Moreover, we find out how the US coal industry has responded to President Obama's strict emissions regulation proposal and take a look at the Scottish plant which could become the world's first gas-fired power station to use commercial-scale carbon capture and storage.
Click here to read this issue.
In this issue
Realising Potential
Three US-based projects have received $47m each to speed up the progress of the offshore wind industry by lowering installation and maintenance costs and driving performance. Elly Earls finds out more about the work underway.
Click here to read the full article.
New Roles for Solar Farms
Britain's ability to generate green electricity is growing, but with utility-scale solar farms typically covering 100 acres of land or more – usually in rural areas – is it good news for wildlife? Dr Gareth Evans finds out.
Click here to read the full article.
Leading Green Automation
Automation is said to boost efficiency, increase quality and ultimately reduce the cost of renewable energy. Elly Earls reviews three exciting automation technologies set to boost the green energy sector's bottom line.
Click here to read the full article.
Revival of the Fittest?
As Dominion Resources tries to extend the operating licenses of its nuclear units in the US for another 20 years, taking each plant's life to a total of 80 years, Adam Leach investigates the challenges involved in running a nuclear plant for the better part of a century.
Click here to read the full article.
Inside Obama's War on Coal
The US Environmental Protection Agency has been accused of 'waging a war' on coal after announcing proposals to reduce CO2 emitted by coal-fired power plants. Heidi Vella investigates.
Click here to read the full article.
Case Study: Peterhead CCS
The Peterhead plant in Scotland will be the world's first gas-fired power station to host a full-chain carbon capture and storage project on a commercial scale. Developed by Royal Dutch Shell in partnership with plant owner Scottish and Southern Energy, the project is currently in the front-end engineering and design study phase funded by the UK Government.
Click here to read the full article.
Next issue preview
As the Scottish independence referendum draws nearer, we explore the country's position as a leader in renewable energy and find out how the situation would change if independence became a reality.
We also take a look at China's push for high-temperature reactors, chart the evolution of clean coal technologies and explore the potential of Google Glass for maintenance.
Moreover, we look at projects that aim to demonstrate how renewables can change the world – from a solar-powered flight around the world to the impact of clean energy on women's lives in developing countries.
Digital magazine FAQ
The online magazine is viewable on any computer with a modern browser such as Chrome or on an iPad via the Future Power Technology magazine app.