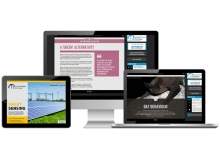 As the number of renewable sources continues to grow, integration with existing grid infrastructure must become more effective. This will require significant upgrades to transmission networks and to the way distribution is monitored. We find out more from Tollgrade, the company named 'Best Smart Grid Innovator' at the UK Energy Innovation Awards.
We also find out how a new technology that combines plant monitoring with real-time air quality predictions could reduce pollution, investigate the economics of converting coal plants to biomass or gas-powered generation, and take a look at a new ultrasound sensor that could help improve crack detection in nuclear power plants. Plus, we ask what UK Power Networks is doing to tackle the problem of faults in underground lines blowing up pavements, and hear from Air Energi about recruitment trends in the energy sector.
Read the issue for free on your iPad through our app, or if you're on a desktop computer you can also read it in our web viewer.
In this issue
Take a Breath
A new Air Pollutant Optimization model, developed by the Georgia Institute of Technology, combines power plant economics with real-time air quality predictions, which could reduce pollution and minimise operating expenses. Abi Millar finds out more.
Read the article.
The Conversion Calculation
As power companies come under increased pressure to reduce carbon emissions, many are looking into a switch to gas or biomass-powered generation. Heidi Vella explores the challenges involved in converting a coal plant to run on more eco-friendly fuels and asks, is the environmental payoff worth the cost?
Read the article.
Bat Behaviour
Mathematicians at Scotland's University of Strathclyde have taken influence from nature to build an ultrasound sensor capable of detecting cracks in nuclear power plants. Lindsay Dodgson investigates the device's potential to make inspection easier and cheaper
Read the article.
Smart Sensing
Monitoring of electricity distribution lines will have to change considerably with the growth of renewable energy. Rod James speaks to Erik Christian from Tollgrade, the company named 'Best Smart Grid Innovator' at the UK Energy Innovation Awards, to see what challenges lie ahead.
Read the article.
Power Surge
Over the past five years, there have been 80 incidents of pavements blowing up or catching fire as a result of faults in underground power lines across London. Gary Peters asks what UK Power Networks is doing to tackle the problem
Read the article.
Energi Boost
Recruitment company Air Energi recently launched a dedicated division for permanent workforce solutions. Elly Earls asks vice president of the new division Donna Chapman to find out why permanent staff is becoming increasingly important to energy operations
Read the article.
Next issue preview
UK campaign 38 Degrees is working with energy switching specialists The Big Deal to coordinate a mass switch from the Big Six energy providers to "better, cleaner and cheaper" alternatives. We find out what the campaign hopes to achieve and the impact a mass switch away from the leading utilities could have on the country's energy sector.
Researchers in the US have found a new way of harvesting sunlight for energy generation through the use of light-activated gold nanoparticles, a method that could help significantly increase the efficiency rate of solar-to-power conversion and so reduce the cost of solar generation. We take a closer look at this technology and its commercial potential. We also investigate the potential of sewage sludge and farmyard slurries for energy conversion, examine the details of the UK's nuclear power deal with China, and find out why the World Bank has made a rare exception to its clean energy funding policy by providing financial support for a lignite coal power plant in Kosovo.
Digital magazine FAQ
You can read Future Power Technology for free on the iPad. Download our app to read the latest issue and browse the back issues in our archive. Sign up for a free subscription in the app and never miss a new issue.
You can also continue to read the desktop version for free on our web viewer. (Browser compatibility: The web viewer works in the latest two version of Chrome, Firefox and Safari, as well as in Internet Explorer 9 and 10. Some features may not be compatible with older browser versions.)