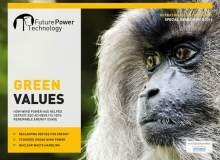 Future Power Technology is now free for the iPad. Download our app to read the latest issue and browse our back issues for free.
Detroit Zoo has been named as the first in the US to gain Green-e Marketplace certification. The public facility is renowned for employing and promoting green energy technologies, and has now committed to using 100% wind power for all of its operations. We speak to the zoo to find out more about its energy needs and why wind was the best option.
In renewables, we speak to AmpyxPower about its drone tethering concept that is generating energy from high-altitude winds, find out about a collection of waste-to-power plants producing local energy in London, and investigate the real costs of solar array maintenance.
Also, with the UK hoping to expand its nuclear capacity, we look into how the country is managing the nuclear waste from its oldest plants and where innovations are required, and learn about GE's new 'digital twin' power plant software that aims to increase efficiency.
Read the issue for free on your iPad through our app, or if you're on a desktop computer you can also read it in our web viewer.
In this issue
High Flyers
AmpyxPower is taking inspiration from water-skiers and drones in a project to harness the power of high-altitude winds for energy.
Read the article.
Adventures in Data
GE's Digital Power Plant, the Predix-powered analytics platform creates a digital 'twin' of a power plant complex to allow for improved operations monitoring and asset management. We take a closer look at the platform.
Read the article.
Maintaining the Solar Industry
Upkeep is emerging as a heavy cost factor in large solar installations as panels need to be fined-tuned with small margins for inefficiency. We find out about maintenance and how it can be improved.
Read the article.
Detroit Zoo Takes to the Wind
Detroit Zoo has become the first in the US to gain Green-e Marketplace certification by using 100% wind energy for all its operations. We ask why wind was the best option to meet the zoo's needs.
Read the article.
Keeping it Local
The potential of waste-to-power energy plants has started to make its mark in London with a string of new-builds now diverting waste from landfill. So how does energy recovery from waste work?
Read the article.
Challenging Perceptions
Nuclear power is still dogged by the tricky problem of handling nuclear waste, and as the last batches of spent fuel are removed from some oldest plants in the UK, new methods of maintenance are urgently needed. We take a look at innovations in this field.
Read the article.
Next issue preview
The UK capital's public transport operator Transport for London plans to trial a public road that generates energy through inbuilt solar and kinetic technologies. The 'intelligent street' project, being delivered by the New West End Company, will be traffic-free to prioritise pedestrians and cyclists in a public area known for its high air pollution. We see how the concept could pave the way for green energies in urban design.
In Canada, we hear about a series of small companies that could be starting a nuclear revival in the country, look at EDF's tidal turbine project – one of the first of its kind connected to the grid – and discover the importance of independent analysis of solar cell efficiencies.
Also, as we're not ready to wave goodbye to coal power just yet, we look at how plant designers are meeting the need for cleaner, low-emission plants, and profile the market for proper disposal of coal ash.
Digital magazine FAQ
You can read Future Power Technology for free on the iPad. Download our app to read the latest issue and browse the back issues in our archive. Sign up for a free subscription in the app and never miss a new issue.
You can also continue to read the desktop version for free on our web viewer. (Browser compatibility: The web viewer works in the latest two version of Chrome, Firefox and Safari, as well as in Internet Explorer 9 and 10. Some features may not be compatible with older browser versions.)