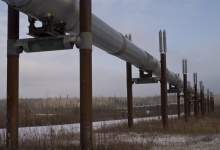 "It's probably unlikely gas will not be used," says Georg Zachmann from the German Advisory group and Brussels-based think tank Bruegel, when asked if Russia will use its supply of gas to Ukraine as a political weapon in the ongoing crisis in Crimea.
On Sunday tensions between the neighbouring countries rose further as 97% of Crimean voters backed joining Russia in a referendum that the government in Kiev branded a "circus performance" and said it would not recognise. The following day Moscow signed a decree recognising Crimea as a sovereign state.
As tensions reach the next level and the EU and US prepare to impose further sanctions on Russia, it becomes more likely Ukraine's gas supply could be shut off by Russia. And it wouldn't be the first time.
Russian state-owned gas company Gazprom provides 60% of Ukraine's natural gas. Since the Russians moved military forces into Crimea a few weeks ago, Gazprom declared it would no longer provide gas at a discount rate to Ukraine. The now-ousted Ukrainian president Viktor Yanukovych had previously struck a deal with Gazprom to supply gas to Ukraine for a 30% discount.
Gazprom has also warned that Ukraine owes the company $1.55bn for gas supplied in 2013 and so far in 2014. Gazprom CEO Alexei Miller said on 7 March: "Either Ukraine makes good on its debt and pays for current supplies, or there is risk of returning to the situation of early 2009." Russia cut gas supplies to Ukraine in 2009 over a pay dispute, which itself was a repeat of similar punitive measures in 2008 and 2006.
---
---
Could the South Stream Pipeline could become a casualty of the Ukraine crisis?
---
If Russia was to pull the plug, what supply options does Kiev have and is it possible for the country to secure an energy future without its Russian neighbour?
Short-term solutions to securing Ukraine's energy future
"Reverse-flows are an option," says Zachmann.
Gazprom, which controls nearly one-fifth of the world's gas reserves, feeds about 40 billion cubic meters (bcm) of gas to Europe through by-pass pipelines that pass over Ukraine. Once the gas reaches Europe it is technically possible to pump it back again via reverse-flow to Ukraine.
Zachmann, who co-wrote a report released in January for the Ukrainian Prime Minister entitled 'Evaluating the options to diversify gas supply in Ukraine', estimates 20bn cubic metres of gas, plus energy efficiency measures, would suffice for Ukraine in the short term.
"In a scenario where Europe gets all the Russian gas it is contracted for [40bcm through Ukraine per year] and it can buy some additional liquefied natural gas (LNG) then it wouldn't be a problem to make 20bcm available," he says.
"It is not a long-term solution," Zachmann notes. "Reverse flows are expensive and economically absurd."
"Ukraine can essentially be supplied about five times its current needs in about ten years without relying on Russia ."
It also depends on whether Russia would accept this scenario; it may claim it is illegal. If this led to Russia withholding supply to Europe it would make it very difficult for Europe to supply to Ukraine. Although Europe is thought to have bigger than normal reserves due to a mild winter, there would also be shortages in Central Eastern Europe, Romania, Bulgaria, Hungary and Slovakia and Poland, which are supplied through Ukraine, and it would be difficult to get gas there from the west.
Medium to long-term options are a-plenty
In the medium and long term there are many other supply options for Ukraine, Zachmann assures.
"Ukraine can essentially be supplied about five times its current needs in about ten years without relying on Russia if it pursues all its domestic production [possibilities] and import opportunities that can be developed," he says.
These opportunities include diversifying imports by considering physical reverse flows from a range of countries, including Slovakia, Poland, Hungary, Romania and Moldova. There has been some discussion of building an LNG terminal in the Black Sea, as well as a new pipeline project through Azerbaijan, Georgia and Ukraine. However, Zachmann says this is "extremely unlikely" due to cost and lack of gas supplies. There is also the possibility of a connection to the Adria LNG terminal that has been planned in Croatia.
Focusing on domestic production is also a possibility. Pre-1960s Ukraine was the biggest producer of gas in the Soviet Union, according to Zachmann
"There are a lot of conventional gas fields [in Ukraine]," he says. "Conventional gas production could rise back to between 18 – 24bcm per year."
---
---
A suspected terrorist attack on a Californian substation has highlighted the vulnerability of the US's energy infrastructure.
---
Shale gas is another potential source, with the possibility of developing a capacity of 0 – 15bcm in 10 years, but it remains a more uncertain option for the country, as it is for the rest of Europe. Offshore oil and gas, which is already an important part of Ukraine's gas production, could face significant difficulties going forward if Crimea is annexed by Russia as many of the country's oil and gas fields are situated in the Black Sea offshore Crimea.
ExxonMobil, Chevron, Shell, Repsol and even Petrochina all have interests in the area. The loss of rights to these contracts would be a huge blow for Ukraine.
Other options include fuel-switching electricity production for heat and using coal to create synthetic gas. "18bcm of gas used can be replaced by coal if the corresponding investments are produced," says Zachmann.
However, financing such projects will be a big issue, especially for the long-term, and will only work with a very stable regulatory environment which is currently not in place.
To secure investment, Zachmann says Ukraine has previously offered production sharing agreements with big oil and gas majors to essentially ensure they are taken out of all legislative changes in the country, as well as completely shielded from all political changes. However, he remains "sceptical about how widely these tools can be used in the long run".
"The last option is reducing consumption," says Zachmann. "A very raw estimate is that Ukraine could consume 25% of the natural gas it consumes today."
""A very raw estimate is that Ukraine could consume 25% of the natural gas it consumes today." "
This will most likely begin to happen naturally if Ukraine is faced with gas supply disruptions from Russia then the price of gas inside Ukraine will probably be higher than $400 per bcm. If this price is passed through to the customers then consumption will likely drop and domestic production will become much more profitable.
Russia faces losing out
If Ukraine did find energy independence away from Russia, or if supply to Ukraine was disrupted in the long term by Russia itself or possible upcoming EU sanctions, Zachmann says Russia will be "one of the biggest losers" when it comes to the economics.
"That would be a big loss for Gazprom," he says. It could also lead the EU to diversify gas supply away from Russia, which currently accounts for 3% of Russia's gross domestic product and for around a third of Gazprom's total gas sales. This will "undermine the existing business model of Russia", Zachmann says.
The EU has yet to announce any sanctions in relation to Gazprom, however the EU and US have warned any travel bans and asset freezes of Russian nationals imposed would include Gazprom CEO Alexei Miller.
Some analysts have speculated the EU is not in a position to impose sanctions on Gazprom due to falling European production and the Asia-Pacific market buying up high volumes of LNG. However, according to Reuters, a Russian newspaper has reported a source close to the gas giant has said it is in the process of considering changing its 'take or pay' contracts with Europe in a bid to keep the EU countries on side despite the threat of further sanctions. Gazprom refused to confirm or deny the rumours.
UK Foreign Secretary William Hague said on Monday the EU has already started discussions about longer term sanctions, including reducing the amount of gas it buys from Moscow, citing this as the 'biggest cost to Russia.'
Although it's not been a problem before, considering the wider implications in the dispute over Crimea, Zachmann says, in this instance, Russia may "think twice about using the so-called energy weapon".