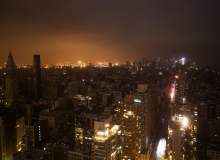 In the early hours of 16 April 2013, unidentified gunmen entered PG&E Corp's Metcalf Transmission Substation near San Jose, California and severed fibre-optic cables, knocking out local 911, landline and cell phone services. The snipers then opened fire on 17 electrical transformers, causing $15m worth of damage. To avert a blackout, power had to be rerouted from plants in nearby Silicon Valley.
The coordinated assault brought into sharp relief the vulnerability of the US electricity network to multiple threats from terrorist groups, severe weather and natural disasters such as earthquakes.
"It is clear that the electric grid is not adequately protected from physical or cyber attacks," stated Rep Henry Waxman, ranking member of the US Energy and Commerce Committee. He described the incident at San Jose as "an unprecedented and sophisticated attack on an electric grid substation with military-style weapons. Communications were disrupted. It took weeks to replace the damaged parts. Under slightly different conditions, there could have been serious power outages or worse."
Federal data released in 2014 by the Department of Energy (DOE) and the North American Electric Reliability Corp (NERC) revealed that the US endures more blackouts than any other developed nation.
The modern electric grid loses power 285% more often than the one in 1984, when records began, at an annual cost to businesses of $150bn. The root causes include ageing infrastructure, a lack of investment in grid modernisation, and policy gaps at local and federal level, exacerbated by increased energy demand.
Add to that threats from terrorism and climate change, and it is no surprise that federal agencies and policymakers have identified enhancing transmission system resiliency as a national priority.
Industry powerhouse: Grid Assurance to stockpile critical equipment
In a rare display of unity, six of the largest US utilities have joined forces to establish a new company, Grid Assurance, in an effort to protect the US grid and give electric transmission owners faster access to a stockpile of long-lead time-critical equipment at cost price in the event of an emergency.
Grid Assurance, an independent entity, comprises affiliates of American Electric Power, Berkshire Hathaway Energy, Duke Energy, Edison International, Eversource Energy and Great Plains Energy.
"Grid Assurance is an industry-led, proactive response to the numerous potential risks facing our nation's transmission system, including severe weather and catastrophic events like earthquakes or physical and cyberattacks," said CEO Michael Deggendorf. "By maintaining a readily available supply of critical equipment necessary to restore power delivery if the transmission system is severely damaged, Grid Assurance will help protect consumers and communities from the devastating impacts that delays in restoring electricity can have on quality of life and the nation's economy."
"Grid Assurance will maintain an inventory of equipment at strategically located, secure warehouses."
Restoring critical elements of the transmission system can be delayed by the extended lead times required to design, build and deliver replacement parts, including large transformers − some of which can take up to 24 months to build and deliver − circuit breakers and other specialised components.
Grid Assurance will maintain an inventory of equipment at strategically located, secure warehouses as well as logistics support to deliver critical parts to transmission sites affected by everything from physical and cyber attacks to electromagnetic pulses, solar storms, earthquakes and severe weather.
Stakeholder buy-in: can US utilities work together to protect the grid?
For the project to succeed it must have the backing of the US Government and so far the Federal Energy Regulatory Commission (FERC) has thrown its weight behind the private sector solution, sweeping away regulatory hurdles related to structure and pricing to allow it to proceed unhindered.
The Wall Street Journal reports that Congress is contemplating the creation of a national Strategic Transformer Reserve, proof that it shares industry concerns about electric industry vulnerabilities.
A network of repositories may also appeal to power companies, which are forced to keep replacement equipment such as spare transformers – which can weigh in excess of 500,000lb −  close to where they may be needed, making them more vulnerable to damage during an attack or natural disaster.
However, Grid Assurance must still secure buy-in from rival US utilities, who will inevitably raise concerns around pricing – the cost-based subscription fee system aims to facilitate subscribers' ability to recover their expenses − competition and whether costs will be passed on to consumers.
"We've been spending a lot of time developing the value proposition."
Transformers, for example, are highly reliable under normal conditions and power companies may be reluctant to invest in expensive back-up capability, especially when it is provided by competitors.
"We've been spending a lot of time developing the value proposition," said Edison Transmission president Steven Eisenberg, who went on to say that the greatest challenge to the success of Grid Assurance may be persuading utilities to pay for a service that amounts to catastrophic insurance.
Grid Assurance estimates it will need at least 100 transformers costing between $2m and $10 m each. Deggendorf has noted there has already been "considerable interest from potential subscribers". The nascent company plans to begin ordering critical transmission sparing equipment based on secured subscriptions with a view to the service becoming fully functional by January 2018.
As for the impact on US electricity ratepayers, Grid Assurance predicts it will likely be minimal since power companies already spend billions on routine maintenance as well as share information about their inventories of spares, even though there is no federal requirement that they share equipment.
United front: the fight to protect the US electricity network
In response to the vulnerability of US electricity transmission infrastructure, Congress has ordered the DOE to study the need for a national Strategic Transformer Reserve, analyse potential supply chain problems and develop a comprehensive plan by the end of this year.
The US Government and Grid Assurance have hinted that they see no conflict of interest between federal and private sector entities when it comes to safeguarding the national electricity grid from blackouts that could in turn impact other critical services such as water treatment and emergency services.
The 2013 attack in San Jose appears to have galvanised the US energy industry behind a coordinated campaign to upgrade legacy grid infrastructure and protect electricity supplies from multiple threats.
In 2014, NERC issued physical security standard NERC CIP 014-1 to identify and protect transmission stations and their associated primary control centres from physical attack. The DOE's Quadrennial Energy Report identified mitigating risks to long lead-time equipment as an urgent and high priority. Now, Grid Assurance has the potential to unite industry in a common cause, as Deggendorf explains.
"Due to the benefits of inventory pooling, diversification and improved logistics, Grid Assurance is a more cost-effective, efficient way for transmission owners to prepare for high-impact, low-frequency events that could severely damage the transmission system," Deggendorf said in statement in May.
"It would be significantly more expensive for every transmission-owning entity to independently procure and securely house the spare equipment necessary for recovery from rare, but potentially catastrophic events."