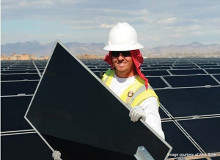 First Solar began construction on AGL Energy's 102MW Nyngan solar power plant in New South Wales, which is said to be the largest utility-scale solar project in Australia.
The project will generate 230GWh of renewable energy annually, which is enough electricity to power more than 33,000 average New South Wales homes and curb more than 203,000t of carbon dioxide emissions annually.
In addition to construction, which is likely to be completed in mid-2015, First Solar is also responsible for providing engineering and procurement services for the project and five-year maintenance services post commissioning.
Iberdrola Ingenieria and a group of Basque companies including Ingeteam, Ormazábal and Arteche partnered to launch a research and development (R&D) project aimed at designing a new marine substation for offshore wind farms.
Backed by the Basque Government, the Marin-El R&D project will offer an alternative to the existing bulky and heavy substations, eliminating one of the main difficulties involved in the various offshore technologies for power generation.
Based on the concept of a self-installing substation developed entirely on dry land, the Iberdrola-led initiative will provide several advantages, including speeding up installation and significantly reducing costs.
British utility SSE secured a conditional approval for the proposed 108MW Bhlaraidh wind power project on Glenmoriston Estate, north-west of Invermoriston in the Great Glen, the UK.
The project calls for the construction of 32 wind turbines with external transformers; two permanent meteorological masts; site substation and control buildings; on-site access tracks with associated watercourse crossings, and on-site underground cabling.
SSE onshore renewables director Colin Nicol said the £166m project is estimated to provide £13m of investment funds over its 25-year lifetime for community projects including skills and training initiatives.
A University of Brighton scientist, Robert Morgan, reported that turning air into liquid using surplus energy from renewable sources including wind and solar power will help tackle the UK's energy deficit and curb carbon emissions.
Morgan, who participated in a study and co-authored a white paper covering technical aspects and economics of storage with respect to the UK electricity network, reported liquid air energy storage could create a £1bn industry with 20,000 jobs.
According to the white paper, renewable sources sometimes generate electricity when there is no need of it and such excess electricity can be stored in the form of liquid air meaning it can be converted back into electricity when demand rises, improving efficiency.
Eneco Luchterduinen and RWE Innogy deployed a new metocean buoy in the Dutch North Sea to study the impact of wind, waves and currents on the development and operation of offshore wind power plants.
Equipped with a light detection and ranging (LiDAR) device, the buoy, which has been deployed for a six-month validation period, is located near RWE Innogy's existing IJmuiden met-mast, some 75km west off IJmuiden in the Tromp Binnen wind farm area.
The floating platform with a diameter of 2.8m and a weight of around 1.7t is collecting data on wind, wave, current and ambient conditions, while the collected data will be assessed by an independent analyst with initial results set for submission by mid-2014.
The Office for Nuclear Regulation (ONR) and the Environment Agency (EA) started assessing Hitachi-GE Nuclear Energy's Advanced Boiling Water Reactor (ABWR), clearing an important hurdle for reactor licence.
Having completed nine-month preparatory work, the regulators will now assess the potential use of ABWRs in new nuclear power stations at Wylfa in Anglesey and Oldbury in South Gloucestershire.
The in-depth assessment, which represents the second phase in the joint generic design assessment (GDA) process, is likely to be completed by the end of 2017.
Canadian company Enbridge signed an agreement with Renewable Energy Systems Americas (RES Americas) to develop a 110MW wind power project in Texas, US.
Under the agreement, Enbridge will invest $200m in the Keechi Wind project, while RES Americas is responsible for the construction of the project.
RES Americas started construction of the project in December 2013 and expects to commission it in the first quarter of 2015.
Alstom T&D India won three contracts valued at INR1.687bn (€21m) from West Bengal State Electricity Transmission Company Limited (WBSETCL) to supply gas-insulated substation (GIS) and air-insulated substation (AIS) packages.
Under the first two contracts worth around INR665.6m (€8.3m) and INR338.7m (€4.3m) respectively, the company will be responsible for the design, manufacture, supply, erection, testing and commissioning of 220/132kV GIS package for the Vidyasagar lndustrial Park at Kharagpur and 220kV GIS package for Dharampur.
The Vidyasagar park substation is being built to feed various upcoming units in the adjacent park of the Midnapore district, while the Dharampur substation will connect existing substations at Jeerut and Aramabagh as part of an extra high voltage network development in the North 24 Parganas district.