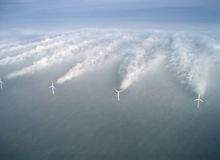 Swedish state-owned energy company Vattenfall is to construct a €1bn offshore windfarm Horns Rev III off the west coast of Denmark.
Slated to be commissioned in 2018, the Horns Rev III offshore windfarm will be largest in the European country.
After being commissioned, the wind plant will have the capacity to generate enough power that can supply electricity to 400,000 Danish households.
Government agencies, companies, and organisations in the US have committed to generate an additional 1.3GW of energy storage capacity across the country over the next five years.
According to the US Government, any procurement, deployment, and investment commitments made are expected to result in nearly $1bn.
The federal government has also promised to increase its storage and microgrid capacity at both federal and military bases with the establishment of a new 50MW-100MW grid-scale battery project at California's naval weapons station Seal Beach, alongside other projects.
European electricity transmission system operator (TSO) TenneT has issued its second Green Bond worth €1bn for investing in the transmission of renewable electricity from offshore windfarms to the onshore electricity grid.
The proceeds have been used to invest in different offshore projects, which include DolWin1, a 165km high voltage direct current (HVDC) link with 800MW capacity; DolWin2, a 135km HVDC link with 916MW capacity; DolWin3, a 162km HVDC link with 900MW capacity; and BorWin3, a 160km HVDC link with 900MW capacity.
The dual tranche green bond has been issued with the support of five banks, including Barclays, Deutsche, ABN AMRO, BNP Paribas, and SMBC Nikko Capital Markets.
GE has signed a contract with Pakistan-based independent power producer (IPP) Hub Power Company (Hubco) to deliver its digital industrial solutions to the 1,292MW Hubco power plant in Baluchistan.
Being Pakistan's largest independent steam plant, Hubco operates four 323MW generating units and supplies power to the national grid.
GE's cloud-based operating system Digital Power Plant features a suite of software solutions allowing operators to monitor operations across all touchpoints in real-time.
Scotland-based Scotrenewables Tidal Power has launched its 2MW SR2000 turbine at the marine engineering company Harland and Wolff Heavy Industries in Belfast, Northern Ireland.
The 550t machine is the company's first commercial-scale turbine and also the largest in the world. In a bid to begin a grid connected test programme, it will undergo preliminary tow trials in Belfast Lough before being moved to the European Marine Energy Centre (EMEC) in Orkney, Scotland.
After over 12 years of detailed and incremental engineering research and development (R&D), Scotrenewables succeeded in developing the SR2000, a project which was supported by £1.25m funding under the Scottish Government's WATERS2 initiative.
India-based Tata Power Renewable Energy (TPREL) has signed a share purchase agreement (SPA) to acquire New Delhi-based Welspun Renewables Energy's (WREPL) renewable portfolio for $1.4bn.
WREPL has about 1,140MW of renewable power projects, with 990MW of solar power and the remaining 150MW of wind. Currently, about 1,000MW of the total capacity is operational, while the rest is under advanced stages of development.
Tata Power's chief executive officer and managing director Anil Sardana said: "The company is pursuing growth in renewable energy space to create value for its shareholders through various organic and inorganic growth opportunities.
Switzerland-based automation company ABB has commissioned five substations to connect a 648MW solar project in Kamuthi in Tamil Nadu to the national transmission grid.
Last year, ABB received the project from an independent power producer (IPP) Adani Group and has completed it on schedule.
The Kamuthi project features five photovoltaic (PV) plants and is the world's largest of its kind. Of the 648MW generated, 360MW is currently grid-connected and operational.The facility will account for approximately 10% of India's current solar capacity.
A new £20m biogas plant is being constructed in Ireland to treat large volumes of chicken, which will generate 3MW of renewable energy from up to 40,000t of chicken litter each year.
One of the major intentions of the project is to avoid the traditional unhealthy practise of spreading untreated litter on land.
The plant is being constructed by Ireland-based renewable energy development company Stream BioEnergy. It will be co-financed by funds managed by infrastructure and private equity investment manager Foresight Group and regional business development agency Invest Northern Ireland.
Energy-focused private equity firm Denham Capital and renewable energy investment company GreenWish Partners have entered a partnership to develop, build, and finance 600MW of renewable energy assets across sub-Saharan Africa by 2020.
The capital commitment will enable the African renewables platform to carry out a $1bn project pipeline.
According to the International Energy Agency, over 600 million people in sub-Saharan Africa are without electricity as the total African power generation capacity is limited to 90GW, despite the continent receiving an average of 300 days of sunshine per year.
Shanghai-based development company JA Solar is supplying 420MV of modules for a national advanced photovoltaic (PV) technology demonstration project in Datong, in the Shanxi province of China.
Also known as Front Runner, the project's $1.6bn first phase will comprise of 13 PV power stations and have a total installed capacity of 950MW. JA Solar is delivering 44% of the total modules required.
Once completed, the Datong PV facility will be able to produce 1.5 billion kWh of on-grid energy every year, reducing the annual burning of coal by 480,000t.