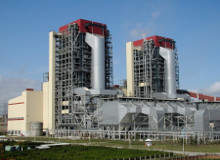 Centrica with its partner iCON Infrastructure and Brookfield Renewable Energy Partners signed an agreement to buy Bord Gáis Energy (BGE), for €1.1bn (£920m).
As part of the agreement, Centrica will buy BGE's gas and electricity supply business in Ireland and the Whitegate gas-fired power station. The transaction has a total enterprise value of around €210m (£175m), as of 31 December 2013.
Centrica chief executive Sam Laidlaw said that this is a unique opportunity for Centrica to take a first step in a neighbouring market with strong links to the UK, building on BGE's existing capabilities and delivering value for the group.
France-based GDF Suez launched the Sohar 2 and Barka 3 gas-fired combined cycle gas turbines (CCGT) plants in Oman.
The two power plants, with a capacity of 744MW each, have incurred an investment of $1.7bn (€1.2bn).
In 2009, Oman invited bids for developing the two power projects for fulfilling the nation's energy requirements.
BBE Hydro Constructors Limited Partnership received a contract to build the 695MW Keeyask generating station on the lower Nelson River in northern Manitoba, Canada.
The contract, which is valued around CAD1.4bn (€909.9m), has been awarded by Manitoba Hydro.
The consortium, which includes Bechtel, Barnard Construction and EllisDon, will commence the project construction in the last quarter of 2014, following the regulatory approvals.
National Grid awarded a contract to the UK engineering solutions provider Costain for three transmission frameworks.
Under the contract Costain will provide a broad range of services, including front end engineering design, programme management, construction and asset optimisation.
National Grid has planned to invest up to £26bn (€31.1bn) between now and 2021 upgrading and developing gas and electricity networks.
UK chancellor George Osborne has announced a £7bn package in the 2014 budget to reduce energy costs for British manufacturers and households by 2019.
Around 80% of energy manufacturers, based in the north of England, Scotland and Wales, will particularly benefit from the package.
The government will suspend the carbon tax charged on the major CO2 emitters such as power producers and heavy manufacturers at £18 a tonne for ten years from 2016-2017.
UK-based Renewable Energy Systems scrapped its plans to build a £300m (€362.4m) biomass power station project at the Port of Blyth in Northumberland due to uncertainty in UK energy policy.
RES has blamed the government's inconsistent support for dedicated biomass energy over the last two years.
Termination of the project results in loss of hundreds of millions of pounds of investment into the Blyth estuary and wider Northumberland economy, the company claims.
Alstom won a contract to provide two 800MW supercritical boilers for the Darlipalli thermal power project (TPP) located in Sundergarh, in the state of Odisha, India.
The contract valued at €85m has been awarded by Bharat Heavy Electricals (BHEL) and forms part of NTPC's bulk 800MW tender.
Under the contract, Alstom will design the supercritical boilers and supply identified pressure parts along with windboxes, pulverisers and airpreheater components.
Bharat Heavy Electricals Limited (BHEL) secured a Rs79bn (approximately $1.3bn) engineering, procurement and construction contract from NTPC for the North Karanpura super thermal power project (STPP) in Jharkhand, India.
BHEL's scope of work for the North Karanpura STPP includes design, engineer, manufacture, supply, construction, erection, testing and commissioning for the EPC package comprising three units.
The company will manufacture key equipment for the project at its Trichy, Haridwar, Bhopal, Ranipet, Hyderabad, Jhansi and Bangalore facilities in India. BHEL's Power Sector – Eastern Region will be responsible for civil works and erection / commissioning of the equipment.