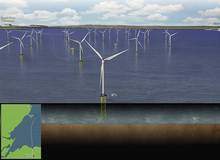 In collaboration with Copenhagen Infrastructure Partners and SDIC Power of China, SSE has given approval for construction to begin on the £2.6bn Beatrice offshore windfarm in Outer Moray Firth.
The decision follows financial close of the project, which is one of the largest private investments in Scottish infrastructure.
Construction is expected to begin next year and will see the installation of 84 turbines, with a total capacity of 588MW.
Total has offered to buy French battery maker Saft for $1.08bn in a bid to accelerate its development in renewable energy and electricity.
According to the offer filed with French Financial Markets Authority (Autorité des Marchés Financiers (AMF), Total has proposed to acquire Saft's issued and outstanding shares at a price of €36.50 per share. This represents a 38.3% premium above Saft's closing price of €26.40 on 6 May.
Total's takeover has been unanimously approved by the Saft's supervisory board, which considers the proposed transaction to be in line with the interests of the company, its shareholders, and its employees.
Dubai Electricity and Water Authority (DEWA) has received five bids for the 800MW Phase III of Mohammed bin Rashid Al Maktoum Solar Park.
The National reported that among the bidders were Spanish company Fotowatio Renewable Ventures (FRV), Chinese photovoltaics (PV) company JinkoSolar (JKS), and ACWA Power from Saudi Arabia.
The lowest was a bid of $2.99 every kWh and further details of the deal have yet to be disclosed.
Suzlon Group has more than doubled its windpower projects in India, commissioning 900MW during the financial year (FY) 2015-16.
Of the total 900MW, 520MW was commissioned in Q4 FY16.
This surge is in comparison with the 442MW deployed in FY2014-15.
US solar energy company SunPower has signed a power purchase agreement with Total to deliver 300GW hours per year of clean energy to the Metro of Santiago in Chile.
The metro currently handles 2.2 million passengers every day and will become the world's first public transportation system to operate primarily on solar energy.
Total's new energies division business and operations senior vice-president Bernard Clement said: "This contract is expressing Chile's commitment for a sustainable world.
"We are proud to partner with Metro in developing a new way of powering public transportation systems through competitive, reliable and clean energy. This project supports our ambition to become the responsible energy major."
Dudgeon Offshore Windfarm has received £1.3bn (€1.64bn) in project financing, which will help meet its capital requirements.
Having reached its financial close in six months, the 402MW facility is under construction in the North Sea 32km from North Norfolk coast, UK.
Dudgeon Offshore Wind Limited chairman Halfdan Brustad said: "Closing such a significant phase of the project's development so swiftly illustrates the energy industry's confidence in the long-term potential of offshore wind, and the increasing sophistication of financing models available to the sector."
UK-based Sainsbury's has entered a partnership with recycler ReFood to power several of its supermarkets with sustainable green gas.
Last year, power generated entirely from waste food was enough to supply 5,000 homes, which is equivalent to 10% of Sainsbury's annual national consumption. ReFood have so far supplied nearly 50 million kWh of biomethane gas.
Under the partnership, waste is collected from two depots of the retail company in Haydock and Sherburn-in-Elmet. This is then converted into heat, gas, and fertiliser at ReFood's latest anaerobic digestion (AD) processing facilities.
UK-based green energy company Ecotricity receives planning permission for hybrid energy parks in Britain.
The company plans to construct two new solar parks in Bulkworthy in Devon and Dalby in Leicestershire, which will join with the existing windfarms.
As part of a third project, Ecotricity has also gained permission to extend Fen Farm in Lincolnshire with the addition of 5MW of solar capacity.
US renewable energy company SolarReserve has signed a memorandum of understanding (MoU) with China's state-owned enterprise Shenhua Group to construct 1,000MW of solar thermal projects.
SolarReserve will be responsible for delivering critical technology and technical support services. Its storage technology will resolve any intermittency issues, which are experienced with other renewable sources.
The company's CEO Kevin Smith said: "SolarReserve is excited about the opportunity to help China meet its emissions reduction goals by working with the world's largest coal company as it expands into large-scale solar thermal."
Shanghai-based manufacturer JA Solar has commenced mass production of high-performance photovoltaic (PV) panels at its new manufacturing facility in Xingtai, China.
Located in the Economic Development District of Xingtai city, the new production plant has a total capacity of 1.5GW with assembly lines using the company's PERCIUM technology to manufacture 60-cell and 72-cell modules.
The process is completely automated and the facility can either produce regular modules, double-glass modules, or a mix of both.