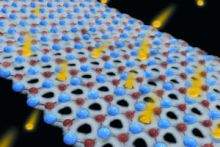 Researchers found a newly discovered property of carbon graphite that could lead to the development of new hydrogen-based fuel cell technologies.
For several years, carbon graphite, a one-atom thick material that is used in pencil lead, has been considered as a possible replacement for the silicon chips used in computers.
This is due to the fact that that the material can quickly conduct electrons.
Researchers found protons, which are hydrogen atoms minus their electrons, can also pass through the carbon graphite.
The UK Green Investment Bank (GIB) bought a 20% stake in Sheringham Shoal offshore wind farm, England, for £240m.
The 317MW wind farm is owned by Statkraft and operator Statoil through Scira Offshore Energy.
After the deal, Statoil and Statkraft will own a 40% stake each in the project. Sheringham Shoal is located in the Greater Wash area, between 17km and 23km off the coast of Norfolk. It has been operating since October 2012.
Russia's state-run nuclear corporation Rosatom will build a nuclear power plant (PLTN) project worth $9bn at Batam in Indonesia.
Russian Federation senior trade expert representative Sergey Kukushkin was quoted by kontan.co.id. as saying: "We have met with officials from BATAN (National Nuclear Energy Agency) for this partnership."
Rostam is inviting local partners for the project, which will have a capacity of 2×1,200MW.
Solar power manufacturer Yingli Solar signed an agreement to supply 120MW of YGE 72 Cell solar panels for a 300MW project that will be developed by Neoen in the south-western part of France.
A consortium of local companies, including Eiffage-Clemessy and Schneider Electric, is responsible for engineering and construction of the solar park.
Located in Cestas, the project is likely to involve an investment of €360m and will be the largest solar power park in Europe,.
Under the deal, Yingli Solar will deliver more than 393,000 multicrystalline panels between December 2014 and June 2015 for the park.
Solar power manufacturer SunEdison formed a joint venture (JV) with Brazilian renewable energy firm Renova Energia to develop, own and operate 1GW of utility scale solar photovoltaic (PV) energy for the regulated electricity market in the South American country.
The two power firms have 50:50 shares in the JV.
Four utility-scale solar PV plants will be developed by the firms in Bahia state, Brazil by 2017.
Adani Power (APL) has entered a binding agreement with Avantha Power and Infrastructure (APIL) for the purchase of 600MW Korba West Power (KWPCL) unit for more than Rs42bn ($680m).
Besides the coal-based thermal power plant in Korba, Chattisgarh, KWPCL owns an expansion phase which is being developed at present.
The acquisition would raise Adani Power's installed capacity to 11,040MW. Advisor for the transaction was Macquarie Capital.
Six world powers and Iran agreed to a seven-month extension for negotiations over the Iranian nuclear programme.
The world leaders are the US, UK, Russia, China, France and Germany. They want to limit Iran's nuclear programme in exchange for lifting the economic sanctions imposed on the country.
International negotiators have been concerned that Iran is using its nuclear programme to develop weapons, but Iran has insisted its nuclear programme is aimed at peaceful purposes, such as power generation.
The Scottish Government announced its plans to set up a wave energy technology development body to encourage innovation in the industry.
Scottish Minister for Business, Energy and Tourism Fergus Ewing said: "'Wave Energy Scotland' will bring together the best engineering and academic minds to collaborate in a research and development programme to accelerate wave technology further."
During a Parliamentary statement on marine energy planned for this week, Ewing will provide further details on Wave Energy Scotland.
South Korea plans to build two new nuclear power plants by 2017, with another two to be built by 2022 as part of its effort to boost nuclear power, which currently meets one-third of the country's power requirements.
These constructions will increase the total number of new nuclear plants to 11 by 2024.
This plan comes at a time when the public confidence on nuclear power is at its lowest following the 2012 safety scandal over the supply of reactor parts with fake security certificates, as well as the 2011 Fukushima crisis in Japan, reports Reuters.
Siemens and Bechtel jointly won an engineering, procurement and construction (EPC) contract for a 778MW natural gas-fuelled Panda Power Funds' Stonewall Energy Project in Leesburg, Virginia, US.
Planned as a combined-cycle power plant (CCPP) with a gross installed electrical capacity of 778MW, the project will generate electricity for 778,000 households in the US state.
The venture is expected to be commissioned by spring 2017.