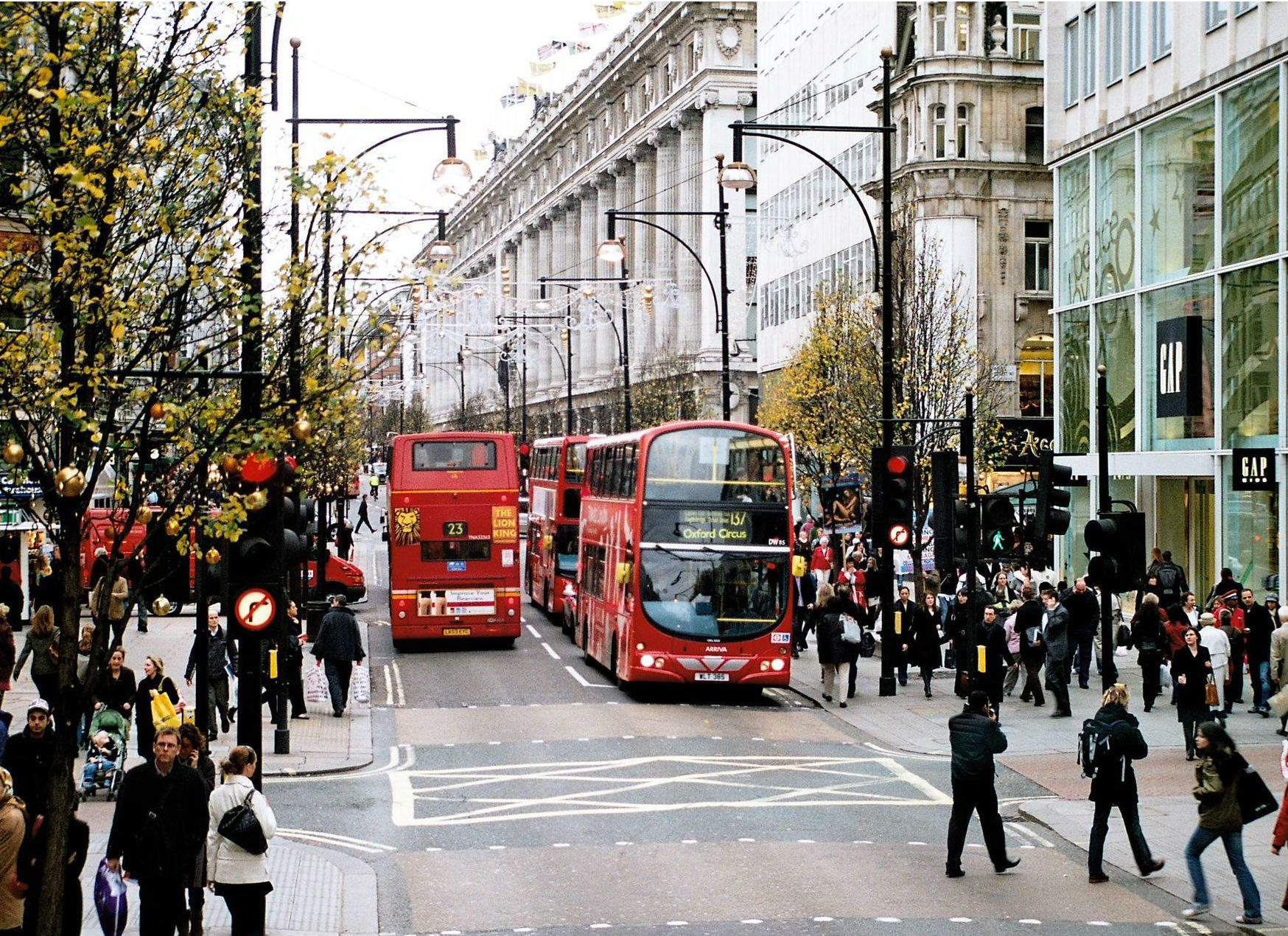 TfL has partnered with the New West End Company (NWEC), a business that is working on 25 different streets in London to power them renewably and transform them into more pedestrian-friendly retail destinations. The planned makeover is of Bird Street, which lies just off Oxford Street in central London.
Bird Street is already a traffic-free space and will now be turned into an 'intelligent street' that can generate its own renewable electricity from solar and kinetic energy technology, thus creating a model for deployment elsewhere in the city. The hope is that many similar streets will follow, gradually building up the areas in the city that use this clean, innovative technology.
"This funding will enable us to provide a beautiful oasis for shoppers and residents to enjoy in the heart of our capital city, trialling some of the newest clean air technology, as part of our continued aim to improve air quality in the West End," says NWEC managing director trading environment Steve Medway.
One idea for the space is to install solar panels onto roofs and plastic canopies that make up the bicycle shelters and verandas along the street; however, the use of kinetic energy is ground-breaking.
Energy from movement: kinetic pavements
London isn't the sunniest place in the world so an effective alternative to solar is to use kinetic energy to harness the more evergreen supply of movement.
Pedestrians could generate energy for the street simply by walking on it, thanks to technology from London start-up Pavegen.
Pavegen's pavement is designed to flex an unnoticeable amount of about 5mm when stepped on, which generates around 3 joules per footstep or 5 watts of continuous power. The slab absorbs the energy either to store it in a lithium polymer battery or instantly supplies it to nearby electronics, such as street lamps.
A typical light bulb requires 0.06kWh, or 60W in an hour, so one bulb could effectively be powered for an hour with less than nine footsteps. Enough steps on enough slabs could, in theory, generate sufficient energy to supply all the energy needs of the street.
Also, data about people's movements can be tracked via wireless technology, so the number of footfalls and information about generated energy can be stored and analysed in order to monitor the effectiveness and efficiency of the project. According to research from Pavegen, people are actually 30% more likely to step on one of its slabs than a normal pavement tile.
"Imagine if people walking, running and jumping, could help power the lights and applications in our stadiums and cities."
"Pavegen could play a key role in the smart cities of the future," says Pavegen CEO Laurence Kemball-Cook. "Imagine if people walking, running and jumping, could help power the lights and applications in our stadiums and cities."
This type of technology has already been trialled in several well-known areas. Twelve tiles were installed along the walking route to Olympic Park by the London-based start-up company, and the energy produced was enough to power the lights at the nearby West Ham station for five hours every night.
The technology is also fitted at Heathrow Airport and at locations in over 20 countries, including the Shell Football pitch in Rio de Janeiro and Saint-Omer train station in France. Pavegen's flooring can be used indoors or outdoors and can be designed to fit the surroundings so well that you may not be able to distinguish between these and normal pavement slabs.
The bigger issues
The technology has not yet been perfected and has received some criticism, for instance, it is not as powerful as conventional electricity sources. Even though the energy could be stored in very efficient batteries one day, the projects are small at present, meaning the rewards are too.
The average person walks around 150 million steps in their lifetime which, at the moment, is enough to power the average family home for just three weeks. Nonetheless, these figures could grow substantially if we consider every footstep taken on the planet, so advances in this technology could one day make a big impact on renewable energy.
Bird Street project is supported as one part of TfL's Incubator Fund, which is a £4bn plan to encourage creative and effective use of space to "capture the spirit of turning London's streets into places for all to enjoy and work", according to TfL's managing director of planning Richard De Cani.
"By trialling new ideas we are able to look to the future at how we can make our roads and public spaces work better for everyone," he says.
Just round the corner from Bird Street is Oxford Street, which has been named as one of the most polluted streets in Europe. Installing more intelligent streets technology reduces the space taken by cars, thus reducing pollution.
London's deputy mayor for transport Isabel Dedring says: "Given the growing pressures on our road network to move people and goods, and tackle air pollution, we need to be evermore inventive in how we use our limited road space."
A model for the future
The plan is that the intelligent Bird Street in the capital will set the trend for more to be built. With all the footsteps in London, kinetic pavements could generate large amounts of electricity in the near future.
"Kinetic pavements could generate large amounts of electricity in the near future."
Increasing numbers of intelligent streets could play a big role in making London a more renewable city. So far, the city has had a relatively poor reputation with committing to solar power, having the lowest amount of installed solar of any English region, according to the Department of Energy and Climate Change. So, this is a step in the right direction.
The top three contenders to be the next Mayor of London – Labour's Sadiq Khan, Conservatives' Zac Goldsmith and Green Party's Sian Berry – have all made 'a more renewables-conscious TfL' part of their election agendas, so it seems that pioneering green technologies are finally starting to gain serious investment in the city.